Beef Knishes Get Delicious Kosher-for-Passover Makeover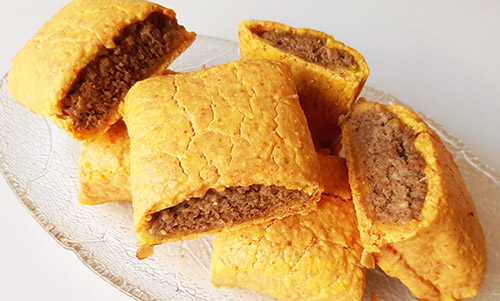 It's the afternoon of the first seder, and you've got family arriving in a matter of minutes to help set the table. They open the door, and the aromatic embrace of simmering chicken soup, matzah balls and brisket replace the cool outside air. What is your game plan to feed your hungry helpers until the feast?
As a child, I would always make a beeline for the chopped liver my grandmother was saving for appetizers. She, in turn, had a different snack plan: Flaky kosher-for-Passover beef knishes bought from the Jewish market near her Boston-area home and reheated in her toaster oven.
Knishes are not a one-size-fits-all treat. Some are made with short, flaky pastry, while others come with an almost puff pastry crust. But the varying methods you can employ to wrap your potato- and meat-filled pockets mean little during Passover week.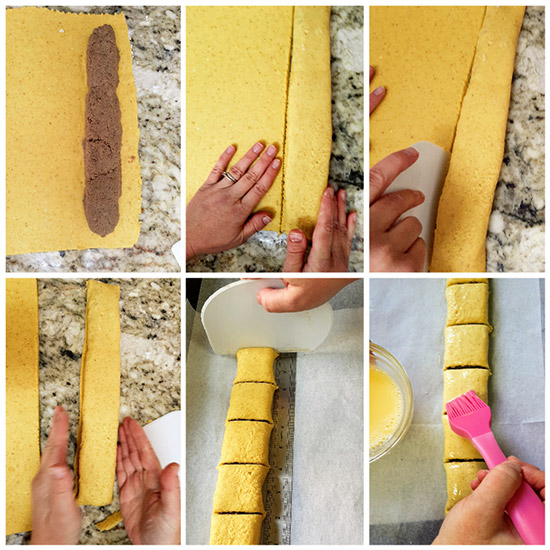 While there are recipes for "crustless" knishes that rely on a mold to hold their shape, they are essentially crusted-over mashed potatoes. And don't get me wrong, these are delicious in their own way, but they aren't the yellowed-tinged, crust-encased ground beef pastries that I remember so joyously from erev Pesach afternoons at my grandmother's house.
Since it's my job to create recipes, I knew the answer was to head into the kitchen and try to adapt the classic year-round knish dough—the flaky kind—into a kosher for Passover one that sacrifices little in taste. And while the recipe development wasn't easy—I almost gave up after a crumbly, dry dough on attempt No. 2—I did come up with a method that I proudly printed out and put into my recipe folder alongside other perennial Passover favorites. Now, I have a freezer filled with these delicious, easy-to-make beef knishes, ready to be baked up in anticipation of the first seder or any time a craving hits during the holiday. Or even after! My kids, the resident knish-testers, gobbled up several batches without ever realizing that they were kosher for Passover.
And what did I learn from all this? That doughs made with Passover baking carbohydrates essentially drink water. You'll need to start out with a dough that seems a little too sticky, to counteract additional drying out later. I also learned that these knishes are most delicious when they're comprised of a very thin crust encasing a glorious amount of filling, which is why I chose the shaping technique that I did. And that the filling, which deserves a mention, is best made from freshly ground chuck that's laced with two treatments of onions—grated and caramelized.
Vegetarians in your home? These knishes are likewise scrumptious when filled with mashed potatoes studded with some sautéed mushrooms.
Chag sameach—happy holiday baking!
Kosher for Passover Beef Knishes
Makes approximately 32 knishes
GROUND BEEF FILLING
Caramelized onion: 1 large onion + 2 tablespoons olive oil
1 1/2 pounds ground chuck
1 large onion, coarsely grated
1 teaspoon salt
1/8 teaspoon freshly ground black pepper
1/4 teaspoon garlic powder
1 large egg
DOUGH
2 1/2 cups potato starch
3/4 cups matzah cake meal
1 teaspoon kosher for Passover baking powder
1 1/2 teaspoons salt
3/4 cup oil (I prefer safflower)
1/2 teaspoon ground turmeric
2 large eggs
1 teaspoon white vinegar
3/4 cup water
Egg wash: 1 egg + 1 tablespoon water
Make the filling: Caramelize the onion by slicing an onion in thin half-moons and sauteing in a hot pan with the olive oil. When the onions start to brown, add a splash of water. Continue cooking, stirring occasionally and adding water as the pan dries out, one tablespoon at a time, until the onions are a deep golden brown, about 10 minutes. Transfer to a bowl and set aside.
Place ground beef in a bowl and coarsely grate the onion directly into the bowl. Add the salt, pepper, and garlic. Saute the meat mixture over high heat in the same pan you used to caramelize the onions. Cook until evenly browned, 3-4 minutes.
Transfer the beef mixture to a food processor and pulse until the mixture resembles chopped liver. Set aside to cool while you make your dough.
Preheat oven to 350° and make the knish dough: In a medium bowl, combine the potato starch and matzah cake meal. Mix with your fingers to break up any clumps. Add the baking powder and salt and mix to combine.
In a measuring cup combine the oil and turmeric and mix with a spoon to combine. Add to the flour mixture along with the eggs, vinegar and water. Mix to combine, then turn out the dough onto a clean working surface and lightly knead, using a bench scraper to help with the slightly sticky dough. You want the dough to feel wet at this stage, as it will continue to dry out as you work with it.
Using a minimal amount of potato starch to help with stickiness, roll out the dough into a large rectangle approximately 1/16-of-an-inch thick. Trim the edges to make a perfect rectangle, then check that the dough isn't stuck down to your work surface by carefully wiggling a metal spatula underneath the dough to loosen.
Lay down a 1 1/2-inch line of filling vertically along the right edge of the dough, leaving a 1/2-inch border of dough.
Gently flip the dough up and over the filling, pressing down to secure a tight seam. Cut the filled dough away from the rest of the rectangle and transfer to a parchment paper-lined baking tray. Use a large spatula to lift and transfer knish roll to the baking tray. Divide the knish log into 2-inch sections by pressing the dough with a bench scraper or knife, but not cutting all the way through. This will make it easier to cut out portions after baking.
Continue with the remaining dough, gathering and re-rolling the dough scraps until you have used all the dough and filling. If the dough begins to crack as you work with it, simply dip your fingertips in water and knead the dough to restore the moisture. Keep any dough scraps covered with plastic wrap as you work, to keep the dough moist.
Brush the knishes with egg wash and bake for 20-25 minutes. Serve hot. Alternatively, freeze the shaped knishes and bake straight from the freezer, adding an additional 5 minutes of baking time.