'Essential' Jewish Cooking With Marcia Friedman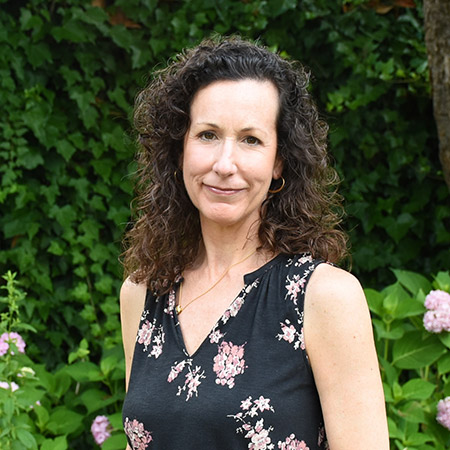 When Marcia Friedman found Judaism by way of love over two decades ago, she was as delighted by the cultural values she discovered as she was intrigued by the new foods she encountered in the Jewish kitchen after her conversion.
Friedman's journey inward to discover the culinary synergy between her Italian American heritage and her newly adopted Jewish one resulted in her first cookbook, Meatballs and Matzah Balls: Recipes and Reflections from a Jewish and Italian Life, released in 2013. (Find Friedman online at meatballsandmatzahballs.com.)
Now, she's out with her second cookbook, The Essential Jewish Cookbook: 100 Easy Recipes for the Modern Jewish Kitchen, a user-friendly introduction to Jewish food culture and history spanning a host of different traditions—from Ashkenazi to Sephardi to Ethiopian.
"I've never stopped learning and delighting in the hidden gems of Jewish food stories," said Friedman, a Hadassah member, who with her family belongs to a Conservative synagogue near Washington, D.C. "It was a great pleasure to collect and illuminate them in [this cookbook]."
Did you know, for example, that the eggplant was once revered as the "Jewish apple" in medieval Europe? Or that Jewish bakers were among the first in Europe to cook with chocolate? Or that cheese-based latkes reigned supreme until the 1800s? These insights that Friedman peppers throughout her text lend a richness to the historical overviews and the recipes themselves.
The Essential Jewish Cookbook is a comprehensive collection that even includes a few dishes that Friedman was unaware, until recently, had Jewish roots. According to Freidman, pasta salad evolved as a clever Italian-Jewish invention meant to make cold pasta more palatable on Shabbat. She also shared that the famous Old Bay seasoning, which she uses in a fried fish recipe in the book, was invented by Gustav Brunn, a German-Jewish immigrant to America.
"Putting the fish and the Old Bay together was delightfully delicious," Friedman said, "but also nicely representative of the story of Jewish migration and reinvention."
Recipes that sound too good not to make range from salty and savory to sweet: Matza Brei with Dill and Lox; Chocolate Egg Cream Sodas; Sephardi Style Roast Lamb Shoulder; Wine Poached Gefilte Fish; and her Mandelbrot, in which Friedman grates marzipan into the cookie batter to amplify the almond flavor.
Unfortunately, there aren't many photos to help illustrate the recipes, which is frankly a handicap for the home chef striving to ace Friedman's thoughtful dishes. Though when it comes to Ashkenazi icons like challah, brisket and latkes, a dearth of photos shouldn't be especially problematic.
Learn and marvel at the stories of these 100 Jewish recipes yourself, starting with the staples included here: Matzah Ball Soup featuring Friedman's "floaters" and, for the upcoming holiday of Shavuot, which begins the evening of May 16, a classic American-style cheesecake. Friedman's take on the ultimate dairy dessert for the holiday combines cream cheese with sour cream and uses a graham cracker crust.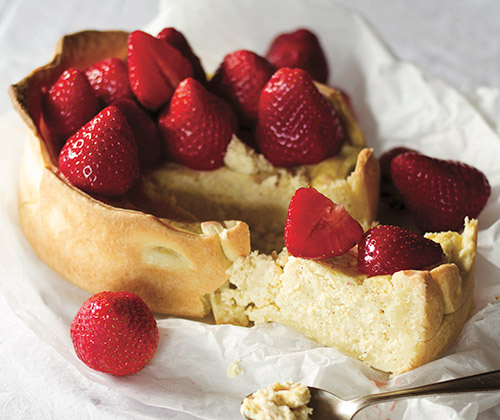 Cheesecake
Serves 6 to 8
When cream cheese was invented in New York in 1872, Jewish bakers used it on more than just bagels. It made flakier pastry dough and became a substitute (with sour cream) for cottage cheese previously used in cheesecake. Thus, New York-style cheesecake was born. Cheesecake wows crowds year-round, but is especially welcomed for dairy-centric holidays like Hanukkah and Shavuot. This super-creamy version pairs beautifully with fruit.
FOR THE CRUST
4 tablespoons (1/2 stick) melted butter, divided
1 1/2 cups crushed graham crackers (from about 10 full crackers)
1 tablespoon light brown sugar
1/2 teaspoon ground cinnamon
1 1/2 teaspoons vanilla extract
FOR THE FILLING
2 (8-ounce) packages of cream cheese, room temperature
2/3 cup sugar
1 tablespoon cornstarch
3 eggs, room temperature
2 teaspoons vanilla extract
1/4 teaspoon kosher salt
3 cups sour cream
1 to 2 pounds strawberries, slices or quartered (optional)
TO MAKE THE CRUST
Adjust the rack to the lower third of the oven and preheat to 325°. (Do not use convection bake setting.) Coat the sides and bottom of a 9-inch spring-form pan with 1/2 tablespoon of the melted butter. Line the bottom with parchment paper cut to size and brush with 1/2 tablespoon of butter.
In a medium bowl, combine the graham crackers, brown sugar, cinnamon, vanilla, and remaining 3 1/2 tablespoons of butter. Press evenly into bottom of the springform pan.
TO MAKE THE FILLING
In a large bowl with an electric mixer, beat the cream cheese and sugar on low speed just until smooth. Beat in the cornstarch. Add the eggs one at a time, beating at low speed, until just incorporated. Fold in the vanilla extract, salt and sour cream.
Pour the mixture into the crust and smooth the top. Tap the pan a few times on the counter to release any air bubbles. Place the pan on a sheet pan.
Bake 40 to 50 minutes, until the edges are set, but the center 3 inches still wiggle. (An instant-read thermometer should read 155° when inserted in the center.)
Cool completely on a wire rack, then refrigerate, covered at least 6 hours and up to 2 days. Remove the springform and serve chilled, garnished with strawberries (if using).
VARIATION TIP: For a slightly nutty flavor, add 1/4 cup chopped pecans and an additional tablespoon of melted butter to the crust before pressing in the pan.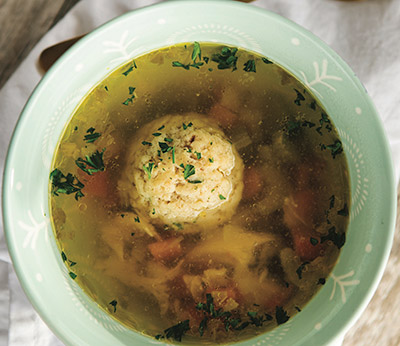 Matzah Ball Soup
Serves 6 to 8 (Makes 20 to 25 matzah balls)
The matzah ball is an icon of Jewish cooking, but it has humble beginnings—it emerged when Ashkenazi cooks used matzah meal instead of flour to make kosher-for-Passover dumplings (knaidlach). Today, matzah ball soup plays a starring role at many Passover feasts and year-round at Jewish delis as an ultimate comfort food. Using schmaltz (chicken fat) is traditional, but olive oil works beautifully— and is healthier—for this fluffy-but-still-firm recipe.
1 1/3 cups matzah meal
1/2 tablespoon salt
1/4 teaspoon freshly ground black pepper 5 large eggs, beaten until uniformly colored
1/4 cup extra-virgin olive oil
1/4 cup chicken broth or water
1 1/2 tablespoons finely chopped chives 1/4 cup seltzer water
2 quarts homemade or store-bought chicken broth
Chopped flat-leaf parsley or dill for garnish (optional)
In a large bowl, combine the matzah meal, salt, and pepper. Add the eggs, olive oil, broth or water and chives. Fold in seltzer water. Freeze the mixture for 30 minutes.
With wet hands, shape the mixture into 1 1/4-inch balls and place on a plate or tray. Return to the freezer for 10 minutes.
Meanwhile, bring a large pot of salted water to boil over medium-high heat.
Once boiling, drop the balls into the water. Cover and boil gently for 30 minutes, until puffy and evenly colored. Using a slotted spoon, remove from the water until ready to serve.
Serve in individual bowls and add hot chicken soup or broth. Garnish with parsley or dill, if using.SUBSTITUTION TIP: The chives can be substituted with finely chopped dill or  flat-leaf parsley, or 1⁄8 teaspoon ground nutmeg, ginger or garlic powder.
Recipes excerpted from The Essential Jewish Cookbook: 100 Easy Recipes for the Modern Jewish Kitchen, by Marcia Friedman, published by Rockridge Press. Copyright © 2021 by Callisto Media, Inc. All rights reserved.