Vegan Interpretations of Jewish Comfort Classics for Summer
Among the most comforting threads of Jewish tradition must be its foods. Whether the cuisine is Yemenite, Persian, Sephardi, Ashkenazi or drawn from another corner of the Diaspora, the foods that Jews eat—and for what holidays they are prepared and what they can and cannot be eaten with—contribute profoundly to what it means to feel Jewish, to be Jewish, to identify as Jewish. So what happens when a deeply committed young Jew adopts a vegan lifestyle? How can she satisfy her cravings for familiar Jewish comfort classics?
Kenden Alfond, the food writer and recipe developer better known as the Jewish Food Hero, offers a delicious way forward. Indeed, Alfond, who has globe-trotted from Maine to Cambodia to, now, fashionable Paris, has used the broad canvas of the cuisines she has encountered to enhance and to translate into plant-based, healthy cooking many icons of the Jewish kitchen. She first offered her reinterpretations on her website, then, in 2019, released her debut cookbook: The Jewish Food Hero Cookbook, followed the next year by Feeding Women of the Bible, Feeding Ourselves.
Now, Alfond is back with her third book, Beyond Chopped Liver: 59 Jewish Recipes Get a Vegan Health Makeover, in which she reworks cross-cultural Jewish comfort dishes into healthier vegan versions. And you might be surprised by what makes the list (think challah, matzah balls and whitefish salad plus exotic fare like curries).
Growing up in rural Maine, Alfond told me by email, "My father's uncle would sometimes bring us bagels and prepared deli salads, like whitefish salad, from Boston.
"In the book," she continued, "there is a mock whitefish salad made with chickpeas, vegan mayonnaise, tofu sour cream, lemon juice, celery, smoked salt and spices. The mayonnaise, sour cream and silken tofu combination gives the salad all the creaminess with less fat. Making the salad with smoked salt really gives it a similar taste profile to a traditional white fish salad."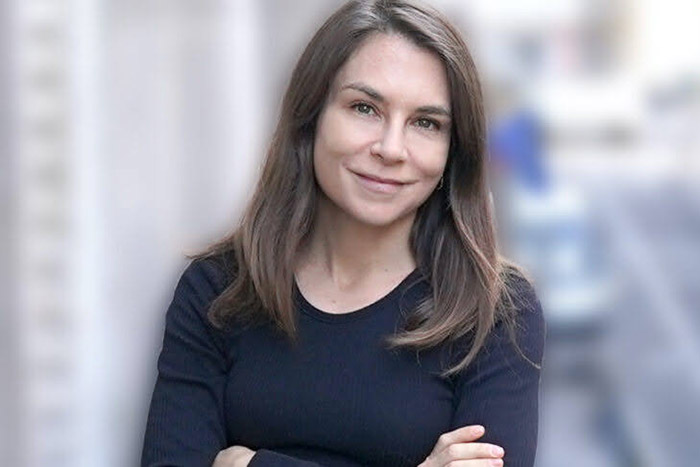 Meanwhile, Alfond uses one of the latest trends in plant-based protein substitutions—jackfruit, a meaty Asian delicacy—to unexpected effect. You've probably seen the fruit used to replicate pulled pork or chicken. But in Beyond Chopped Liver, Alfond uses it to make "brisket," an inspired idea for sure. Typically, however, she shared that she tries to stick to widely available options for protein substitutes, such as "good old-fashioned" tofu, beans and legumes.
Beans are used optimally in Alfond's Harissa Spread, which sees the addition of white beans to its fire-roasted, pepper-and-spice base; and Mizrahi-Style Pumpkin Patties, which get some bulk from mashed chickpeas.
With healthy eating in mind, Alfond relies on natural sweeteners and minimal oil in most dishes. These principles are evident in a Hummus recipes that gets moistened with grated zucchini instead of the large amounts of tahini typically used; and a No-Knead Fermented Rye bread that gets it's touch of sweetness from maple syrup.
Other dishes whose makeovers feel well worth the effort include Spinach-Leek and Mashed Potato Matzah Mina Pie (a savory Passover casserole similar to one I have enjoyed in Turkey); a hot and warmly spiced Ethiopian Split Pea Soup with fenugreek; and Crispy Baked Tofu Schnitzel, like the one I often fry up for vegetarian guests on Shabbat.
Better for ourselves and our planet—and in line with the Jewish themes of respecting our bodies and honoring life—Alfond argues that her veganism, which she calls "ethical eating," should be welcomed at the festive Jewish table. And what would any Jewish celebration be without matzah balls? Alfond likes to brag that the version she created for this book was enough to impress her mother, whom she calls a "matzah ball lone wolf." Using potatoes for moistness and bulk, Alfond's vegan rendition is first baked, then added to her rich vegetarian stock.
"I love [my mom's] matzah balls, and so do all her grandchildren," Alfond said. "Matzah balls are one of those special foods that are hard to reinvent. The classic taste and texture are so specific that most people are not interested in alternatives. With that said, my mother made these with me and my daughter and called them 'pretty good.' A big compliment from her!"
Now, it's your turn to win that same praise—by making Alfond's Mock Whitefish Salad and Shabbat-friendly Butter Bean Coconut Stew at home. Enjoy!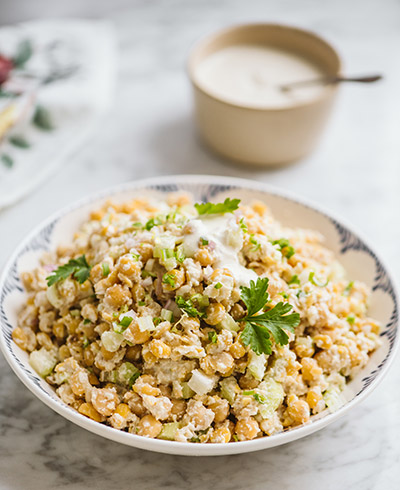 Mock Whitefish Salad
Traditional whitefish salad is a creamy affair. It is made with smoked white fish (lake whitefish, hake, sole, flounder, whiting, trout, cod or sturgeon), mayonnaise, sour cream or crème fraîche, onion and herbs.
This mock whitefish salad is made with chickpeas, vegan mayonnaise, silken tofu, plain coconut non-dairy yogurt, lemon juice, celery, smoked salt and spices.
1/2 cup plain unsweetened non-dairy yogurt
2 teaspoons lemon juice
1/2 teaspoon apple cider vinegar
1/2 teaspoon salt or smoked salt
2, 14-ounce cans chickpeas
1/4 cup freshly squeezed lemon juice
2 to 3 garlic cloves, minced
2 shallots finely diced
2 cups finely diced celery stalks
5 green onion tops finely sliced
1/4 cup vegan mayonnaise
1/3 cup silken tofu
1/2 to 3/4 teaspoon smoked salt (start with less and add more at the end to taste)
1/4 teaspoon black pepper
Rinse beans in cold water and place in a large salad bowl.
Squeeze fresh lemon juice and set aside.
Use your clean hands to mash the chickpeas until all individual beans are broken up—do not over-mush.
Add minced garlic, shallots, celery, and green onion tops to the bowl with the mushed beans.
Place vegan mayonnaise, non-diary coconut yogurt, silken tofu, lemon juice, salt, and pepper into a blender and blend until smooth.
Gently fold the creamy dressing into the vegetables and beans (no mushing!).
Taste and season with lemon juice, salt, and pepper to taste.
Garnish with more green onion tops or fresh parsley.
variations

Add heat: add 1/4 to 1/2 teaspoon chili powder instead of black pepper. This rounds out the recipe and acts as a flavor enhancer. This is how I always make it at home.
Add fresh garnish before serving: add 1/2 to 1 cup of chopped parsley or chopped green onion tops as a garnish before serving.
Add more of the non-dairy coconut yogurt and store-bought vegan sour cream to the recipe to boost the creaminess.
Butter Bean Coconut Stew
Serves 6
This is a delicate and creamy mild Indian curry. The spice profile is based on a Leah Koenig recipe for Shabbat Coconut Curry. This recipe calls for cinnamon instead of cardamom, fresh tamarind paste instead of ginger powder, and uses an extra dash of turmeric. Instead of meat or fish, big and meaty butter beans are highlighted in this recipe. This warm, velvety curry is delicious served over rice or alongside fresh warm bread for dipping.
1 onion
4 garlic cloves
2 cans butter beans
1/2 teaspoon cumin
1/2 teaspoon coriander
1/2 teaspoon chili
1 teaspoon turmeric
1 can coconut milk
3 cups vegetable broth
1 cup diced oriental radish
1 large potato diced
1 teaspoon tamarind paste
1 cup of de-stemmed collard green leaves sliced thin
Gently sauté the onion and garlic in a soup pot.
Add coconut milk, vegetable broth, drained and rinsed butter beans, oriental radish and all the spices. Bring to a gentle boil.
Turn down the heat and simmer for 20 minutes.
Remove one ladle of broth and 10 butterbeans and add to a blender with the tamarind paste. Pulse until smooth.
Add the blended mixture back to the soup.
Add collard greens and simmer for 3 minutes.
Serve warm in soup bowls or on rice.
Variations
Thicken: reduce the quantity of vegetable stock for a thicker coconut sauce.
Soup it: add more stock for a beautifully spiced soup dish. This would be a perfect one family one dish meal which younger children might enjoy blended smooth.
Pasta: Add al dente linguine for a creamy Indian pasta dish. Trust me, this is delicious!
Recipes excerpted from Kenden Alfond's Beyond Chopped Liver: 59 Jewish Recipes Get a Vegan Health Makeover. All photos courtesy of Kenden Alfond.