Cold Sour Cherry Soup Is Pretty in Pink for Summer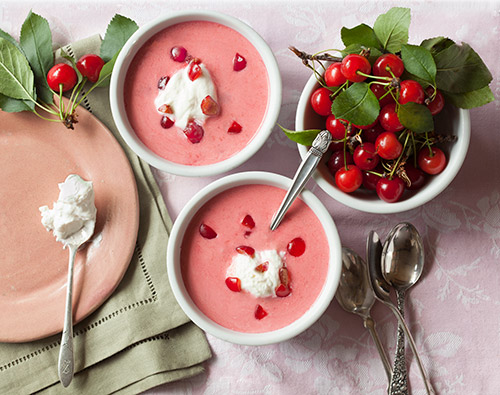 Borscht, borscht, borscht. Why do cold summer soups always seem to be about borscht? Yes, the cold beet soup has an illustrious history that goes way back in the annals of Jewish cuisine. And it is so culturally ingrained in America that it's a culinary synonym for the Catskills. Plus, it's irresistibly pretty and pink. But when you dip into it….it's beets.
That's not so bad, but, I wonder, shouldn't something so decidedly pastel taste a little less earthy and a lot more ethereal? Perhaps like cherries. Or, more specifically, like sour cherry soup?
This soup's beautiful rose-colored palette is the result of a blissful mingling of tart cherries, sugar, a little red wine and sour cream. And while I know it's not a competition, "divinely decadent" could easily be anyone's reaction to spooning sour cherry soup in their mouth. When is the last time anyone said anything like that about borscht?
Sour cherry soup is a dish with deep roots in Eastern European cooking, where fruit soups traditionally started the meal to sharpen the appetite. It is also a classic example of field to table cuisine. When the trees were full of tart cherries, you could be sure that compotes, fruit-stuffed pastries and sour cherry soup, enriched with sour cream made from the abundant sweet spring milk—or not, if you needed a pareve soup—filled the dinner tables of Jewish homes throughout the region.
In America, sour cherry soup is a connection to the old country. Joan Nathan remembers sharing sour cherry soup with her grandfather on their outings to the many glorious Hungarian restaurants that used to line Second Avenue in New York City. It's also part of the grand lineage that inspired Israeli fruit soup, a mélange of sweet and tart fruits also thickened with sour cream and served chilled. And sour cherry soup has the advantage of versatility—add a little more sugar and it's dessert.
The rest of the year you can go back to borscht. But for a bowl that's pink perfection for midsummer cooling, it's all about the sour cherries.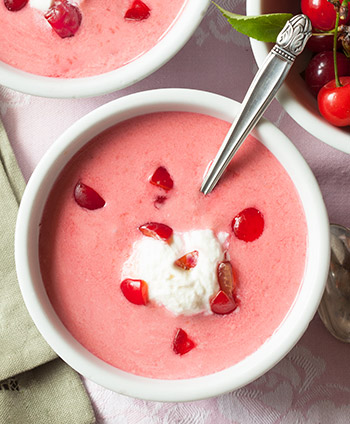 Cold Sour Cherry Soup
Serves 6 to 8
There are many variations of this soup. Tart cherries are, of course, a must. Use fresh if you can find them in late spring or early summer, otherwise frozen, jarred or even canned will do. Sugar is a necessity—these cherries truly are sour. As for the rest, have at it. There's lots of options, including a very boozy one from celebrated Jewish food writer and historian Claudia Roden that calls for brandy, which I quite like. After a soup filled with wine and liquor, it probably doesn't matter what you serve later in the meal, so the pressure's off. Cheers!
2 cups water
1 cup red wine (optional, can be replaced with water)
4 to 6 tablespoons sugar, to taste
2 cinnamon sticks
Pinch of powdered cloves
1 lemon (zest and juice, about 4 tablespoons juice)
2 pounds pitted fresh tart cherries OR 3, 14.5-ounce cans of tart cherries (Morello or Montmorancy preferably, but not packaged in sweet syrup) OR about 45 ounces frozen tart cherries
1 cup sour cream, crème fraîche or Greek yogurt (room temperature)
6 tablespoons brandy (totally optional)
Extra sour cream, crème fraîche or Greek yogurt, for garnish
Pour 2 cups water and the wine (if using) into a large saucepan. If using canned cherries, drain the juice into the saucepan, add the wine and enough water to make 3 cups of liquid.
Add sugar, cinnamon sticks, powdered cloves, lemon juice and zest. Bring to a simmer over medium heat, stirring to dissolve sugar, then add cherries. Turn heat to low, partially cover, and cook until cherries are tender, about 15 minutes. Let cool about 20 minutes.
Remove a handful of the cherries for garnish, then puree the rest using an immersion blender or food processor. Cool to room temperature.
Add one cup of soup to the sour cream (or crème fraîche or Greek yogurt), mix well, then stir that mixture into the remainder of the soup, mixing until well combined. Add optional brandy.
Refrigerate until cold, top with reserved cherries, chopped if desired, and sour cream. Serve at once.
---
Beth Segal is an award-winning writer and photographer specializing in food projects. She has lived in Minneapolis, Chicago and New York City, and is now happily settled in Cleveland. Her work has appeared in the The Plain Dealer, The New York Times Sunday Magazine, Bon Appetit and many other publications.