Sherry Ansky Decodes the DNA of Israeli Food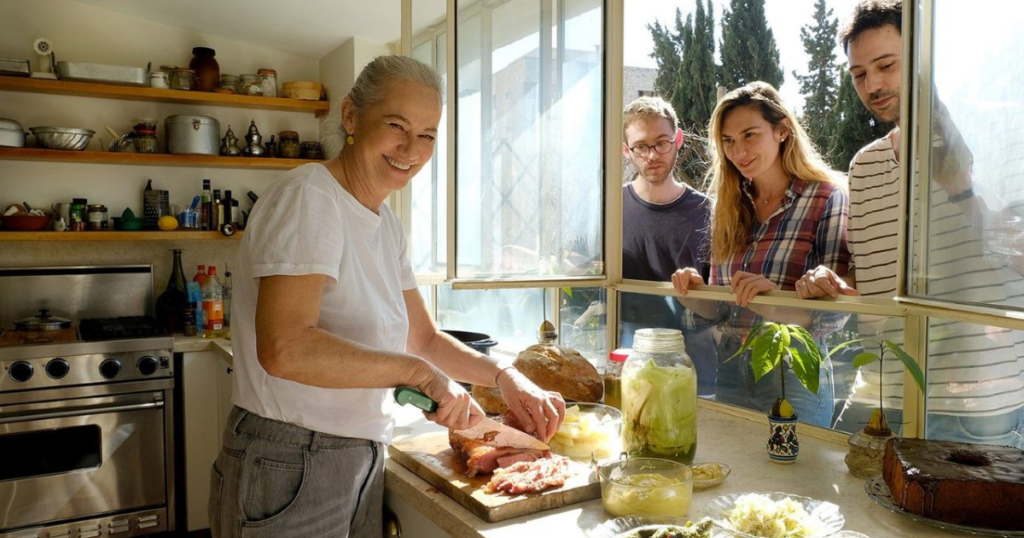 The story goes that in 2011, soon after opening Sherry Herring, her pickled-herring sandwich stand, in Tel Aviv's North Port Market, celebrated Israeli food writer Sherry Ansky saw a customer take a bite of his sandwich and register some level of dissatisfaction. Instead of shrugging it off, she insisted on buying it back from him at twice the price.
"I'm a very passionate person," Ansky told me over the phone from her apartment in Jerusalem. "I try to be real and authentic in all parts of my life."
That authenticity is on display in the pages of her new Hebrew-language cookbook, The Food Is Ready (HaOchel Muchan), an instant best seller in Israel that Ansky, 64, completed during Israel's three coronavirus lockdowns. Written in a highly conversational style and paired with meticulously tested recipes, it reflects the decades that Ansky spent decoding the DNA of Israeli food.
"She is the high priestess of home cooking," said Israeli celebrity chef and baker Erez Komarovsky. "Everyone looks up to her because not only is everything she does thoroughly researched, with insight and emotion, but she still makes you feel right at home."
"I always want the cook to feel as though I am sitting right beside them in the kitchen," said Ansky, who was the food columnist for the leading Israeli newspaper Maariv from 1992 to 2011. "It is always my hope that people learn from me and all of my work and research."
A thirst for knowledge was instilled in Ansky from a young age by her parents. Every Shabbat, her father, Chaim Gvaryahu, a professor of bible and Talmud, would study a tractate from the Gemara with his young daughter—"Unheard of for girls at that time," she said. Her mother, Chana, an agronomist whose family perished in the Holocaust, gardened and cooked obsessively.
"All her life, my mother relived her Czech Jewish childhood through food," said Ansky, who included many of her mother's recipes—a clove-spiced honey cake and classic chicken soup, among others—in The Food Is Ready, her sixth cookbook. (Only The Food of Israel: Authentic Recipes From the Land of Milk and Honey has been translated into English, when it was released in the United States in 2000.) "She taught me through her own cooking that a recipe has the power to return you to specific moments when you felt happiness and safety."
To this day, the grivalach (gribenes in Yiddish—crispy rendered chicken skin) Chana served with mashed potatoes and caramelized onions evokes strong emotions. "I can still remember the moment when I tasted it for the first time, with the plate rested on my knees," said Ansky. "I was blown away."
Taste memories like those have become the building blocks of Ansky's culinary journey. Always a passionate home cook, she relished preparing meals for her family as she raised her two children from her first marriage—daughter Michal, a food writer and television personality, and son Hillel, an artist—as well as her youngest, son Chaim, named for her late father, from a later relationship with the photographer Alex Levac. Though the two are no longer a couple, Levac photographed the recipes for the new book.
Ansky trained as a graphic designer and began working in that capacity at Maariv in the early 1980s, but with her underlying passion for food, she decided to approach her editor and ask if she could take a stab at writing a food column. "I knew I was a good cook, so I felt ready," recalled Ansky.
Her editor didn't agree, declining the request. Dejected, Ansky retreated to her home kitchen, where she worked for a week to curate and cook a meal of seasonal dishes like stuffed grape leaves and salads with local fruits, each of which would be accompanied by a short oral presentation. She invited friends from Israel's creative community, including the director of cultural events at Jerusalem's Tower of David Museum, Adi Semel, who was so impressed that he later hired Ansky to mount a major exhibition on the history of food in Jerusalem.
During her research for the 1992 exhibition, "Eating in Jerusalem," Ansky learned that bronze pots used by Muslims in Jerusalem hundreds of years ago were being stored on the Temple Mount. To gain the permission of the Jerusalem Islamic Waqf (religious authority) to use the pots as part of her exhibition, Ansky
promised to research a recipe for rice and hulled grains that the authority had in its possession. "It's one of my greatest accomplishments," said Ansky, citing it as an example of the kind of coexistence that exists in even the most contentious of regions.
After the success of the exhibition, Ansky's editor relented, and she began writing a food column. She soon became a trusted voice for Israeli home cooks, in the process emphasizing how, in a country moving at warp speed to progress, it was still important to look back at the past.
"A cuisine with no history isn't cuisine," said Ansky, who often has written that the religious laws that inform Shabbat and holiday cooking are a powerful source of identity for the Jewish people. To Ansky, hamin, or cholent, the Sabbath stew, is the ultimate Jewish soul food, an expression of Jewish history in a pot. Indeed, she became so obsessed with cholent that she wrote an entire book on the subject, another best seller released in 2005.
By 2011, Ansky was burnt out from writing her column and eager to be an entrepreneur, so she left the newspaper that year to open Sherry Herring. Using another childhood food memory—her mother's cured fish on rye bread—as inspiration for her menu, she created a thoroughly modern sandwich that layered cherry tomato seeds and juice, sliced jalapeño and a schmear of sour cream with the herring on a freshly baked mini baguette.
Ansky, who was living primarily in Tel Aviv for many years, had already begun working on her latest book when the pandemic hit. She made the move back to her childhood neighborhood of Neve Sha'anan in Jerusalem for many reasons, including to be near her mother, who is 93.
It was in Jerusalem where Ansky finished her book, whose runaway success represents something of a comeback, since she hadn't written much since 2011.
"People missed her a lot, missed her influence a lot," said Komarovsky, who credits Ansky with helping introduce Israelis to the concept of traditional Arab and Palestinian cooking called baladi, roughly translated as rustic or traditional cooking.
"You can't talk about local Israeli food without talking about the influence of Arab, Palestinian and Druze cooking," said Ansky, who believes passionately that food can break down barriers in Israel. Before the founding of the state, she said, "Jews used to bring their first-baked matzot to Arab neighbors to eat, and at the end of Passover, Arabs would bake pita bread and bring it to the Jews as their first chametz. That's a very powerful message."
---
Recipes excerpted from The Food Is Ready/HaOchel Muchan by Sherry Ansky (Keter Publishing House, 2021). Photos by Alex Levac.
Cold Borscht
Serves 4 to 5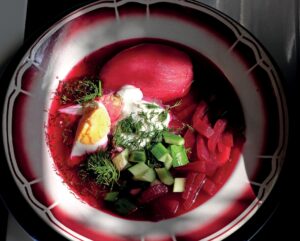 8 beets (about 2 pounds), peeled and cut into matchsticks
2 carrots, peeled and cut into rounds 2 to 3 celery stalks, leaves included, chopped
Salt, to taste
2 bay leaves
2 allspice berries
1 teaspoon vinegar, plus more to taste
4 smallish potatoes (about 1 1/4 pounds total)
Freshly ground black pepper and sugar, to  taste
1 teaspoon lemon juice (optional)
Hard-boiled eggs, quartered
Sour cream
Diced cucumber
Chopped fresh dill
1. Place the beets, carrots and celery in a large pot and cover with about 2 to 3 inches of water. Add a pinch of salt, the bay leaves, allspice berries and the teaspoon vinegar (this helps sharpen the flavor and preserve the color of the beets). Bring to a low boil over medium-high heat.
2. Peel the potatoes and gently lower them into the pot (you can also add cooked potatoes just before serving). Cook until the beets and potatoes have softened, 35 to 40 minutes. Taste the soup and add salt, pepper, sugar and lemon, to taste. If the soup tastes too acidic, dilute with a bit of water.
3. The second the soup comes off the stove, strain the liquid from the solids, reserving both. Chill both the liquid and the solids, then taste the liquid again and adjust the seasonings.
4. Divide the vegetables and potatoes (potatoes can be halved to make more servings) among 4 to 5 wide bowls, then fill with the cold soup. Top each bowl with sour cream, hard-boiled eggs, cucumber and dill.
Chraimeh Fish Patties
Serves 4 to 5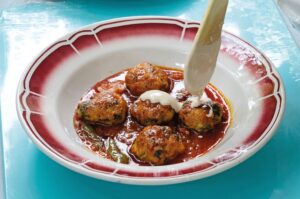 2 slices white bread
1 pound boneless skinless white fish fillets, finely chopped
2 eggs, lightly beaten
1 small onion, very finely minced
Handful of parsley or cilantro, finely chopped
1 teaspoon kosher salt
1/2 teaspoon freshly ground black or white pepper
2 large, ripe tomatoes
6 to 7 garlic cloves, chopped
1 jalapeño pepper (seeds optional), thinly sliced
1/3 cup olive oil
1 tablespoon sweet paprika, plus more to taste
1 tablespoon hot Hungarian paprika, plus more to taste
2 tablespoons tomato paste
1 scant teaspoon kosher salt
2 to 3 mild and hot dried hot peppers, such as guajillo and chiles de arbol (optional)
Juice of 1/2 a lemon
Tahini
1. Soak the bread in water for 5 minutes, then squeeze out moisture and tear into small pieces and add to a medium bowl with the fish, eggs, onion, parsley or cilantro, salt and pepper. Use your hands to gently mix until ingredients are evenly incorporated. Chill until ready to use. To check the salt level, cook a small amount of the mixture in a skillet, then season to taste.
2. Use some of the oil to grease your hands, then shape the mixture into 10 to 12 small patties.
3. Grate the tomatoes on the large holes of a box grater into a bowl; discard the skins. Put the garlic, jalapeño pepper and the remaining olive oil in a wide, 9- or 10-inch skillet. Bring the heat to medium-low and cook, stirring, until garlic and peppers are softened (make sure the garlic doesn't burn and turn bitter), 3 to 4 minutes. Add the sweet and hot paprikas all at once and incorporate, stirring until the mixture begins to bubble, 1 to 2 minutes.
4. Add the grated tomatoes and tomato paste and stir to incorporate. Reduce the heat to low, and add the salt and dried peppers, if using. Simmer until the mixture thickens and reduces slightly, 15 to 20 minutes. Season with salt, and if the sauce feels too thick, add up to 1/4 cup of water.
5. Gently add the fish patties to the bubbling sauce, swirling the skillet so the sauce gets on top of the patties. Cover the skillet and simmer over low heat, shaking the skillet occasionally and uncovering the skillet to spoon sauce over the patties, 15 to 20 minutes.
6. Squeeze the lemon over the fish, divide the sauce and fish among bowls and drizzle tahini over the top.
---
Adeena Sussman is the author of Sababa: Fresh, Sunny Flavors from My Israeli Kitchen and co-author of Gazoz: The Art of Making Magical, Seasonal Sparkling Drinks. She lives in Tel Aviv.