Cooking Across the Sephardi Diaspora
Imagine a world where everything you cooked was under surveillance and suspicion, and preparing for Shabbat was one of the most dangerous things you could do. That was the world of the Jews of Spain when the kingdoms of Aragon and Castile combined in the late 15th century to form the Spanish Empire, one of the most powerful Christian strongholds in Europe. The Iberian Peninsula had for centuries been a place where Jews, Muslims and Christians had co-existed in an uneasy peace. But the balance of power shifted with time, and it was a Catholic Spain that finally, in 1492, issued the edict that ordered the Jews to either convert or flee.
Some stayed and became conversos; some pretended to convert and practiced Judaism in secret as crypto-Jews. Others fled to uncertain safety in Europe or, later, to Spanish-speaking colonies in South America. Whichever path they chose, they led lives of danger and uncertainty. But tradition dies hard, and Sephardi: Cooking the History. Recipes of the Jews of Spain and the Diaspora, from the 13th Century to Today by Hélène Jawhara Piñer honors the cuisine that kept the culture alive during that dark period in Jewish history and afterward.
Piñer is perhaps the perfect person to tell the story. With a Ph.D in medieval history and the history of food from the University of Tours in France, her culinary patrimony includes pastry chefs, cooks, butchers and bakers on her mother's side and a paternal grandmother who is, she writes in the book's introduction, "a master at simple and delicious cuisine with a perfect combination of flavors." The book itself is an extraordinary showcase for Piñer's seemingly unlimited knowledge and boundless joy for cooking through the ages.
Using material gleaned from more than 2,000 historical documents sourced over five years of study, Sephardi is a collection of 55 recipes and Iberian Jewish culinary traditions that comes well-annotated with scholarly references and insight. Many of these traditions, like the laws of kashrut, are familiar. What's not? The secrecy and constant dread of discovery, which permeate the accompanying text. Indeed, Piñer took many historical details directly from Inquisition trial testimony.
But the recipes themselves are, on the whole, celebrations, with beautiful photos captured by the author. Using a bountiful pantry of ingredients that is as accessible now as it was then—spinach, olive oil, cheese, chicken, bread, eggs, eggplant (lots of eggplant, used in savory and sweet recipes), nuts, onions, coriander, cinnamon, rose water, garlic and honey—Piñer brings a swath of the Sephardi diaspora to life. Recipes range from a simple and earthy matza to The Bread of the Seven Heavens, a savory pastry stuffed with feta, mint, garlic and thyme that's twisted seven times into a towering edible edifice—somewhat daunting, but so delicious. Along the way, she features many classic Sephardi recipes, including a very good tutorial on Brik, almond-filled rolls soaked in honey; and a lengthy but straightforward rendition of Adefina, the archetypical Sephardi Shabbat dish that was the cholent of the medieval Iberian world.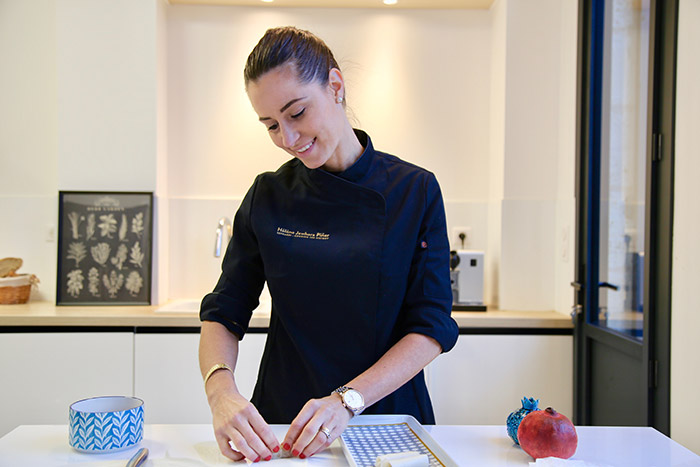 Most of Piñer's recipes are within the skill set of any confident cook. Some of the most intriguing are simple enough to be taken on by eager neophytes, dishes such as Baked Mugabbana (cheese pies) and Acelgas con Garbanzos (Swiss chard stew with chickpeas). Others consist of multiple mini-recipes and direction gaps that require an experienced chef to navigate, for example complex recipes for Tharid, a thick soup made with unleavened bread and chicken, and Berenjenas Confitadas, candied eggplant with cinnamon.
Piñer also touches on a fascinating document by no less an authority than Maimonides, the revered medieval Jewish physician and scholar from Cordoba, Spain. One of his treatises, The Regimen of Health, touts healthy, mindful eating, and his chicken soup recipe—bereft of starchy noodles or matzah balls—comes with a light and lovely broth, full of sustaining chickpeas and vegetables, a bit of rice and a poached egg for extra protein. The soup could have been printed today in Cooking Light magazine.
Looking ahead to Rosh Hashanah and apple season, one of Piñer's most captivating creations is a Rose Apple Tart filled with chopped dates and topped with an almond-and-sugar crusted rosette of delicate apple slices.
But no matter what you cook from the book, Sephardi is an essential history of, and homage to, a people's enduring culture and cuisine during a time when they were tested to the core of their belief. Those Jews not only survived but triumphed. For a reality check, see Facebook's three different Sephardic cooking groups, each with thousands of members. (Piñer herself is an administrator of the group Sephardi Cuisine!, which counts almost 13,000 members.)
As Piñer said, "for me, a dish tastes different when you know where it really comes from. Its history makes each bite more intense, more delicious." B'teyavon to that!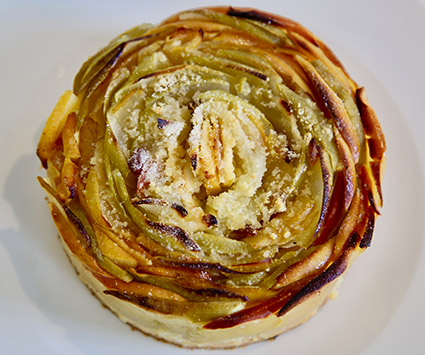 Rose Apple Tart
Serves 6
This dessert is perfect for Rosh Hashanah. Its shape represents a flower that opens to welcome the New Year, with apples and dates bathed in honey so that, as per tradition, the year will be sweet.

FOR THE DOUGH
1 1/3 cup flour
1/2 cup butter, softened
1 1/2 cup confectioner's sugar
2 egg yolks
2 1/2 tablespoons cornstarch
1 teaspoon honey
8 chopped dates
FOR THE APPLES
5 apples, ideally a mix of Braeburn and Granny Smith (avoid Golden Delicious)
1 cup water
1 tablespoon lemon juice
1/4 cup ground almonds
1 tablespoon sugar
TO SPRINKLE
2 teaspoons sugar
2 teaspoons honey
Start with the dough: In a big bowl, mix flour, soft butter, confectioner's sugar, egg yolks, cornstarch and honey with a wooden spoon. Add the very finely chopped dates.
With your fingertips, finish mixing and form a ball. Wrap it in plastic and put it in the fridge for 30 minutes.
Meanwhile, prepare the apples: Wash them but do not peel them. Slice them vertically into large slivers (like large rose petals). Place them in a bowl with the water and lemon juice. Cover the bowl with plastic wrap and cook in the microwave for 5 minutes.
Preheat the oven to 350° and prepare an 8- or 9-inch tart ring by greasing it with butter and sprinkling with confectioner's sugar.
Roll out the dough between two sheets of parchment paper until it is a little wider than the diameter of the tart tin.
Peel off the parchment from the top of the dough and transfer it to the tin, pressing the dough down lightly. Do not remove the dough that protrudes (you will do that once the tart is baked).
Take the apples: Pat dry each apple slice on a paper towel, before starting to layer them inside the edge of the tart tin. Make each slice overlap a little on the previous, like the petals of a rose. Do the same with all the slices, sprinkling the ground almonds and sugar between the slices as you layer.
Bake for 30 minutes. Once out of the oven, sprinkle with sugar and honey. Only remove the tart from the tin when completely cool.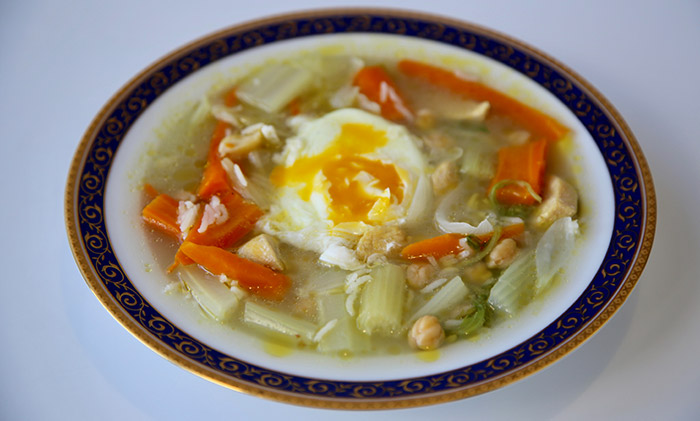 Puchero, Maimonides' Chicken Soup
Serves 4

In his 1198 treatise, The Regimen of Health, Maimonides writes that "The patient will always keep his strength by taking a light food like chicken soup, meat broth, soft egg yolk, wine for him who can take it, and even some less mild elements such as chicken meat." Maimonides' chicken soup reminds me of the one that my Andalusian  grandmother used to make—also a dish that was mentioned in the Spanish Inquisition trial records of the 16th century. Today, this style of chicken soup bears the name Puchero.
2 to 3 tablespoons olive oil
1 clove garlic, chopped
1/2 pound chicken breast
3 carrots, peeled
2 stalks of celery, with leaves
1/2 cup cooked chickpeas
1 onion, quartered
1 teaspoon salt
1/2 teaspoon black pepper
5 cups water
1/2 cup (100 g) rice
4 eggs
Fresh lemon juice
In a pot, heat the olive oil over medium heat. Add the chopped garlic clove and the pieces of chicken breast. Brown for 5 minutes.
Cut carrots in half lengthwise, then cut them into pieces that are the width of two fingers. Put them in the pot.
Cut celery into finger-wide pieces and put them in the pot together with their leaves.
Add the cooked chickpeas, onion, salt, pepper and water. Cover and cook for 15 minutes.
Add the rice and continue cooking, uncovered, for 10 minutes. Add a little water if the mixture thickens too much.
Take 2 cups of broth from the soup and add it to a separate saucepan, then bring it to the boil. Crack an egg into the boiling broth and move it around the pan so that the broth cooks it for 2 minutes, until soft boiled. Then place the cooked in an individual soup bowl. Do the same for the remaining 3 eggs.
Pour the contents of the puchero in each bowl around the egg. Serve with fresh lemon juice, if desired.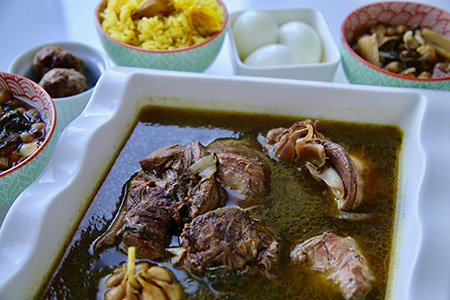 Adefina
Serves 4 to 6
Adefina, adafina, dafina, aní, hamín, caliente, trasnochado. All these names refer to one thing: the quintessential Shabbat dish of the Sephardic Jews of the 15th century. It was commonly known under different names, and this would have been one way Jews were able to deceive Inquisition officials, as this dish would have revealed the makers and eaters as Jewish. All terms refer to the characteristics of the dish: adefina, adafina, dafina mean "buried, hidden." Aní, hamín, caliente refer to the fact that the dish is "hot." And trasnochado refers to the fact that it is cooked "overnight."
Out of respect for the history of this recipe, the method presented here does not contain New World ingredients—like potatoes and sweet potatoes—that are now frequently used by Sephardim to prepare Adefina.
1/2 pound beef brisket, bone in, or lamb neck
2 tablespoons sugar
Water (to cover the meat)
1 onion
1/3 cup olive oil
2 bay leaves
1 tablespoon salt
1 whole head garlic
1/2 teaspoon ground cinnamon
1/2 teaspoon black pepper
1/2 teaspoon ground nutmeg
1/2 teaspoon turmeric
1 cup dried chickpeas (soaked in water for 24 hours)
6 eggs, left in their shell
10 dates
1 cup Swiss chard, boiled
10 mint leaves
FOR THE FRIED RICE
2 tablespoons olive oil
1/2 cup rice
1 clove garlic, chopped
1/2 teaspoon salt
1/2 teaspoon turmeric
2 saffron strands
Muslin (cooks note: several layers of cheesecloth may substitute for muslin)
Add the meat (bone in) to a large ovenproof pot along with the sugar. Brown for 5 minutes over high heat on the stove. Add water just to cover the meat and bring to a boil; boil for 10 minutes. Skim off and discard the layer of fat that forms over the water.
In the same water, add the whole onion, olive oil, bay leaves, salt, the whole head of garlic, cinnamon, black pepper, nutmeg and turmeric, without overlapping if possible. Next, add the chickpeas, whole eggs in their shells, dates, Swiss chard and mint leaves.
Meanwhile, make the fried rice separately: Take a frying pan and add the olive oil, rice, garlic, salt, turmeric and saffron. Brown for 5 minutes over low to medium heat. Let the rice cool, then place it in the muslin and tie it up. Add the muslin to the pot with the meat.
Add additional water to cover all ingredients. Cover the pot and place it in a 200°-oven in the late afternoon. The adefina will be ready the next day in the late morning.
If desired, you can serve the different ingredients from the pot (rice, eggs, vegetables, broth, meat) in separate dishes.
Notes:
Many hidden Jews were informed on to Inquisition officials by their servants, who became suspicious on Friday evenings when they were sent out of the house when it was time to prepare Adefina. There were many versions of this dish documented in Inquisition trial records throughout the 15th century. All have some variation of these ingredients and are cooked overnight for Shabbat.
Andrés Bernáldez (1415 to 1513) mentioned the term "adefina" in relation to the culinary practices of the Jews. In Memoirs of the Reign of the Catholic Monarchs (written in the 15th century), he wrote that Adefina was "a pot-au-feu (puchero) or pot (olla) that the Jews place at nightfall on a stove covering it with embers, for eating on Saturdays." Various Spanish literary works testify to the preparation and consumption of Adefina between the 14th and 16th centuries.
Recipes and photos from 'Sephardi: Cooking the History. Recipes of the Jews of Spain and the Diaspora, from the 13th Century to Today' by Hélène Jawhara Piñer (Cherry Orchard Books, Imprint of Academic Studies Press 2021)
---
Beth Segal is an award-winning writer and photographer specializing in food projects. She has lived in Minneapolis, Chicago and New York City, and is now happily settled in Cleveland. Her work has appeared in the The Plain Dealer, The New York Times Sunday Magazine, Bon Appetit and many other publications.