What's On The Bookshelf Of These Acclaimed Jewish Authors?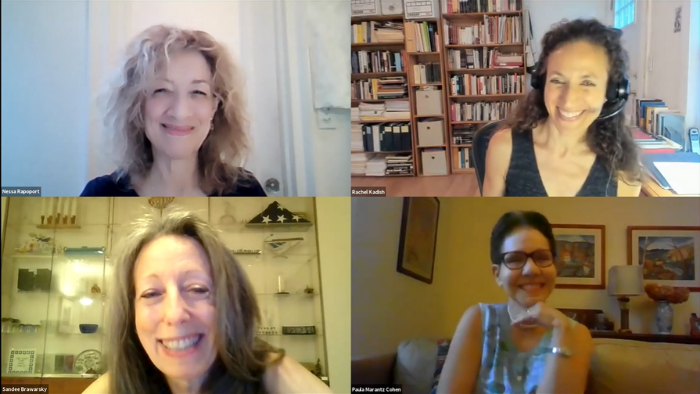 Hadassah Magazine recently hosted a One Book, One Hadassah event in which a panel of distinguished authors discussed books that have been touchstones for Jewish women. Beginning with an in-depth discussion on Marjorie Morningstar by Herman Wouk, which was the August One Book, One Hadassah selection, the panelists ended the program with their own recommendations of books by Jewish women they think every Jewish woman should read.
Among moderator Sandee Brawarsky's suggestions was Fugitive Pieces by Ann Michaels. In addition, you can read Brawarsky's Hadassah Magazine essay on "Must-Reads for Jewish Women".
Author Paula Marantz Cohen listed several Jewish writers — from the philosophical Susan Sontag and Hannah Arendt to the lighter novels of Jennifer Weiner, whose Big Summer launched One Book, One Hadassah in June 2020. She also reminded the audience that Daniel Deronda by George Eliot is in fact a Jewish novel, and she mentioned that Nora Ephron's Heartburn had significantly impacted her.
Author Rachel Kadish,  excited at the prospect of uplifting the voices of Jewish female writers,  enthusiastically suggested Bronx Primitive by Kate Simon, Tell Me a Riddle by Tille Olsen, and Sonechka: A Novella and Stories by Russian author Ludmilla Ulitskaya. She also highlighted several Israeli authors: And the Bride Closed the Door by Ronit Matalon, House on Endless Waters by Emuna Elon, and Pain: A Novel by Zeruya Shalev.
And author Nessa Rapoport focused on the books of her fellow panelists: Kadish's The Weight of Ink; Cohen's Jane Austen in Boca; and her own Evening.
All the guests agreed on The Collected Stories by Grace Paley and the novels of Cynthia Ozick (The Shawl, The Puttermesser Papers, Antiquities).
Click here to view the full program with the authors.
We asked Hadassah Magazine readers what books they would add to the list, and they answered here. Have more recommendations? Comment below!