Riffs on Hanukkah Classics: Latkes and Cake à la Grandma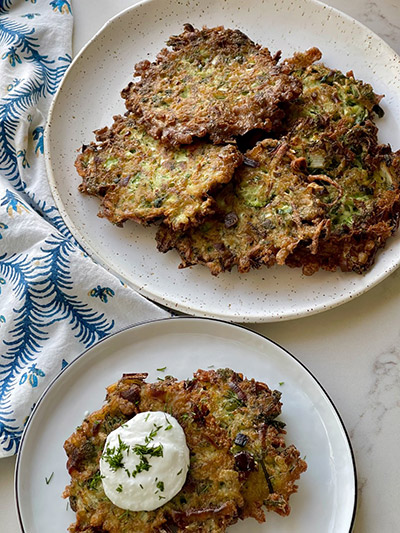 When my grandfather, Jack Nadrich, retired from his restaurant-supply business that sold everything from Pyrex to paring knives to New York City-area Greek diners, my grandmother, Anne, announced her retirement from cooking.
A child of the Depression who had left middle school at age 12 to cook and clean for her family, thereby allowing her older siblings and father to work, the kitchen was a place she was happy to leave behind for good. So when she and my grandfather moved to Northern California in 1978 to be closer to my family, almost every day they happily ate out for lunch and dinner, often taking me and my older sister, Sharon, with them.
Every day except one. On the first night of Hanukkah, my grandmother would unearth her shiny Farberware skillet and stainless-steel box grater and would buy a 5-pound bag of potatoes to make the one food that elicited pure joy among us: latkes. As my family sat down at my grandparents' dining table set with Corelle plates in Spring Blossom Green laid atop tissue-thin paper placemats, Grandma Anne would fry latkes made-to-order on her electric range, not stopping until the last potato was gone and our bellies were full of her crispy, sour cream-topped potato pancakes. I loved those latkes and reveled in the uncomplicated happiness that making them brought to my grandmother.
I still think of her every year on Hanukkah when I make latkes. But since I fry latkes and other delights practically every night of the eight-day holiday that begins this year on November 28, I sometimes deviate from the classics, varying my repertoire to include as many vegetables and flavors as I can.
I've made every permutation possible—from sweet potato and beet to kohlrabi, carrot and sunchoke. My latest obsession is green fritters that bring garden goodness to a late-fall meal. Broccoli—with a bit of grated potato in honor of Grandma Anne—forms the base. In lieu of onions, I incorporate leeks, which crisp up marvelously and add mellow flavor. Scallion greens and chopped dill lend extra freshness while maintaining a lot of their brightness even after frying.
Since thanksgiving weekend ends just as Hanukkah begins this year, these latkes would pair well with leftover turkey. Swap in nondairy yogurt or sour cream and bring out that leftover cranberry relish for a sweet and savory contrast.
For dessert, my grandmother always served an Entenmann's pound cake and steaming hot mugs of unsweetened Lipton tea. But for less time than it takes to make a trip to the supermarket, you can mix up an elegant cake whose star ingredient—olive oil—evokes the central Hanukkah miracle. A bit of semolina, which is similar in texture to cornmeal but made from wheat, adds intriguing texture, and a sprinkling of pomegranate seeds is festive and colorful. If you can't find them, top the cake with orange segments or other seasonal fruit.
Best of all, the cake tastes better and becomes moister after it sits for a few days—a Hanukkah miracle all of us dessert lovers can appreciate.
---
Green Latkes
Makes 8 to 10 latkes
1 medium leek, sliced into very thin rounds
1 medium potato, scrubbed, skin on
2 cups broccoli florets, chopped into tiny pieces
1 cup thinly sliced scallion, greens parts only
1/2 cup finely chopped dill, plus more for frying
1 clove finely minced garlic
4 eggs
1/3 cup potato starch
1 teaspoon kosher salt, plus more for seasoning
1/2 teaspoon freshly ground black pepper, plus more for seasoning
1/4 teaspoon baking powder
Vegetable oil, for frying
Sour cream, for serving
1. Arrange a rack over a baking sheet.
2. Place the leeks in a medium bowl, cover with cold water, swirl to release any sand and then dry thoroughly using a clean kitchen towel or salad spinner.
3. Grate the potato, then use your hands to squeeze out and discard as much liquid as possible.
4. Transfer the leeks and potatoes to a large bowl and add the broccoli, scallion, dill, garlic, eggs, potato starch, salt, pepper and baking powder. Stir until everything is combined.
5. Heat 1/2-inch oil in a large cast-iron other heavy skillet until a shred of potato from the batter sizzles upon contact. Using a 1/4 cup measure, dollop the batter into the pan, three or four at a time, flattening the pancakes slightly. Fry until the underside is deeply golden and the edges are lacy and crisp, about 3 minutes. Flip and fry an additional 3 minutes.
6. Drain the latkes on the rack and season with more salt and pepper.
7. Serve warm, dolloped with sour cream and garnished with more dill, if desired. Latkes can be reheated in a 400° oven for 10 minutes before serving.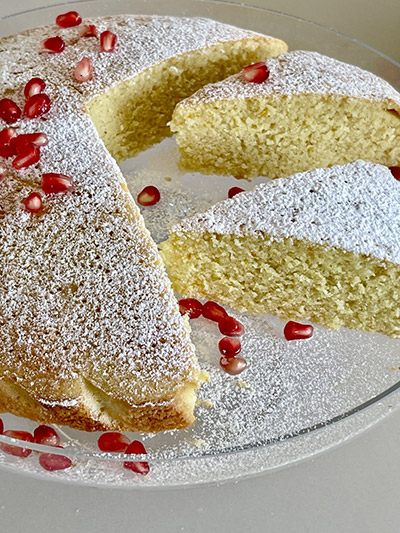 Olive Oil Semolina Cake
Serves 8 to 10
2 cups all-purpose flour
1/4 cup semolina
2 teaspoons baking powder
1 teaspoon fine sea salt
4 eggs
1 cup sugar
2/3 cup olive oil
1/2 cup nondairy full-fat milk substitute, such as oat, almond or soy
3 tablespoons orange juice, preferably fresh
1 teaspoon vanilla extract
Finely grated zest of 1 medium orange
Confectioners' sugar and pomegranate seeds, for garnish and serving
1. Preheat oven to 350°. Line the bottom of a 10-inch round baking pan with parchment and grease the sides of the pan.
2. Combine the flour, semolina, baking powder and salt in a medium bowl.
3. Beat the eggs and sugar in a stand mixer fitted with the whisk attachment at high speed until slightly fluffy, 1 minute. With the mixer running, drizzle in the oil, then the milk substitute, orange juice and vanilla into the batter until incorporated.
4. Reduce the mixer speed to medium-low and gradually add the flour mixture until just combined, then mix in the orange zest.
5. Transfer the batter to the prepared pan and bake until the cake feels just dry and springy, 27 to 30 minutes. Cool for 5 to 10 minutes, then remove cake from pan and let cool completely. Dust with confectioners' sugar and garnish with pomegranate seeds, if desired. Cake can be stored on the counter (without the pomegranate seeds), sealed in plastic wrap, for 3 days.
---
Adeena Sussman is the author of Sababa: Fresh, Sunny Flavors from My Israeli Kitchen and co-author of Gazoz: The Art of Making Magical, Seasonal Sparkling Drinks. She lives in Tel Aviv.