DIY Chinese Food Dinner for December 25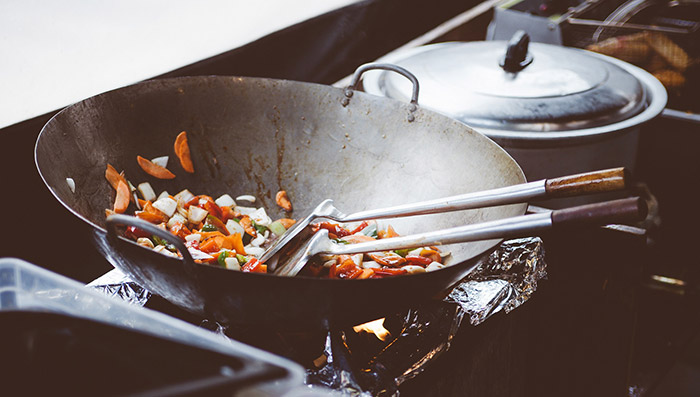 Hanukkah will be over and done by the time Christmas rolls around this year. But several weeks after the last candle is lit and the last latke eaten, there is one more Jewish tradition yet to be fulfilled. During the holiday of jolly old St. Nicholas—when almost everyone else is tucking into Yuletide fare—we partake of Chinese food.
It's not exactly halacha. There's no 11th commandment or mention of it in the Shulchan Aruch. But stretching way back to the early 1900s, according to Rabbi Joshua Eli Plaut in his seasonally insightful book, A Kosher Christmas: 'Tis the Season to be Jewish, Chinese restaurants quickly became the favorite eateries for Jews who had emigrated from Eastern Europe. It was an inexpensive and exotic alternative to the more familiar and pricier foods served at Jewish delis, and there was no inherent antisemitism to worry about. Asians had no history of prejudice toward Jews. Plus, there was the fortuitous coincidence that Chinese restaurants are open on Christmas. (This year, Christmas coincides with Shabbat, so plan your menu with Saturday-night cooking in mind.)
And so a tradition was born. When many Christians eat roast beef and mashed potatoes, we eat Peking duck and fried rice. Even now, when there are so many options for other Asian cuisines available, the venerable Chinese-American venues tend to be the places filled with Jewish "refugees" on Christmas.
But even the most timeless of traditions gets upended by extraordinary circumstances. Last year and this year, many of us may feel more comfortable eating in due to Covid-19 concerns. But eating in doesn't have to mean taking out. Indeed, maybe you will want to gather, safely, with a few friends and cook. To get you started on your own DIY Chinese-Jewish-December 25th feast, here's a little guidance from my very favorite Chinese take-out joint, Eddie's Wok Express.
If you've had Eddie's ethereal but still piquant hot and sour soup or their addictive veggie-loaded fragrant fried rice, you'll know how good it is. Actually, if you've ever eaten any food from Eddie's, I'm really impressed. Not many people make it to Vietnam's biggest metropolis, Ho Chi Minh City, for their Chinese-American takeout. But if you do end up at Eddie's, ask for Brad, the founder of the eatery who just happens to be my brother. In the meantime, Brad is sharing the secrets of some of his favorite dishes as a holiday treat.
These two recipes are easy and fun to put together. Add your own stir-fried green beans and all-American hot fudge sundaes, a Segal family tradition, to end the meal. Break out a few bottles of Prosecco. It's a bubbly that pairs nicely with just about every food and festive occasion. And don't forget to put a good movie on the menu as well—maybe my favorite Jewish-Christian holiday classic, When Harry Met Sally.
However you choose to celebrate, I wish you a very merry day of eating delicious Chinese food and good wishes for a happy new year!
Eddie's Wok Express's Truly Fabulous Fried Rice
Serves 4 to 6
Fried rice is one of the world's great comfort foods. Eddie's makes it even better with lots of crisp-cooked vegetables and rice that's cooked to a delightful crunch. The recipe has been adapted slightly for home kitchens, but the keys to success remain the same: using refrigerated day-old rice and keeping the heat on high for the very best texture and taste.
SAUCE
4 tablespoons soy sauce
3/4 teaspoon sugar
1 tablespoon kosher packaged vegetable recipe mix (such as Lipton/Gefen)
1 teaspoon fresh ginger, about a 1/2-inch cube, minced (or 1/2 teaspoon powder)
1 teaspoon fresh garlic, about 1 large clove, minced (or 1/2 teaspoon powder)
RICE
3 tablespoons vegetable oil (additional 1 tablespoon as needed)
3 eggs, slightly mixed in a small bowl
3 cups packed cooked long grain white rice, refrigerated overnight or up to 3 days
1/2 medium onion, medium dice
1/2 medium red pepper, small dice
1/2 cup broccoli, cut into small pieces
1 cup frozen vegetables—a melange of corn, peas and carrots are traditional, but you can mix and match as you like
1/2 cups scallions, sliced
3/4 cup fresh bean sprouts (or canned, well-drained)
1/2 cup white mushrooms, sliced
2 teaspoons toasted sesame oil
Mix all sauce ingredients together in a small bowl and set aside.
Heat vegetable oil in a large skillet on high heat, until it just begins to smoke. A good heavy-duty pan is best here, as is a good kitchen vent. Carefully add mixed eggs and stir to scramble slightly. Add rice, keeping heat high, and fry until very lightly browned, about 5-7 minutes, stirring occasionally.  Add onions, red pepper and broccoli, and continue to cook on high heat, again stirring occasionally, until onions are barely translucent. Add frozen vegetables, cook for a few minutes and toss to incorporate all the ingredients.
Add 3 tablespoons of the sauce, toss at least 5 times (it must be an odd number according to the official Eddie's recipe), then add additional sauce, if desired, a tablespoon at a time, until rice is nicely brown and fragrant. Mix in the scallions, bean sprouts and mushrooms, cook briefly, mix in the sesame oil, toss well one more time for good luck, and serve hot.
Note: Like all great fried rice, this is as good reheated the next morning as it is fresh and hot out of the pan. Also, white take-out rice is ideal for using in fried rice. If you have any extra after a meal, freeze it for up to a month and you'll be well on your way when you're making your own fried rice.
Chef Eddie's Wondrous Hot and Sour Soup
Serves 4 to 6
Pungent and spicy in all the right places, this rich, earthy soup, filled with the umami of dried mushrooms, is great at parties or as a quick fix of comfort and warmth as the weather turns cold and blustery. Best yet, it's simple to make. In this adapted recipe, Eddie has distilled what can be a complex recipe into its essential components so it comes together easily and deliciously.
2 teaspoons vegetable oil
1 teaspoon fresh ginger, about a 1/2-inch cube, minced (or 1/2 teaspoon powder)
1 1/2  teaspoon fresh garlic, about 2 medium cloves, minced (or 3/4 teaspoon powder)
6 1/2 cups chicken or vegetable stock
1/2 teaspoon granulated sugar
2 tablespoons Chinese chili sauce, or more to taste
2 tablespoons soy sauce
1/3 cup white vinegar, or more to taste
1 teaspoon toasted sesame oil
1/3 cup dried sliced shiitake mushrooms, broken into small pieces
1/3 cup dried wood ear mushrooms, broken into small pieces
1/3 cup cornstarch
1 egg, slightly mixed in a small bowl
3/4 cup tofu, cut in 1/2-inch cubes
3 scallions, sliced
Heat vegetable oil in a medium soup pot over medium heat. Add ginger and garlic and cook until fragrant, about 2-3 minutes. Mix in stock, sugar, chili sauce, soy sauce and sesame oil. Add both mushrooms and stir well. Bring to a simmer and add the vinegar.
Thoroughly combine the cornstarch with 1/3 cup water to make a well-mixed slurry. Pour about 3/4 of the mixture slowly into the soup, stirring well to make sure it is well combined. Bring the soup back to a simmer and check the thickness. It should coat the back of a spoon. Add more slurry if desired.
Stir the soup well and check the seasoning, adding more chili sauce or vinegar to your taste. Bring the soup to a vigorous simmer and, stirring constantly in a steady circular motion, add the beaten egg in a continuous slow stream to create cooked egg "threads" in the soup. Mix in the tofu and serve with the scallions as a garnish.