Claudia Roden, Culinary Icon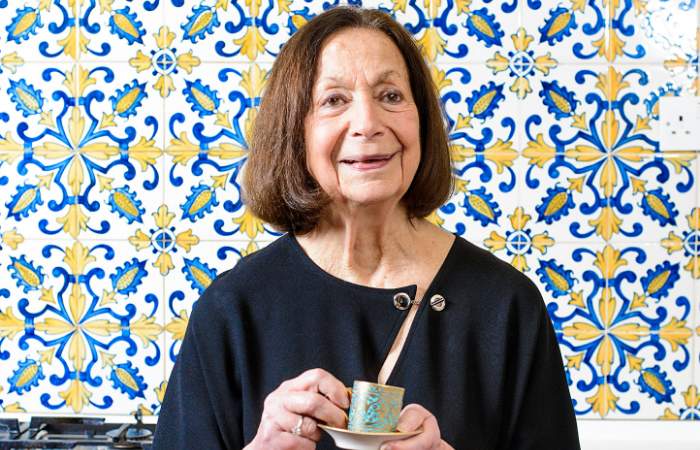 When Claudia Roden writes a cookbook, time is most certainly not of the essence.
Consider the fact that by her own account, the legendary British-Jewish food writer spent a combined 25 years researching, traveling and cooking to produce her two most seminal works: A Book of Middle Eastern Food (1968) and The Book of Jewish Food: An Odyssey from Samarkand and Vilna to the Present Day (1996).
"I never want to be pressured to finish a book. I want it to take shape the way it's meant to," Roden told me by phone from her home in the London neighborhood of Hampstead Garden Suburb.
Credited with helping to introduce home cooks to ingredients like pomegranate molasses and preserved lemons decades ago—as well as popularizing a style of cookbook writing steeped in research—Roden is one of the most influential food writers alive today, Jewish or otherwise.
"Along with other pioneers of Jewish-focused food scholarship like Joan Nathan and Gil Marks, Claudia paved the way for my generation of food writers," said author Leah Koenig, whose most recent work is The Jewish Cookbook. "They opened doors to kitchens around the world and helped to share the diverse Jewish food traditions bubbling away on stoves inside them."
Roden's status as a culinary icon has been further cemented with the recent launch of Claudia Roden's Mediterranean: Treasured Recipes from a Lifetime of Travel, her first book in a decade.
Compared to the extended research schedules of the past, Claudia Roden's Mediterranean took a mere six years to complete. While her signature cookbooks feel almost academic in approach, dense with chapters of historical detail and short on visuals, this one, while still packed with information, features an airy layout, highly stylized food photos and pictures of family dinners in her backyard. The beautiful book reads like a clothbound peek into your favorite college professor's prolonged European vacation—if that professor was one of the best cooks on earth.
Many of the recipes are meatless, and dishes like Lentils and Rice With Dates and Caramelized Onions and Chicken Baked With Olives and Boiled Lemon are simpler than you might expect. Indeed, they are designed by the 84-year-old Roden to be relatively easy to execute.
"I am cooking for my age now," said Roden, who, in recent years, has begun using canned chickpeas instead of ones she soaks overnight. She will also opt for frozen vegetables as long as they don't sacrifice quality. "People want things to be easier in the kitchen, and I wanted this book to be all about pleasure."
When we spoke, Roden was still on a high from a glowing feature by food writer Melissa Clark—who had traveled to London to spend time with her last summer—that had been published in The New York Times the day before. "It really is fabulous because it's all somewhat unexpected," said Roden, still modest after her many years of success.
"Claudia is extremely warm and generously hospitable," Clark wrote to me in an email. "I think it would be physically impossible for her to receive a guest without offering lovely things to eat and drink. She has the ability to create an intimacy with you immediately. Maybe it's the food and wine that break the ice. She's an active, curious listener—analytical and brilliant but also compassionate and caring."
It's precisely those dual traits—a deep passion for hospitality combined with a razor-sharp intellect—that Roden has utilized to fashion a career that connects the dots from her childhood in Egypt to her current life in London. Born into a privileged family in Cairo in 1936, Roden was raised in a food-centric Jewish home by Cesar and Nelly Douek, Syrian Jews who sent Claudia and her two brothers to local English-language preparatory schools and steeped them in secular arts and culture.
"We were very Europeanized, but also extremely close-knit and connected to our Jewish heritage," Roden said of her family and the traditions and food her grandparents brought with them from Aleppo, Syria, in the 19th century.
Roden's grandparents were observant and kept kosher, but the women, she told me, never learned much about Judaism beyond the laws of kashrut. "We were always sitting upstairs or outside," said Roden. "Our domain was the kitchen."
Every gathering was marked by lavish meals that included intricate dishes like kibbeh—a mixture of meat and bulger wrapped around an aromatic meat filling—that reflected the greater Arab culture surrounding the Jews, as did the Egyptian dish of ful medames (mashed broad beans).
"You have to understand that we felt as Middle Eastern as we did Jewish," Roden explained. "Jews spent hundreds of years immersed in the cultures of the countries they lived in, and we really considered the larger traditions our own."
Life along the Nile was, by all accounts, idyllic, until her family, along with the rest of the Jewish community, was expelled in 1956, caught up in a wave of Arab nationalism and Egypt's conflict with the fledgling State of Israel over access to the Suez Canal.
Leaving all their possessions behind, the Doueks immigrated to London, where their daughter attended St. Martin's School of Art and became a painter. Memories of life in Cairo and a deep longing to recreate the flavors of the Levant soon drove Roden to her kitchen, where she began documenting, archiving and testing the recipes that would inform her early cookbooks.
"It was a way to connect to her past and bring it into her present, and she is still always looking for that connection," said Clark.
Claudia Douek married Paul Roden and the couple had three children—Simon, Nadia and Anna, who all live in London—before divorcing in 1974. After her children left for college, she stepped up her world travel, notebook and pen in hand. (To this day, Roden does not use a computer for her research, and the only numbers programmed into her cellphone are those of her children and grandchildren.)
Her bibliography reflects her wanderlust, with some of her books exploring Italian and Spanish cuisine. The new book, she says, is something of a homecoming. "It is a lot about memory," said Roden. "It touches on magic moments of traveling around the Mediterranean for 30 years, and the little bit of myself I saw in every place I went. I found a bit of Alexandria in Marseilles—a quality of life, type of conviviality, a type of pleasure of living and eating that I remember from my youth."
To vet the recipes for the new book, Roden hosted small groups of friends and family several times a week to taste and critique, a process she had never employed with her previous cookbooks and with which she became deeply enamored.
"I didn't want it to end because I was having so much fun," said Roden. Covid-19 brought the gatherings to a halt, but she used her time in isolation to retest and refine the 120 recipes that eventually made it into the book.
Today, Roden stays relatively close to home and loves walking through her neighborhood's storied parks and making frequent visits to the nearby, heavily Jewish suburb of Golders Green, where her parents first made a home after immigrating.
"I feel like I am walking around Israel when I am there," said Roden, who has traveled extensively in Israel.
Energized by the positive response to the new book, Roden is considering her next endeavor. Perhaps another Middle Eastern cookbook, or maybe a memoir covering her 60-year career? "There is certainly a lot to tell," she said. "It has been a very full life, and I am not nearly finished yet."
---
Chicken With Apricots and Pistachios
Serves 4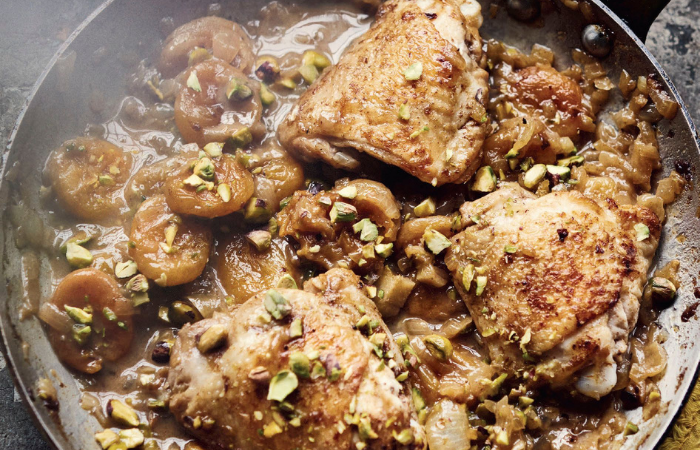 Meat with fruit is a legacy of ancient Persia that spread throughout the Arab world. When Teuntje Klinkenberg, a friend in the Netherlands, asked me for a medieval Persian recipe with chicken for the National Museum of Ceramics, I looked in a translation of a 13th-century Arab culinary manual. I was intrigued by a dish of chicken with apricots and pistachios, a combination familiar to my family and trending with chefs today. I invited my brother Ellis and sister-in-law Gill, who live nearby, to eat my modern interpretation. It was fascinating to find that the flavors of the past are still with us. Serve it with spiced saffron rice.
2 tablespoons sunflower oil
2 onions, chopped
8 bone-in, skin-on chicken thighs
Salt and freshly ground black pepper
7 ounces soft dried apricots
1 teaspoon ground cinnamon
1 teaspoon ground coriander
1 tablespoon pomegranate molasses
Juice of 1/2 a lemon
Generous 1/2 cup pistachios, coarsely chopped
1. Warm the sunflower oil in a large sauté pan over low heat. 1. Warm the sunflower oil in a large sauté pan over low heat. Add the onions and cook, with the lid on, stirring often, for about 10 minutes, until soft and golden. Remove the onions and set them aside.
2. Put the chicken thighs into the pan, skin-side down, add salt and pepper and cook over medium heat, with the lid on, for about 10 minutes, until the skin releases its fat and the chicken pieces are well browned. Turn them over and cook the other side for 10 minutes, until browned, adding more salt and pepper.
3. Add the apricots and return the onions to the pan, lifting the chicken pieces so that they sit on top of the apricots and onions.
4. Measure 3/4 cup water into a liquid measuring cup, stir in the cinnamon, coriander, pomegranate molasses and lemon juice and pour over the chicken. Cook, covered, over low heat for 25 minutes, until the chicken is very tender and cooked through and the liquid is reduced.
5. Serve the chicken sprinkled with the pistachios.
---
Bulgur Pilaf with Chickpeas, Eggplants and Tomatoes
Serves 6 to 8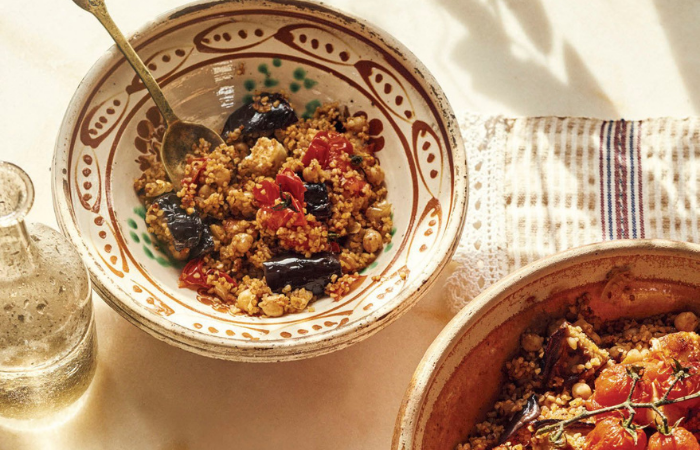 This rich Levantine combination is immensely satisfying, with layers of flavor and aroma. The optional halloumi cheese makes it a meal in itself. Accompany if you like with Greek yogurt and cucumber and tomato salad. As with anything cooked with oil, leftovers can be eaten cold—but you'll want to reheat if there is halloumi, as the cheese becomes rubbery when cold.
6 tablespoons olive oil
2 eggplants, trimmed and cut into 1 1/4-inch cubes
Salt and freshly ground black pepper to taste
10 ounces cherry or Santini tomatoes
2 onions, chopped
3 cloves garlic, chopped
2 1/4 cups bulgur
1 14-ounce can chickpeas, drained and rinsed
1 1/2 to 2 tablespoons tomato paste
1 teaspoon ground cinnamon
1/2 teaspoon ground allspice
1 teaspoon ground cumin
1 good pinch Aleppo pepper
2 cups boiling water
2 8.8-oz packages halloumi cheese (optional)
3 tablespoons extra-virgin olive oil
1. Warm 3 tablespoons of the olive oil in a sauté pan with a tight-fitting lid over medium heat. Add the eggplants and cook, turning the cubes over with a spatula so that all have a few minutes to get browned, season with salt and pepper, and put the lid back on so that they steam in their own juice for about 15 minutes. Add the tomatoes, turn them over with the eggplant, then continue to cook, covered, for about 8 minutes, until soft and beginning to release some juice.
2. In a large pan over medium heat, warm 2 tablespoons olive oil and fry the onions for 8 minutes, stirring often, until soft and beginning to color.
3. Add the garlic and cook, stirring, for 2 minutes, until the aroma rises and it begins to color. Take off the heat and stir in the bulgur and chickpeas.
4. Put the tomato paste into a liquid measuring cup and add the cinnamon, allspice, cumin, Aleppo pepper and some salt. Pour in the boiling water and stir vigorously, then pour into the pan with the bulgur and mix well. Bring to a boil, cover, and cook over low heat for 15 minutes. Taste for salt, you will probably need more.
5. If adding the halloumi, cut the cheese into 1 1/4-inch cubes and cook quickly with the remaining 1 tablespoon olive oil in a nonstick skillet over medium-high heat, turning the pieces to brown them all over. Mix into the bulgur.
6. Turn the bulgur into a large baking dish and mix in the eggplant and tomatoes. Serve with the extra-virgin olive oil drizzled over.
---
Adeena Sussman is the author of Sababa: Fresh, Sunny Flavors from My Israeli Kitchen and co-author of Gazoz: The Art of Making Magical, Seasonal Sparkling Drinks. She lives in Tel Aviv.