Combating a Deadly Social Virus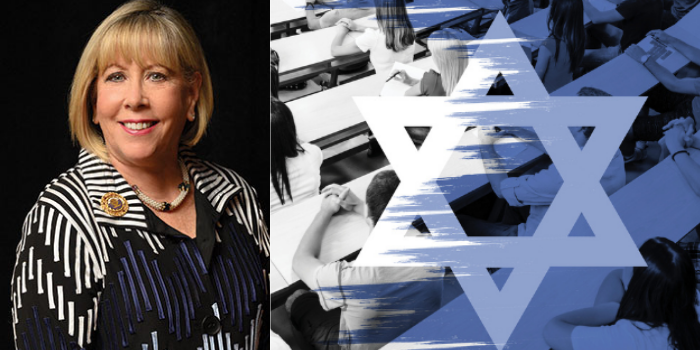 The past two years have altered our vocabulary, recycling words barely used and introducing new terms—from lockdown to Zoom, from flattening the curve to mRNA vaccines, from super-spreader events to drive-thru testing.
It has also reminded us that "virus" is still an apt metaphor to describe the spread of antisemitism. With the defeat of Nazi Germany and the post-war horror over the Holocaust in the decades that followed, the disease seemed contained. But just as with Covid-19, humanity's antibodies have waned.
As a result, antisemitic violence and rhetoric have surged in America and worldwide. We have seen the news reports of murderous attacks as well as the FBI statistics demonstrating the steady increase in anti-Jewish hate crimes.
What is different today from the Holocaust era is that we have the opportunity to do something about the problem. It occurs to me, in fact, that Hadassah has a singular distinction. We not only have a medical center and laboratories for the fight against Covid; we also have an organizational lab and human network for combating a deadly social virus.
This issue of Hadassah Magazine focuses on antisemitism, and I'd like to use this space to describe what Hadassah is doing about it in our policies, programming and partnerships, in our campaign for the passage of legislation and the adoption of international norms. What follows is an abbreviated accounting.
Hadassah is a proud partner of the Combat Antisemitism Movement—a global coalition of more than 300 organizations—and I serve as co-chair of one of the Conference of Presidents committees to combat antisemitism. Hadassah has lobbied for the widest possible adoption, by governments and institutions, of the International Holocaust Remembrance Alliance's (IHRA) Working Definition of Antisemitism. We can't effectively fight something if we don't define it. As of now, the definition has been adopted by 30 national governments. Though some United States government agencies have used the definition as a guideline, we are urging Congress to give it the force of law.
We have advocated for filling two key roles in the government—White House liaison to the Jewish community and the State Department's special envoy to monitor and combat antisemitism. President Joseph Biden appointed Chanan Weissman to the White House post last August and nominated historian and Holocaust scholar Deborah Lipstadt to the State Department position. She awaits Senate confirmation.
Hadassah has joined with the American Jewish Committee, the Anti-Defamation League, the Jewish Federations of North America and the Union of Orthodox Jewish Congregations of America in communicating to President Biden our shared concern about the spread of antisemitism.
Last year, the Never Again Education Act, which provides $2 million in grants for Holocaust education, was signed into law. Hadassah was a major force in having the legislation drafted and enacted. The grants, which are administered by the United States Holocaust Memorial Museum, help ensure that future generations learn the lessons of the Holocaust and the need to fight all kinds of hate and discrimination.
In addition to raising public awareness and mobilizing elected officials, we are working to ensure that Hadassah's members have the tools to advance our goals. We created a study guide, "Antisemitism: Define It, Defuse It," for chapters and groups across the country to use for discussions. We also distribute a study guide on the IHRA antisemitism definition. We have conducted webinars for our own membership, and Judy Shereck, our Zionist Advocacy chair, has participated in ADL webinars focused on domestic and worldwide antisemitism.
The lesson of our time is sobering. Like Covid, antisemitism can be contained but is unlikely to be eradicated. We treat this virus with education, organization and advocacy, determined to impede the spread of every variant.
Combating hate is something we share with the generations that went before us, but we have advantages they didn't have. We have many allies as well as the best tools that have ever been available for this fight. When it comes to antisemitism, we've gone anti-viral.