Grilling Is an Israeli Obsession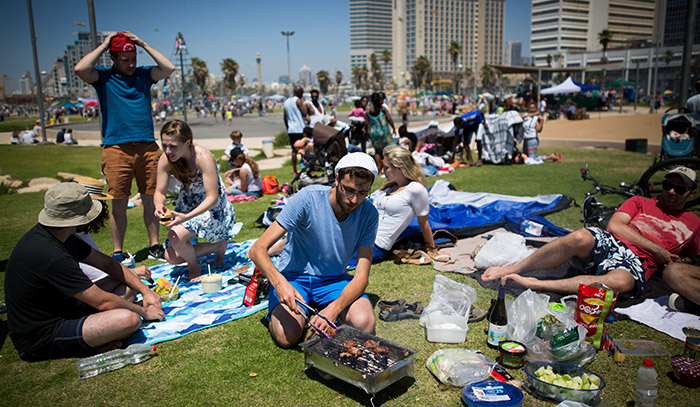 In Israel, Yom Ha'atzmaut, or Independence Day, notably commences just as the country's Memorial Day comes to a close. But if you're not looking at the clock, there's another sure-fire way to know that Yom Ha'atzmaut, which this year began the evening of May 4, has started. Smoke begins wafting through the air, the result of locals cooking al ha'esh ("on the fire") to celebrate their young nation's independence—employing the oldest cooking method known to mankind.
In the leadup to Yom Ha'atzmaut, hardware stores and supermarkets display shiny metal mangalim (small hibachi-like grills whose name has origins in Turkey), pyramid-shaped stacks of charcoal and wood, and nafnafim, pieces of plastic designed specifically for fanning coals to keep a cooking fire alive. Butcher shops offer meat pre-seasoned, skewered and vacuum-sealed for freshness. Popular Israeli food magazines like Ha'Shulchan try to top previous years' barbecue recipes—char-grilled spatchcocked piri piri chicken, anyone?—and people extend invitations to friends and family the Israeli way: via WhatsApp.
Unofficially, grilling season starts weeks earlier, the day after Passover, when Moroccan Jews observe the festivity of Mimouna by setting up mangalim and charring virtually anything that can fit on the grates. But it is on Independence Day when almost every public space is carpeted with Israelis young and old, religious and secular, in groups of families and friends. They are lighting coals, flipping burgers and sausages, rotating skewers and sizzling a staggering array of proteins as well as tomato and onion halves and pita rounds.
According to Israeli food writer and television personality Shaily Lipa, it makes sense that Yom Ha'atzmaut is a griller's paradise. "It's one of the only holidays here that isn't religious in nature," said Lipa, who has published a dozen best-selling Hebrew-language books, most recently a kitchen organizing bible. "Anyone can light a fire at any time of the day with no religious restrictions."
"This is also the only day of the year," Lipa added, "when you're not allowed to call the police on neighbors for a too-loud or too-late party, so you'll see some Israeli chutzpah on display."
The primal act of cooking meat over fire is an obsession in Israel that extends well beyond Yom Ha'atzmaut. Every city and most towns have multiple restaurants famous for their grilled offerings, everything from beef kebab (consisting of ground meat) and lamb shish kebab (cubed meat) to internal organs such as sweetbreads, livers and hearts. In Tel Aviv, Itzik HaGadol is among the most popular barbecue joints, and in Jerusalem, Steakiyat Hatzot claims a devoted following.
A unique aspect of Israel's grilling culture is just how multicultural it is. Indeed, kebabs—seasoned, highly flavorful cubed or ground beef either cooked burger-style or molded around skewers—have multiple influences, including Turkish, Syrian, Persian, Egyptian and Indian. The ground lamb-and-beef kebab recipe that I share in my cookbook, Sababa, is seasoned with heaps of fresh herbs and mixed with a touch of baking soda to make them light and airy, then formed into small burgers for easy cooking. But these kebabs welcome substitution, so you can use a blend of part ground lamb or dark meat chicken, and mix-and-match the herbs and seasonings to your liking.
Another protein that takes on the flavors of many cultures is pargiyot, or boneless skinless chicken thighs. This dark meat is far more popular in Israel than boneless skinless chicken breast, and for good reason: It absorbs flavor beautifully and caramelizes nicely due to its higher fat content. Most importantly, pargiyot practically refuse to dry out, even when left on a smoking-hot grill for too long.
One of Lipa's pargiyot recipes, taken from her cookbook My Balkan Kitchen, touches on her Greek heritage and involves first marinating the chicken in orange juice and ouzo (anise-flavored liqueur).
Israeli-born Sarit Packer, who with her husband, Itamar Srulovich, runs the successful Honey & Co. restaurants in London, last year co-authored with him Chasing Smoke: Cooking Over Fire Around the Levant. She has teased out other unique features of Israeli grilling, beyond the meat-centric atmosphere of Yom Ha'atzmaut gatherings. "The main thing is we grill a lot of vegetables and fruits in Israel, something we didn't see so much in other countries," Packer said of the couple's research. "In Israel, anything goes."
That includes watermelon, which Packer said grills beautifully. (To grill watermelon, brush both sides of 2-inch-thick slices of watermelon with olive oil and cook on the hottest part of the grill until black grill marks form, 1 to 2 minutes per side.) Packer advised using fruit in peak ripeness and cooking it over the hottest flame possible for a short time.
Best of all, Israeli-inspired recipes work equally well over a coal-fired grill, gas grill or inside on a grill pan—and on Yom Ha'atzmaut, July 4 or any special day that calls for a barbecue.
---
Mini Herb and Garlic Kebaburgers With Fries
Makes 12 mini-burgers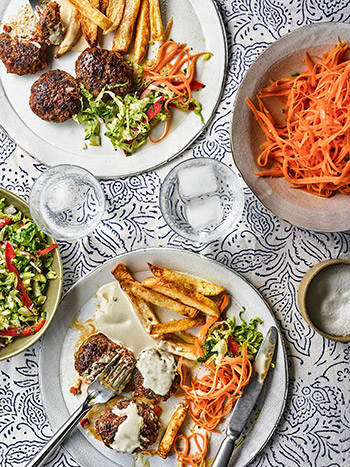 FOR THE BURGERS
1 small red onion, roughly chopped
1/2 small red bell pepper, seeded
3 large garlic cloves
1 cup lightly packed parsley leaves
1 cup lightly packed cilantro leaves
1/2 cup lightly packed mint leaves
2 tablespoons fresh za'atar or oregano, or 2 teaspoons dried
3/4 pound ground lamb (at least 20-25% fat)
3/4 pound ground beef (at least 20-25% fat)
2 teaspoons kosher salt
1 1/2 teaspoons ground cumin
1/2 teaspoon ground coriander
1/2 teaspoon freshly ground black pepper
2 teaspoons harissa or 1/2 teaspoon cayenne pepper
1/4 teaspoon baking soda
FOR THE FRIES
2 large russet potatoes (about 1 1/2 pounds), scrubbed
3 tablespoons vegetable oil
3/4 teaspoon kosher salt, plus more for seasoning
1/4 teaspoon freshly ground black pepper, plus more
for seasoning
1. Prep the burgers: In the bowl of a food processor, pulse the onion, bell pepper and garlic until finely chopped, 20 pulses. Add the parsley, cilantro, mint and za'atar and pulse until the herbs are finely chopped, 15 pulses. Transfer the mixture to a large bowl. Add the lamb, beef, salt, cumin, coriander, black pepper, harissa and baking soda and gently mix with your hands to incorporate. Form the mixture into 12 equal-sized round patties about 1-inch thick, arrange on a plate, cover and refrigerate for 30 minutes.
2. Make the fries: Preheat the oven to 425°. Cut the potatoes into 1/2-inch batons, then pat them dry with paper towels. In a large bowl toss the potatoes with the oil, salt and pepper. Arrange in a single
layer on a large, rimmed baking sheet and bake until crisp and golden, 30 to 35 minutes total, flipping the fries once after 20 minutes only if they seem like they're burning.
3. Grill the burgers: Preheat a grill, grill pan or cast-iron skillet over medium-high heat. Cook the patties, trying not to move them, until a slight crust forms and the meat is cooked to medium, 3 to 4 minutes per side.
4. Serve the kebabs with the fries, a tahini sauce and green salad of your choice.
Ouzo and Orange Chicken Thigh Souvlaki
Serves 6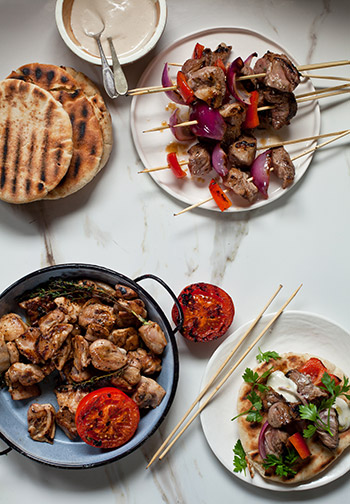 1/4 cup ouzo or arak
1/2 cup fresh orange juice
1/4 cup olive oil
1 heaping tablespoon honey
2 garlic cloves, minced
1 heaping teaspoon dried oregano
Picked leaves from two stalks of thyme
2 pounds boneless skinless chicken thighs, cut into 1 1/2-inch cubes
Kosher salt and freshly ground black pepper to taste
1/2 onion (one onion cut into a half round)
Vegetable oil
1/2 cup chopped parsley
1. Combine the ouzo, orange juice, olive oil, honey, garlic, oregano and thyme in a large bowl. Add the chicken, toss to coat and marinate on the counter for 40 minutes. (You can also marinate, covered, in the refrigerator for up to 24 hours, then remove from the refrigerator an hour before grilling.)
2. Remove the chicken from the marinade, thread on 6 skewers and season generously with salt and pepper.
3. Heat a grill or grill pan over medium heat. Dip the half-onion round in the oil and then use it to grease the grill lightly. Grill the skewers until cooked through, flipping once, 3-4 minutes per side.
4. Arrange on a platter and garnish with the parsley.
---
Adeena Sussman is the author of Sababa: Fresh, Sunny Flavors from My Israeli Kitchen and co-author of Gazoz: The Art of Making Magical, Seasonal Sparkling Drinks. She lives in Tel Aviv.