The Cookbook That Kim Kushner Always Wanted to Write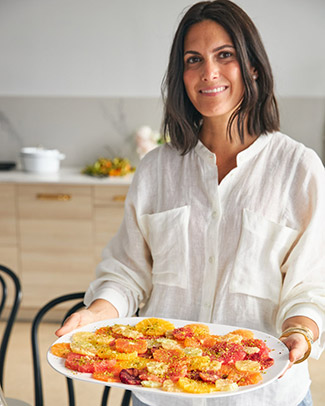 "Kim Kushner's table spreads are prettier than I'll ever be." That's not altogether true, since Jake Cohen, author of the quote and of the best-selling cookbook Jew-ish, is himself pretty cute, but his point is well taken. The table spreads in Kushner's new book, The Modern Table: Kosher Recipes for Everyday Gathering, beautifully photographed by Kate Sears, are very pretty indeed. They're filled with celebratory foods, flowers and design elements both elegant and rustic, fashioned with the lush casual chic that is her signature style.
With The Modern Table, Kushner, a well-traveled cooking educator, author of three previous recipe collections and mother of four children aged 6 to 16, has created, she said, the cookbook she always wanted to write.
"This is my most personal project," she told me in a recent interview. "I love hosting people for meals and throwing parties and getting groups together. Over the years, I've found a technique to host—and to enjoy myself—that's what I hope to have demonstrated in this book."
Indeed, Modern Table, which includes a foreword contributed by Adeena Sussman, Hadassah Magazine's longtime food writer, is filled with tried-and-true recipes, many of them made with just a handful of accessible ingredients and using simple techniques that yield fresh, seasonal and colorful dishes. Among them is Grilled Peaches, Burrata, Basil and Mint, perfect for early summer, and Lemon-Pesto Chicken with Potatoes and Red Onions, cozy and comforting on any winter's night. An enticing dessert section includes a glamorous Orange Blossom Chiffon Cake with Rose Petals, one of Kushner's classic cakes. It's a dessert for all seasons—and occasions.
Kushner includes a variety of menus that look doable as well as delicious, from the most casual alfresco gathering to a seven-course Shabbat meal (O.K., that menu does look a just a little intimidating). She also shr ideas for creative table settings as well as an entire section devoted to "Leftover Makeovers," including a recipe for Crisp Spaghetti Pie with North African accents that can be prepared with leftover chicken, turkey or beef. How's that for flexible? And, as a sweet swag bonus, Kushner offers a selection of homemade treats, such as jarred nuts and honey and flavored vodka, to gift to departing guests to sustain the fun long after the party's over.
Kushner's enthusiasm for playing hostess is irresistible, and the book itself, which is set to be released on June 28, is a warm embrace. It beautifully communicates her joy of cooking for family and friends and the love that is shared at every gathering. This book is an inspiration for us to create our very own modern table.


Grilled Peaches With Burrata, Basil and Mint
Serves 8
Cooking spray
4 ripe peaches, pitted and quartered
1 (8-oz) burrata, cut into 1-inch pieces
1/4 cup basil leaves, torn into small pieces
4-5 mint leaves, cleaned, dried and torn into small pieces
3 tablespoons extra-virgin olive oil
1/4 teaspoon kosher salt
1/4-1/2 teaspoon freshly ground black pepper
Preheat an outdoor grill or indoor grill pan over high heat. Spray with cooking spray, then add peaches, cut-side down. Grill for 5-7 minutes, rotating occasionally to ensure all sides are grilled.
Transfer peaches to a serving platter. Arrange burrata, then scatter basil and mint on top. Finish with a drizzle of olive oil and season with salt and pepper. Serve immediately.
Good to Know Burrata is best served at room temperature. I usually take it out of the refrigerator 1 hour before cutting. And yes, you can eat its outer layer of "skin."
Substitutions If you can't find burrata, use dollops of ricotta or slices of fresh mozzarella.
Substitutions Peaches can be replaced with plums or nectarines.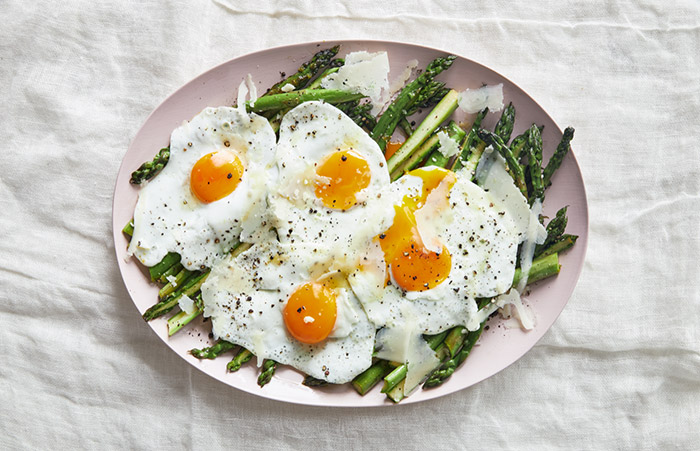 Asparagus with Eggs, Truffle Oil and Parmesan
Serves 4-6
I've always enjoyed asparagus topped with fried eggs and shaved truffles in restaurants around the world; then, it occurred to me that I could re-create this at home. I'll show you how easy it can be with this simple recipe.
1 bunch asparagus, cleaned and trimmed
2 teaspoons extra-virgin olive oil (divided)
Kosher salt and freshly ground black pepper
4-6 eggs
1/2 teaspoon truffle oil
2 tablespoons shaved Parmesan cheese
Slice each asparagus spear in half lengthwise.
Heat 1 teaspoon of olive oil in a large nonstick skillet over medium-high heat. Add asparagus, cover, and cook for 1 minute. Season with salt and pepper, then cook for another 3 minutes, until tender. Transfer asparagus to a serving platter.
Add the remaining 1 teaspoon of oil to the skillet and reduce heat to medium. Crack the eggs into a small bowl, then gently add to the hot oil. Fry for 5 minutes.
Gently place the fried eggs over the asparagus. Drizzle truffle oil over the eggs, then top with shaved Parmesan and black pepper. Serve immediately.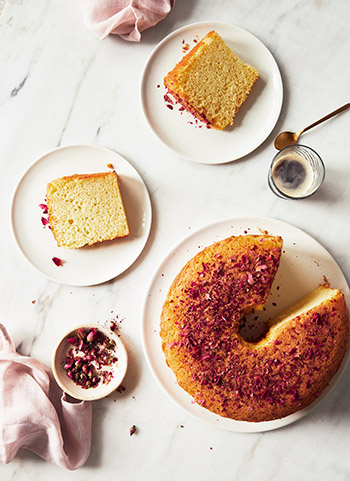 Orange Blossom Chiffon Cake with Rose Petals
Make 1 (9-inch) cake
An updated version of "La Pasta" featured in my cookbook The Modern Menu, this cake embodies the flavors of my childhood. Every new year, every break of fast, every important milestone, this gorgeous, fluffy cake made an appearance. This taller and lighter version, laced with the subtle flavor of orange blossom, rivals some of the most elegant cakes I've seen and may even be more delicious than the original.
Vegetable oil, for greasing
All-purpose flour, for dusting
7 eggs, room temperature
1 1/4 cups sugar
1/2 cup neutral oil such as avocado oil, vegetable oil or rice bran oil
1/2 cup orange juice
1/2 teaspoon orange blossom water
2 teaspoons baking powder
Pinch of salt
2 cups all-purpose flour, sifted
1 teaspoon edible dried rose petals, crushed between your fingers
Preheat oven to 325º. Grease a 9-inch angel food pan with oil and dust lightly with flour. Shake out the excess flour.
In a stand mixer fitted with the whisk attachment (or using a hand-held mixer), beat eggs on medium-high speed for 3 minutes. With the mixer on medium-high speed, slowly add sugar, 1 tablespoon at a time. (It will take about 8 minutes.) The mixture should be thick, glossy, and nearly fill up the entire bowl.
Reduce the speed to medium. Add oil, orange juice and orange blossom water and mix for 2 minutes. Replace the whisk attachment with a paddle attachment.
In a large bowl, combine flour, baking powder and salt. Add half of the flour mixture to the egg mixture and mix on medium-low speed for 1 minutes. Add the remaining flour mixture and mix for another 1-2 minutes, until well combined. (If you do not have a paddle attachment, you can use a spatula to fold in the baking powder, salt and flour.)
Pour the batter into the prepared pan and bake for 50-60 minutes, until the cake springs back when tapped or a skewer inserted into the cake comes out clean. Set aside to cool completely before removing from the pan.
Run a knife along the sides and center of the pan to loosen the cake from the pan. Invert the cake onto a cake plate or platter. Sprinkle the crushed rose petals over the cake.
---
Recipes excerpted from The Modern Table: Kosher Recipes for Everyday Gatherings by Kim Kushner. Photography by Kate Sears. Copyright © 2022 by Kim Kushner. Excerpted with permission from Figure 1 Publishing. All rights reserved. No part of this excerpt may be reproduced or reprinted without permission in writing from the publisher.
---
Beth Segal is an award-winning writer and photographer specializing in food projects. She has lived in Minneapolis, Chicago and New York City, and is now happily settled in Cleveland. Her work has appeared in the The Plain Dealer, The New York Times Sunday Magazine, Bon Appetit and many other publications.