Jewish Cooking in an Italian Accent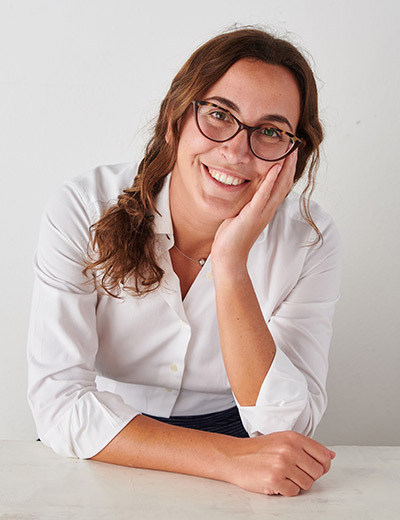 Italian Jewish cooking is so much more than crispy artichokes. Although that delicious treat—fresh carciofi that are twice fried in olive oil, the second time until crisp—graces the cover of Benedetta Jasmine Guetta's alluring new cookbook, Cooking alla Giudia: A Celebration of the Jewish Food of Italy, its pages reveal an eye-opening variety of dishes with a Jewish inflection. It's a collection of seasonal and easy-to-make fare from a Jewish community with a fascinating 2,000-plus year history.
Guetta's recipes are an edible tour of Italy, with every region represented, and they show how Jews adapted local dishes to suit their needs. There is Roman spaghetti carbonara studded with zucchini instead of bacon; a pasta, bean and sausage soup from Venice that swaps in beef sausage for pork; and chicken hand pies similar to borekas that made their way to Emilia-Romagna in the Middle Ages.
The book is also a work of preservation, documenting the peregrinations of an ancient Jewish community and its accompanying foodways and stories that are becoming harder to access in the face of intermarriage and as memory keepers are dying.
"I had anxiety that these people and these recipes were endangered species on the way to disappearing," Guetta told me over the phone from Los Angeles, where she now lives.
The daughter of a Libyan Jewish father and Piedmontese (northern Italian) mother, Guetta, 33, was raised in a kosher-style home in Milan. "We were Jewish, but quiet about it, like most Europeans," Guetta said.
In 2009, while in college in Milan, Guetta began teaching cooking classes for young urban Jews with a friend. She founded her blog, Labna (named after the yogurt popular in Israel and around the Middle East), to house the recipes she taught, and the site rapidly gained a wide following (to date, 100 of Labna's 900 recipes have been translated into English).
Guetta was surprised to learn that the most popular recipes on her site were those with a Jewish story attached, whether the readers were Jewish or not. "People are curious about Jews in Italy," she said, "and their curiosity, in turn, piqued mine."
Before writing Cooking alla Giudia, Guetta embarked on a yearlong journey—cooking with Jewish nonnas, traveling and scouring the Web for recipes and stories that would deepen her knowledge of her country's culinary history. She discovered, for instance, that the ear-shaped orecchiette pasta typical of Apulia was likely brought to Italy in the 1500s by Jews from Provence, who made them on Purim as another form of oznei Haman (Haman's ears, the Israeli term for hamantaschen).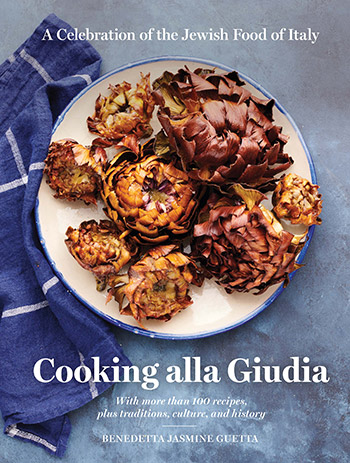 "Jews have had an influence on Italian cooking as long as they have been there," said Guetta.
In fact, Jews have lived in Italy since the first century, when thousands were brought from Jerusalem as enslaved people during the Jewish-Roman Wars. With the fall of the Roman Empire in the fifth century, Italy became a series of nation-states, each of which treated Jews with varying levels of tolerance. Excluded from professional guilds, Jews worked in permitted fields like moneylending and food vending, seeking acceptance and safety in different regions at different times.
In certain parts of Italy—Sicily, for instance—Jews were deeply involved in trade throughout the Mediterranean and Middle East and introduced ingredients like eggplant to the Italian diet (see Guetta's delicious caponata recipe).
Following the Inquisition-era expulsion of Jews from Spain, Sicily's Jews migrated northward since that region belonged to the Kingdom of Aragon. Around the same time, waves of German and French Jews immigrated to Piedmont and Lombardy, bringing with them Ashkenazi traditions.
In more recent history, 6,000 Libyan Jews—including Guetta's father—immigrated to Italy in the 1950s, following the founding of the State of Israel. They brought with them dishes like Hraimi, spicy Libyan fish that comes together quickly with ingredients you probably already have in your pantry. Pair the fish with Guetta's caponata and Concia di Zucchini, or fried zucchini, for a perfect summer Shabbat dinner.
Adeena Sussman is the author of Sababa: Fresh, Sunny Flavors from My Israeli Kitchen and co-author of Gazoz: The Art of Making Magical, Seasonal Sparkling Drinks. She lives in Tel Aviv.
---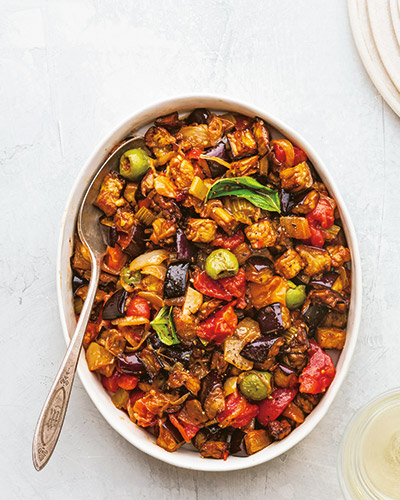 Caponata alla Giudia
Serves 4
3 eggplants
Kosher salt
1 1/2 onions
2 celery ribs
5 cherry tomatoes
1/4 cup extra-virgin olive oil
2 garlic cloves, smashed
1 cup chopped ripe tomatoes or canned diced tomatoes, with their liquid
2 tablespoons mixed black and green olives, pitted
1 tablespoon capers
1/2 cup white wine vinegar
1 tablespoon sugar
Sunflower or peanut oil for deep-frying
Freshly ground black pepper
5 basil leaves
1. Cut the eggplants into 3/4-inch cubes. Transfer them to a colander, salt generously, weigh them down with a plate and let drain for 30 minutes in the kitchen sink.
2. Cut the half onion into very thin slices. Cut the whole onion into chunks roughly the same size as the eggplant cubes. Cut the celery into chunks and cut the cherry tomatoes in half.
3. Pour the olive oil into a large nonstick skillet set over medium heat, add the sliced onion and garlic and cook for about 3 minutes, until the garlic is slightly browned. Add the celery,
tomatoes (both cherry and chopped), olives, capers and the chopped onion to the skillet and cook for 10 minutes, until the vegetables begin to soften. Add the vinegar and sugar and cook
for another 10 minutes. Remove from the heat.
4. Remove the plate covering the eggplant and squeeze the eggplant in the colander to remove any remaining liquid.
5. Pour 1 inch of sunflower or peanut oil into a large saucepan and warm over medium heat until a deep-fry thermometer reads 350°. You can test the oil by dropping a small piece of food, such as a slice of apple, into it: If it sizzles nicely but doesn't bubble up too wildly, the oil is ready.
6. Add only as many eggplant cubes to the pan as will fit in a single layer without crowding and fry until golden, turning often. Remove the eggplant with a slotted spoon and spread out on a paper towel-lined plate to drain. Cook the remaining eggplant cubes in the same manner, adding more oil if needed.
7. Once the fried eggplant has drained, add it to the skillet of vegetables. Season with 1/2 teaspoon salt and pepper to taste, adding a bit of water if the vegetables look dry, and cook the caponata over medium heat, stirring frequently, for 5 minutes.
8. Stir in the basil leaves, remove from the heat and let the caponata cool to room temperature before serving.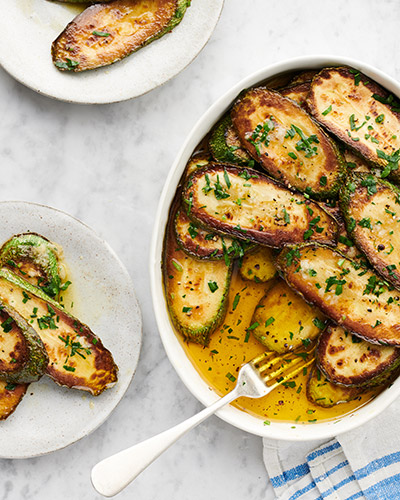 Concia di Zucchini
Serves 4 to 6
2 1/4 pounds zucchini
Sunflower or peanut oil for deep-frying
3 garlic cloves, finely minced
A handful of parsley or basil leaves, or both, finely chopped
1/4 teaspoon kosher salt
Freshly ground black pepper
1/2 cup white wine vinegar
3 tablespoons extra-virgin olive oil
1. Slice the zucchini lengthwise into 1/4-inch-thick strips. People debate the best way to slice the zucchini for this dish; some like to cut the slices at an angle to obtain wide ovals instead of strips. Any shape will do as long as your slices are even in thickness.
2. If you are not pressed for time, let the zucchini slices dry on a baking sheet lined with paper towels for a couple of hours, so they lose some of their moisture. If you are in a hurry, go straight to frying.
3. Pour about 2 inches of sunflower or peanut oil into a large saucepan and heat over medium heat until a deep-fry thermometer reads 350°. (You could use a deep skillet for frying if you prefer, but I find that a saucepan helps contain the oil if it bubbles up too much.) You can test the oil by dropping a small piece of zucchini into it: if it sizzles nicely but doesn't bubble up too wildly, the oil is ready.
4. Working in batches to avoid crowding, gently place some zucchini slices into the pan, making sure that they all lie flat and do not overlap. Fry, turning once, for about 5 minutes, until deeply golden, almost brown. Transfer the slices to a tray lined with paper towels to drain and continue frying the zucchini in batches.
5. Place one-third of the fried zucchini in one layer in a deep rectangular dish. Sprinkle with some of the minced garlic, herbs and salt and season with pepper to taste. Repeat with two more layers, finishing with one last sprinkle of minced garlic, herbs, salt and pepper.
6. Cover the zucchini with the vinegar, top with the olive oil, and refrigerate for at least 5 hours and up to 24 hours. Bring to room temperature to serve. Leftovers keep well in the fridge, covered with plastic wrap or in an airtight container, for a couple of days.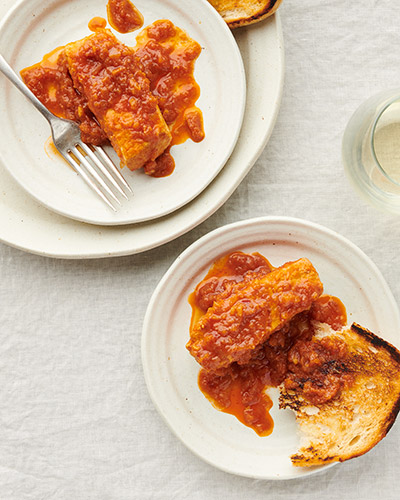 1/2 cup extra-virgin olive oil
1 large onion, finely chopped
5 tablespoons tomato paste
1/2 to 1 teaspoon pure chili powder
2 garlic cloves, crushed
1 1/2 cups water
1/2 teaspoon kosher salt
4 thick yellowfin, ahi or albacore tuna steaks, or cod or grouper, about 4 ounces each
1/2 teaspoon ground caraway seeds
Juice of 1/2 lemon
1. Pour the olive oil into a large nonstick sauté pan or skillet set over low heat, add the onion and cook until it is translucent, about 10 minutes.
2. Add the tomato paste, chili powder and crushed garlic to the pan, then pour in the water, add the salt and bring to a simmer over medium heat. Put the fish in the skillet and cook for 15 minutes, or until the sauce thickens.
3. Add the ground caraway to the sauce and cook for a few more minutes, then add the lemon juice and take the pan off the heat.
Let the Hraimi cool to room temperature.
4. Serve, providing plenty of bread to "clean up" all the sauce once the fish is eaten.
---
Excerpted from Cooking alla Giudia: A Celebration of the Jewish Food of Italy by Benedetta Jasmine Guetta (Artisan Books). Copyright © 2022. Photographs by Ray Kachatorian.