Marking a Watershed Moment in Jewish History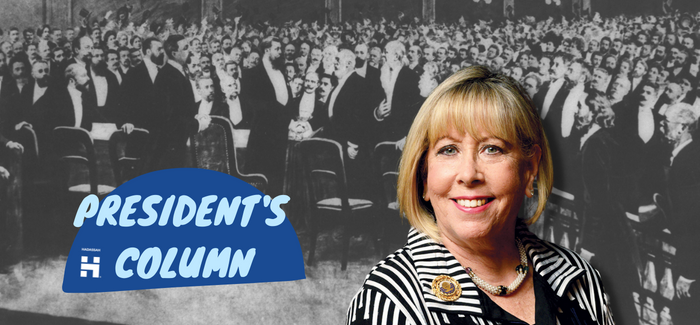 The First Zionist Congress took place August 29-31, 1897, in Basel, Switzerland. Three days after he gaveled the proceedings to a close, Theodor Herzl wrote in his diary: "At Basel, I founded the Jewish State. If I said this out loud today, I would be answered by universal laughter. If not in five years, certainly in fifty, everyone will know it."
David Ben-Gurion proclaimed Israel's independence on May 14, 1948. Herzl's forecast was off by just nine months.
The Congress was a watershed in Jewish history. Herzl essentially stamped an end date on the Jewish exile, and the Zionist movement became the virtual construction site of Jewish sovereignty.
August 2022 marks the 125th anniversary of that first Congress, and the World Zionist Organization, in partnership with the Swiss Federation of Jewish Communities, has planned a series of events in Basel as well as in Israel and around the world to mark the occasion. On Sunday and Monday, August 28 and 29, conferences and meetings will be held in the Basel Congress Hall, attended by leaders from Zionist organizations from many lands.
Hadassah will certainly be there. As a pillar of the Zionist movement and stakeholder in Israel's founding and growth since 1912, this will be a great moment of celebration.
To say the 50 years between Basel and Israel's founding were tumultuous would be an understatement: building, planning and migration, to be sure, but also two world wars and the Holocaust. Zionism is and always has been a manifestation of Jewish optimism. For nearly 2,000 years, our ancestors prayed for the return to our homeland but had no organized movement to achieve that goal. After 1897, the problem of Jewish national homelessness became inseparable from the knowledge that we were doing something about it on a global scale.
Since its founding, Israel has flourished against tremendous odds. It has offered a home to every threatened Jewish community in the world and welcomed immigrants from affluent, democratic societies as well.
We can't ignore the many challenges that continue to confront the Jewish people today, from rising antisemitism to the continued struggle for Israeli-Palestinian peace and broader Israeli security, to the existential climate threat we share with the rest of the world. But in keeping with Zionist optimism, I can't help but focus on the most recent signs of Israel's progress, normalization and exceptionalism.
I see in Israel a multicultural nation struggling to become more integrated. For decades, Hadassah leaders have asserted that even if we don't know when lasting peace will come to the Middle East, we know what it will look like: The corridors, waiting rooms and operating theaters of our medical center, where Jewish and Arab patients, family and medical staff mix freely and feel their common humanity. Setbacks aside, I see the rest of Israel looking more and more like Hadassah.
In the wider region, we have seen dramatic progress. After decades of peace with Egypt and Jordan, in 2020, Israel signed peace accords and initiated diplomatic relations with Morocco, Sudan, Bahrain and the United Arab Emirates. Other Arab and Muslim nations may soon follow. Even amid these positive developments, I am still astounded by recent media reports about the fast-growing Jewish community in Dubai, which now has several religious congregations, a mikveh and five kosher restaurants.
Though Israel has long had a sterling reputation in medicine—thanks in no small measure to Hadassah—the pandemic has illuminated the nation's profile on an issue of universal import. Israel's record on Covid treatment, research, outreach and roll out of the vaccine has captured worldwide attention.
Ben-Gurion once summed up Israel's contrasting aspirations with a question: Should it endeavor to be a state like any other state or a light unto the nations? In this celebratory season, the answer is clear: It is and will be both.