High Holiday Recipes From Israeli Bloggers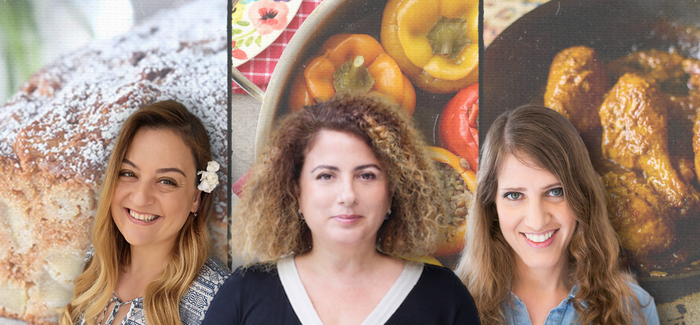 Efrat Lichtenstadt was out of ideas. The year was 2010, and after the birth of her second son and the shuttering of her Tel Aviv clothing boutique, she found herself on what she labeled an "endless maternity leave," searching for her next career move and feeling unmoored.
"I had nothing to return to," Lichtenstadt said. "I didn't know where I was headed."
What she did know was that she was spending a lot of time cooking, seeking guidance and companionship on pioneering food blogs, such as the ones authored by Parisian-American baker David Lebovitz and home cook Deb Perelman, better known as Smitten Kitchen.
On a lark, and with no formal culinary training, Lichtenstadt put her college degree in graphic design to use and launched a site of her own, shooting photos on her smartphone and publishing informal kosher recipes.
"I thought it would be fun, but that no one would read it," Lichtenstadt, 46, said by phone from her home in Jerusalem, which doubles as her studio and where she lives with her husband and two teenaged sons.
Was she ever wrong. From the very first post, people paid attention. Lichtenstadt morphed from amateur to pro, developing content and honing a visual language that includes stop-motion animation, bright primary colors and kitchen accessories she likes to buy at Anthropologie, a clothing chain also known for its casual yet chic housewares, while visiting New York.
View this post on Instagram
As the impact of social media influencers burgeoned in food-obsessed Israel, so did her career. Today, Lichtenstadt's Hebrew-language Instagram feed has over 183,000 followers. She writes a weekly food column for the Makor Rishon newspaper and pumps out near-daily recipe posts for her feed, several in collaboration with brands like Quaker Oats, StarKist, Tnuva dairy products and Elite chocolate. Many of her Instagram reels for one-pot pasta dishes have accumulated more than 1 million views. (The recipe she shared with Hadassah Magazine, for peppers filled with quinoa and lentils, is perfect for Sukkot, when it's traditional to serve stuffed foods.)
"Let's just say I am turning down work at this point," she said.
Lichtenstadt is not alone. A number of Israeli women have harnessed the power of social media and other virtual spheres to launch and grow their careers in food. And while some have pursued prestigious culinary training, the democratizing force of the internet has created opportunities and a platform for homegrown chefs as well.
Raheli Krut, with close to 200,000 followers of her Hebrew-language Instagram account, is also, by her own admission, far too busy. Krut, who grew up a shy kid in Bat Yam, just south of Tel Aviv, said that she learned everything about cooking by watching her mother and grandmother in the kitchen. She came into her own just as Israeli online food media was taking off.
View this post on Instagram
The 42-year-old Krut, who today lives in the Tel Aviv suburb of Ramat Hasharon, has worked in the field for nearly 20 years, creating content and marketing strategies for clients including, most recently, celebrity chef Israel Aharoni. At the same time, she has maintained her own prolific kosher recipe website and has overseen two others focused on cooking with kids and healthy eating.
"I wasn't seeking to become a better cook, I was seeking more connection and affirmation from people," Krut said of the appeal of a career in food tethered to a virtual community. During the pandemic, aided by viral recipes like two-ingredient tahini bread, her site would regularly crash under the weight of more than three million virtual visits per month.
Her eclectic mix of recipes runs the gamut from rainbow layer cakes that, when cut, reveal a cascade of multicolored candies to more traditional fare like the dairy-free apple cake recipe shared here, for Rosh Hashanah. Many are global in flavor but simple to prepare, like a tahini-dressed slaw and mushroom-and-chestnut arayes (Lebanese pitas usually stuffed with spiced ground meat). Krut also shares many one-pot meals—a current trend in Israel—like Israeli couscous risotto as well as an endless supply of pastas, lasagnas and desserts.
"I try to have something for everyone while staying true to myself," said Krut, who is currently working on her first cookbook, which she hopes to publish in the United States after its initial release in Israel. She also writes the food column for Israel's largest daily newspaper, Yedioth Ahronoth.
For popular recipe developer Rottem Lieberson, 54, the United States was where her passion for food transformed into a potential career path. Born to Persian immigrant parents in Israel, Lieberson grew up steeped in a food-centric home, married young and moved to New York with her husband and two young daughters in 2001. There, he pursued a career in real estate while she earned a degree in business and economics before enrolling and graduating with high honors from what was then the French Culinary Institute.
"Those were some of the best years of my life," said Lieberson, who worked in the kitchens of several notable New York chefs, including Daniel Boulud.
View this post on Instagram
After moving back to Israel in 2010, Lieberson began teaching cooking classes around the enormous marble counter in her spacious kitchen in Ramat Aviv. The menu could feature French and Italian classics or full Persian feasts with crispy rice tahdigs filled with chicken and dried fruit as well as date-stuffed gondi, or chicken meatballs.
Her talent for writing and formal culinary training set her recipes apart, and in 2016 she began her website, which now garners hundreds of thousands of unique visits per month.
"My recipes are creative and simple," said Lieberson. "I want them to excite and comfort people at the same time."
Her spice-heavy saffron chicken, made with chicken legs braised in a rich sauce, meets both criteria. Enjoy them with a jeweled Persian rice dish and the apple cake from Krut for a sumptuous Rosh Hashanah meal. B'teyavon v'shanah tovah!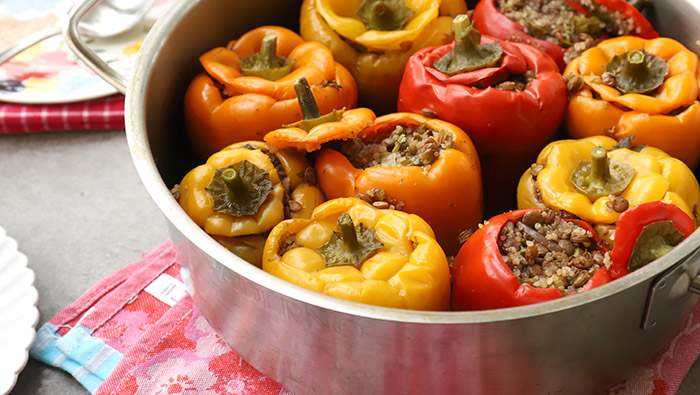 Quinoa Stuffed Peppers
Serves 10
FOR THE PEPPERS
2 cups quinoa (white, red or a combination) or 1 1/4 cups rice
3 tablespoons olive oil
2 large red onions, finely chopped
2 cups uncooked green lentils
1 cup chopped parsley
1 cup chopped cilantro
3 garlic cloves, minced
2 teaspoons kosher salt
1 teaspoon ground cumin
1 teaspoon ground ginger
1 teaspoon baharat spice blend
1/2 teaspoon ground cinnamon
1/2 teaspoon black pepper
9-10 multicolored bell peppers
FOR THE SAUCE
4 cups boiling water
3 tablespoons pomegranate molasses
2 tablespoons silan (date syrup)
1 tablespoon tomato paste
1 teaspoon salt
1 teaspoon garlic powder
1 teaspoon baharat spice blend
5 whole garlic cloves
1. Make the peppers: Place the quinoa in a large bowl, cover with several inches of cold water and soak for 30 minutes; drain and rinse. (If using rice, follow the same procedure.)
2. While the quinoa is soaking, in a large skillet heat the oil over medium-low heat. Add the onions and cook, stirring until soft and lightly golden, 11 to 12 minutes. Transfer to a large bowl and cool slightly.
3. To the onions add the drained quinoa, lentils, parsley, cilantro, garlic, salt, cumin, ginger, baharat, cinnamon and black pepper. Mix until incorporated.
4. Make the sauce: In another large bowl combine the water, pomegranate molasses, silan, tomato paste, salt, garlic powder and baharat. Mix until incorporated.
5. Using a cutting board and sharp knife, cut off and reserve the tops of the peppers. Remove the cores and seeds and discard.
6. Arrange the cored peppers, standing upright, in a large pot, close enough that they are touching. Stuff the peppers three quarters of the way with the filling, then pour the sauce over and around the peppers.
Cover the peppers with their tops, then scatter the garlic cloves in the pot.
7. Bring the pot to a boil over medium-high heat, then reduce to a simmer, cover the pot with a lid and cook until the peppers are soft, about 1 hour 15 minutes.
8. Uncover the pot: If any liquid remains, raise the heat to medium and cook until the liquid reduces, 3 to 4 minutes. Serve warm.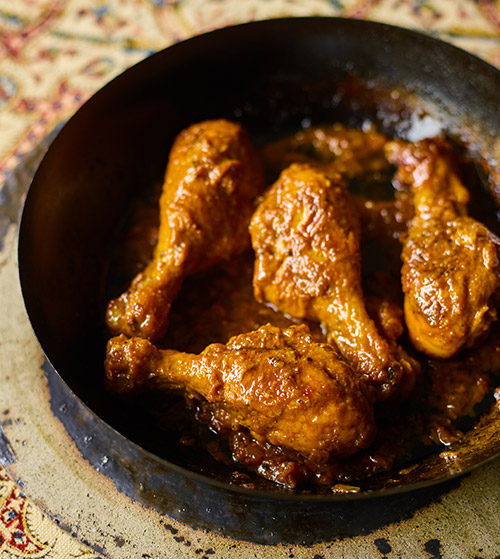 Persian Saffron Chicken
Serves 4 to 6

12 saffron threads
3/4 cup plus 2 tablespoons warm water
8 chicken legs, skin-on
Kosher salt to taste
Freshly ground black pepper to taste
5 tablespoons olive oil
2 large onions, finely chopped
4 garlic cloves, minced
1 teaspoon ground cinnamon
1 teaspoon ground cardamom
1 teaspoon grated nutmeg
1/2 teaspoon ground cumin
1/2 teaspoon ground turmeric
1 tablespoon lemon juice
1 tablespoon tomato paste
1/4 teaspoon dried chili flakes
1. Combine the saffron and the 2 tablespoons water in a glass and let the saffron infuse into the water while you begin the recipe.
2. Season the chicken generously with salt and pepper. In a large skillet, heat 3 tablespoons of the olive oil over medium heat. Add the chicken and sear, turning occasionally, until golden on all sides, 12 minutes total. Transfer the chicken to a plate.
3. Add the remaining 2 tablespoons olive oil to the skillet, then add the onions and cook, stirring until lightly golden, 7 to 8 minutes. Add the garlic, cinnamon, cardamom, nutmeg, cumin and turmeric and cook, stirring until fragrant, 1 to 2 minutes. Add the saffron water, lemon juice, tomato paste and chili flakes and stir to incorporate.
4. Place the chicken legs back into the skillet, then add the 3/4 cup water and bring to a boil.
5. Reduce heat to medium-low. Cover, and cook until the sauce has thickened and is bright orange, 35 minutes, adding more water as needed if the sauce begins to dry out. Season with more salt and pepper.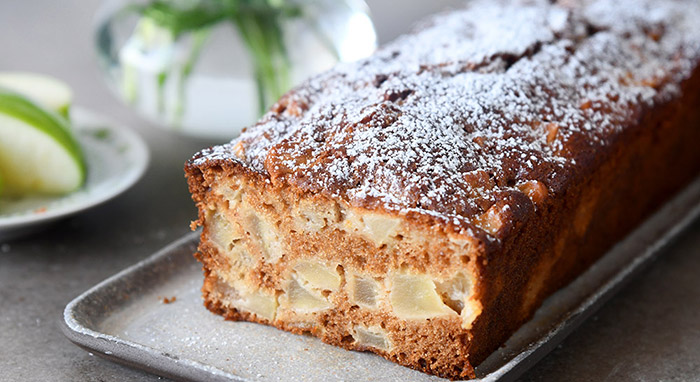 Pareve Apple Cake
Serves 6 to 8
1/2 cup vegetable oil, plus more for greasing the pan
3 large eggs
1/2 cup light or dark brown sugar
1/2 cup honey or silan (date syrup)
1/2 cup full-fat coconut milk
1/2 teaspoon ground cinnamon
2 cups flour
2 tablespoon baking powder
3 medium Granny Smith apples, peeled, cored and chopped
Confectioners' sugar, for dusting the cake
1. Preheat the oven to 350°. Grease the bottom and sides of two standard loaf pans with oil.
2. Combine the oil, eggs, brown sugar, honey and coconut milk in a large bowl and mix until smooth.
3. Add cinnamon, flour and baking powder to the wet mixture just until combined, making sure to not overmix. Gently fold in the apples.
4. Transfer the batter to the cake pans. Bake until a tester inserted into the center comes out clean, 45 to 50 minutes. Cool for 5 minutes in pans, then release cakes and finish cooling completely on a rack. Dust with confectioners' sugar.
---
Adeena Sussman is the author of Sababa: Fresh, Sunny Flavors from My Israeli Kitchen and co-author of Gazoz: The Art of Making Magical, Seasonal Sparkling Drinks. She lives in Tel Aviv.