A Modern Approach to Classic Jewish Comfort Food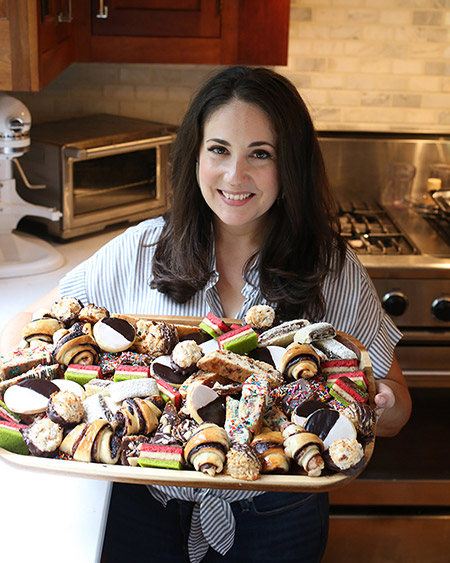 When it comes to comfort food, Jewish cuisine might just be the most indulgent. Fragrant chicken soup with matzah balls and noodles, potato latkes smothered in apple sauce and sour cream, creamy and crunchy noodle kugel and divinely decadent cheesecake. Shannon Sarna revisits all these and more, deliciously, in her indulgent new book, Modern Jewish Comfort Food:100 Fresh Recipes for Classic Dishes from Kugel to Kreplach.
Sarna, founding editor of The Nosher and author of Modern Jewish Baker, also brings a personal perspective to the book.
"Comfort food is the connector," she told me. "Learning the stories and the dishes, this is how food and culture is passed on."
Beginning with dependable recipes for such comfort classics as stuffed cabbage, schnitzel and knishes, she then demonstrates their, and her, versatility with a variety of innovative and irresistible mash-ups from Jewish kitchens around the globe and from almost every world cuisine as well.
There's no stinting of creativity here, with nine recipes for kugel alone, from a savory, satisfying "why-didn't-I-think-of-that?" Mac & Cheese Kugel to Jojo's Cakey Crunch Sweet Potato Kugel, a pairing of vegetable kugel and dump cake that's become a Thanksgiving tradition, complete with mini-marshmallows, in the author's family. (Shared here is a recipe for Salt and Pepper Noodle Kugel.)
Shakshuka, the classic North African dish of tomatoes, spicy peppers and coddled eggs, gets a vegan chickpea version made smoky with Mexican chipotle peppers, and another turned into an Italianate deep-dish pizza simply by adding mozzarella and store-bought dough (recipe is shared below).
Sarna conjures up a warm and hearty bowl of Kosher Ramen-Style Soup with Asian-Style Braised Flanken that does a delicious job of skirting the pork and seafood origins of the original dish, as does Smoked Salmon Latkes Eggs Benedict, with lush salmon subbing for the usual ham.
For the sweets chapter, Sarna created a showstopper of a dessert with Cookie Butter Cheesecake, with a filling inspired and enriched by the European Speculoos (cookie butter) and a crunchy-crumb crust made from Speculoos cookies.
With fall in mind, and with so many of us coming home from apple picking expeditions with bushels of fruit to bake with, try your hand at Apple Tahini Crumble (recipe shared here).
And don't miss the party-ready Funfetti Mandel Bread. The colorful sprinkles show up several more times in Sarna's bakes and have become a personal trademark of sorts—though, she confessed, "I don't really like them, but they are a great door opener for people, anyone can use them."
Sarna likewise sprinkles in historical and geographical insight about the diverse influences that make up these recipes and provides compelling origin stories to the dishes most of us have known forever, but without knowing why. She also shares quick tips for cooking success and helpful step-by-step photos for some of the more technical recipes—for instance, how to dip, coat and fry thin chicken breast into schnitzel.
This was key for her, she told me, since "we're not living in multigenerational kitchens anymore, and showing the right technique is so empowering."
But mostly, she reminds us—sometimes in spite of ourselves—that our common cuisine is perhaps the most readily available resource that connects, and comforts, us all.
---
Beth Segal is an award-winning writer and photographer specializing in food projects. She has lived in Minneapolis, Chicago and New York City, and is now happily settled in Cleveland. Her work has appeared in The Plain Dealer, The New York Times Sunday Magazine, Bon Appetit and many other publications.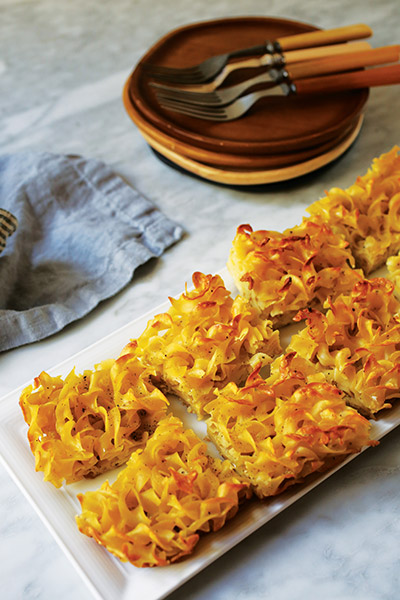 Salt and Pepper Noodle Kugel
Serves 8 to 10
Most North American Jews are familiar with sweet noodle kugels. But there are also many savory noodle kugel varieties, which can include garlic, onions, mushrooms, or even spinach. This kugel is a recipe from my husband's grandmother, Baba Billie. It has an extra garlic kick, fantastic mouthfeel, and a nice crunchy top. You can use fresh garlic if you want, but I think the jarred garlic in oil really is the preferred ingredient.
One 12-​ounce package wide or extra-​wide egg noodles
3 to 4 heaping tablespoons olive oil
6 large eggs
2 tablespoons jarred garlic in oil, or minced fresh garlic
1 tablespoon garlic powder
1 1/2 teaspoons fine sea salt
1 teaspoon freshly ground black pepper
Paprika
Coarse sea salt (optional)
Preheat the oven to 375°. While the oven is heating, pour the olive oil into a 9-​by-​13-​inch glass baking dish and place the dish in the oven for the oil to heat. This step will make for a crispier kugel.
Boil the noodles in a large pot of salted water according to the package directions, around 5 minutes. Drain and set aside.
While the noodles are cooking, whisk together the eggs, garlic, garlic powder, fine sea salt and pepper.
Add the drained noodles to the egg mixture and mix gently until completely coated. Remove the baking dish from the oven and add the noodles. They will sizzle slightly—​this is exactly what you want. Spread out the noodles evenly in the dish.
Sprinkle the top with paprika and coarse sea salt, if using. Bake, uncovered, for 40 minutes, or until the noodles achieve your desired crispiness.
Serve warm or at room temperature.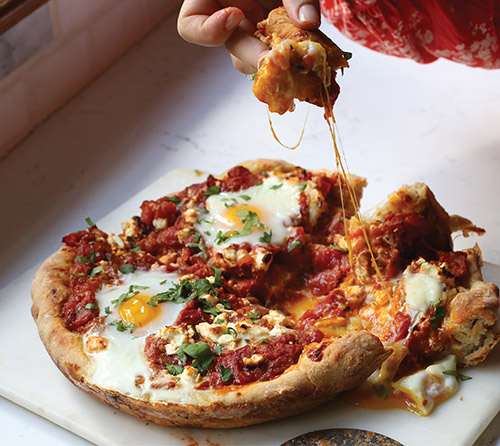 Shakshuka pizza is my favorite Israeli-​Italian-​American mash-​up. If the combination sounds weird, just think of shakshuka as a spiced tomato sauce, which makes it perfect to spread on top of some store-​bought pizza dough. Served as a cheesy deep-​dish pizza with runny eggs on top, this dish is comfort food at its best and perfect as a weeknight dinner. If you don't have a cast-​iron pan for this, you can also use a square or round cake pan.
All-​purpose flour, for dusting
1 pound store-​bought pizza dough
Cooking spray or vegetable oil for pan
1 cup shredded mozzarella
1 1/2 to 2 cups prepared tomato shakshuka sauce
2 to 3 large eggs
1 to 2 ounces feta cheese, plus more for topping
Fresh basil or parsley (optional)
Special equipment:
8- or 9-​inch cast-​iron pan
Preheat the oven to 450°. Place an 8- to 9-​inch cast-​iron pan in the oven to heat for at least 20 minutes.
On a lightly floured surface, spread out the pizza dough until you have created a circle slightly larger than your pan.
Using a good-​quality oven mitt, remove the hot pan from the oven. Coat the inside of the pan with cooking spray or an even layer of vegetable oil.
Carefully place the dough in the pan. Sprinkle the mozzarella on top of the dough. Spread the shakshuka sauce on top, then sprinkle with the feta.
Place the pan back in the oven for 7 minutes.
Remove from the oven, and with the back of a spoon, create two or three circles for the eggs. Gently crack each egg into a small glass bowl and pour, one at a time, into the indentations.
Bake for another 4 to 6 minutes, until the eggs are cooked to your liking.
Top with additional feta, and fresh basil or parsley, if desired.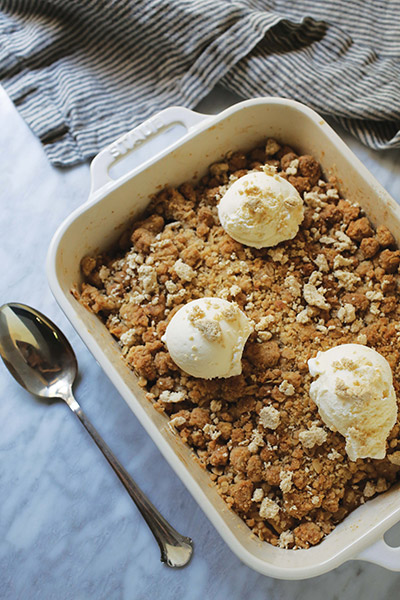 Apple Tahini Crumble
Serves 6 to 8
When the Jewish New Year comes around, it's common to find apple cake or honey cake on many Ashkenazi tables, since both honey and apple are common ingredients for Rosh Hashanah dishes. But neither of these desserts really excites me. Fruit crumbles are my go-​to dessert all year long for a few reasons: They are easy, they come together quickly, and I almost always have some over​ripe fruit sitting in my fridge or freezer that will be perfect transformed into this comforting dessert.
Apples are a traditional ingredient enjoyed for the Jewish New Year by eastern European Jews. But since the Jewish New Year can often occur at the end of summer, this could be made with peaches, plums, berries, or any combination of fruit that you love. Tahini and Yemenite hawaij coffee spice blend will add a little extra something special if you are inclined. You can also make your own.
Cooking spray for baking dish
For the fruit layer:
7 or 8 medium apples, peeled, cored, and chopped into approximately 1-​inch pieces (around 6 cups of chopped apples)
1/3 cup granulated sugar
1 tablespoon cornstarch
1 teaspoon ground cinnamon, pumpkin pie spice, or Hawaij Coffee Spice Blend (recipe follows)
Juice of 1/2 lemon
For the crumble topping:
1 1/4 cups unbleached all-​purpose flour
1/3 cup packed light brown sugar
1/4 cup granulated sugar
1/4 teaspoon salt
1/2 teaspoon ground cinnamon
1/3 cup old-​fashioned rolled oats
6 tablespoons unsalted butter, melted
1/4 cup tahini
For serving (optional):
Vanilla ice cream or fresh whipped cream
Crumbled halva pieces
Preheat the oven to 350°. Grease a 9-​by-​11-​inch baking dish with cooking spray.
Make the fruit layer: Combine the apples, granulated sugar, cornstarch, cinnamon and lemon juice in a large bowl.
Make the crumble: In a separate bowl, combine all the crumble ingredients, using a wooden spoon, until evenly mixed but there are still clumps.
Pour the apple mixture in an even layer into the prepared baking dish.
Sprinkle the crumble topping evenly on top of the apples until they are almost entirely covered.
Bake, uncovered, for 45 to 60 minutes, until the apple mixture is bubbling and the crumble is golden brown. If the crumbs seem to be getting too dark, you can cover the dish with foil.
Serve warm or at room temperature with vanilla ice cream or fresh whipped cream and an extra sprinkle of halva, if desired.
---
Recipes excerpted from MODERN JEWISH COMFORT FOOD: 100 Fresh Recipes for Classic Dishes from Kugel to Kreplach by Shannon Sarna. Copyright © 2022. Used with permission of the publisher, Countryman Press. All rights reserved.