Eight Inspiring Children's Books for Hanukkah
It's impossible to include all this year's estimable Jewish children's book offerings, but noteworthy among new titles are picture book biographies that honor the resilience and achievements of Jewish women in an array of fields. Also available now: a beautiful new collection of "reimagined" Bible stories. And we cannot ignore Hanukkah, with some recommended holiday-themed books sure to tickle youthful funny bones.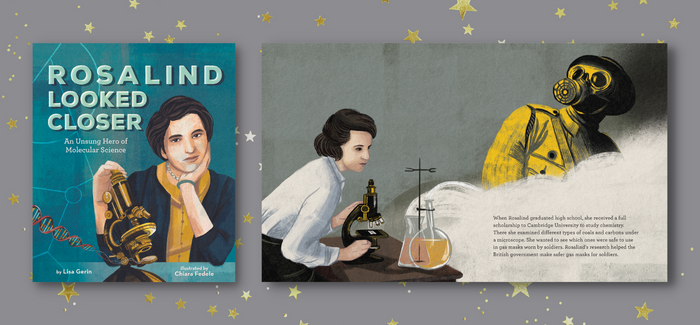 Rosalind Looked Closer: An Unsung Hero of Molecular Science
By Lisa Gerin. Illustrated by Chiara Fedele (Beaming Books)
I'm not sure what surprised me more when I read this biography of 20th-century British-born chemist Rosalind Franklin: that I'd never learned of her essential contribution to the discovery of DNA's double helix structure, credited to Nobel Prize-winning scientists James Watson and Francis Crick, or that she achieved so much despite both gender discrimination and a tragically brief lifespan. (An author's note at the end of the book reveals that Franklin died of ovarian cancer in 1957 at age 37.)
The book emphasizes Franklin's life as a scientist and devotion to her research, yet her Jewishness is also part of the story. She is the only Jewish pupil in her British boarding school. "While the other girls attended church," writes author Lisa Gerin, "Rosalind studied Hebrew with a private teacher." And we read about the impact of war news from Germany. "Rosalind and her four siblings realized how lucky they were to live in England where Jewish people were protected."
Franklin's inquisitiveness led to her groundbreaking work on DNA, RNA and viruses as well as in coal and graphite. An author's note explains that scientists used the research methods that she pioneered to study the coronavirus.
"Rosalind always took a closer look" is a recurring phrase throughout. This account of her curiosity and resilience is an inspirational story for budding scientists, and the rest of us.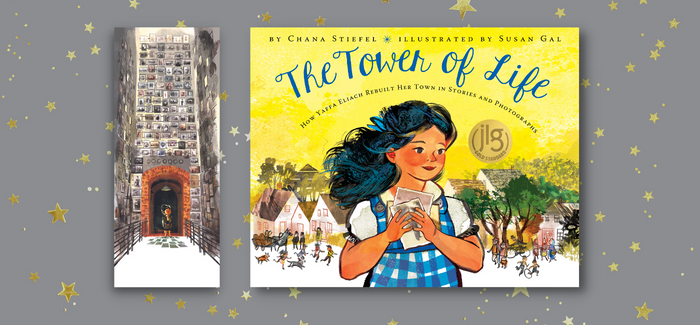 The Tower of Life: How Yaffa Eliach Rebuilt Her Town in Stories and Photographs
By Chana Stiefel. Illustrated by Susan Gal (Scholastic)
Yaffa Eliach was born in 1937 in Eishyshok, a shtetl located in what is now Lithuania "that pulsed with love, laughter, and light" and where Jews had lived, writes author Chana Stiefel, for "900 years. Their histories and spirits were woven into the fabric of the town."
The book begins with bright images of prewar life, then carefully traces the town's destruction by the Nazis—Susan Gal's expressive watercolor artwork and use of light, darkness and color powerfully depict the devastation—and the survival of Eliach and her family. The Tower of Life also reveals the trajectory of Eliach's postwar life in Israel and America, including her marriage, motherhood and career.
Eliach became a world-renowned scholar, focusing on Jewish studies and the Holocaust. Indeed, President Jimmy Carter asked for her help in creating a memorial at the new Holocaust museum being built in the nation's capital.
The Tower of Life describes her extraordinary 17-year endeavor to create that memorial and "shine a light" on the "beautiful lives" in her hometown by collecting and displaying photographs of its residents. One of the book's final images shows the installation of a permanent memorial with 1,500 photos from Eishyshok—called the "Tower of Life"—at the United States Holocaust Memorial Museum in Washington, D.C.
Sally Opened Doors: The Story of The First Woman Rabbi
By Sandy Eisenberg Sasso. Illustrated by Margeaux Lucas (Apples & Honey Press)
In their previous picture books, the writer/illustrator team of Sandy Eisenberg Sasso and Margeaux Lucas have depicted the true stories of Judith Kaplan Eisenstein, daughter of Rabbi Mordecai Kaplan, who, in 1922, became the first American woman to celebrate a bat mitzvah; and Regina Jonas, who in 1935 in her native Berlin became the first woman to be ordained, privately, as a rabbi.
This third collaboration spotlighting Jewish women's achievements moves forward in time to the 1970s, "when doors were opening for women all across America," highlighting the childhood and career of Sally Priesand, who was ordained at the Reform movement's Hebrew Union College-Jewish Institute of Religion in June 1972.
Priesand became the first woman to complete rabbinical studies, commence a career in the rabbinate and lead her own congregation. Sally Opened Doors references some of the discrimination that she faced, including the comments of one visitor to her congregation in New Jersey who said, "A woman rabbi? Outrageous! You start opening the door to change, and this is what happens."
Priesand persevered, not only "opening doors" for others, but also providing a valuable lesson, the text notes, in "getting on with" the work of fulfilling one's dreams.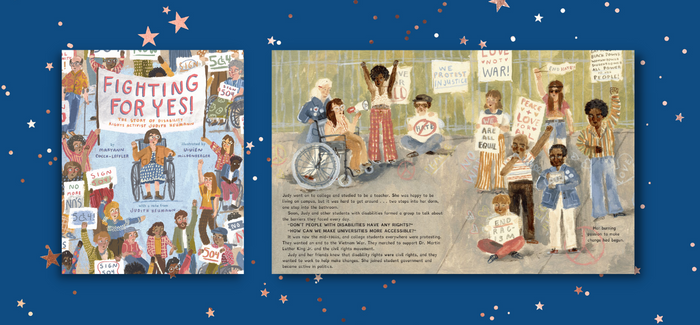 Fighting for YES! The Story of Disability Rights Activist Judith Heumann
By Maryann Cocca-Leffler. Illustrated by Vivien Mildenberger (Abrams Books for Young Readers)
Born in 1947, acclaimed Jewish disability activist and educator Judith Heumann contracted polio at 18 months. After she recovered, an author's note explains, "she was unable to walk and had limited use of her hands and arms." Fighting for YES! opens with Heumann's 1950s childhood, more than 30 years before the Americans with Disabilities Act became law.
Engaging text and illustrations depict the young Heumann in her wheelchair and demonstrate the challenges she encountered in daily life, including access to an elementary school education. One especially effective image reveals the obstacles in going to restaurants, and the library in addition to school by showing Heumann, seated in her wheelchair, looking up at an insurmountable set of stairs. "Judy heard the word NO much too often," the accompanying text reads. "It didn't seem fair."
The narrative follows her teen years and emerging activism—her fight for institutions to say "yes" to accommodations—culminating, in the 1970s, in the enactment of Section 504 of the federal Rehabilitation Act, an essential precursor to the ADA.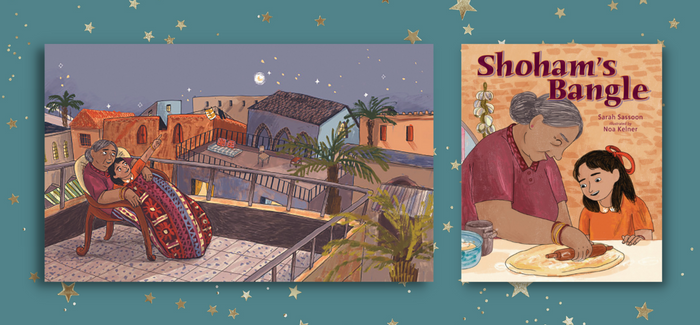 Shoham's Bangle
By Sarah Sassoon. Illustrated by Noa Kelner (Kar-Ben Publishing)
Sarah Sassoon's debut picture book draws from her Iraqi Jewish background to recount the story of young Shoham and her family in their native country, and what happens when, as Shoham's mother says, "The time has come" for the family to leave Iraq for Israel. Shoham's bond with her beloved Nana Aziza—including the "jingle-jangle of bangles" that the two wear on their wrists—helps smooth the transition to their new life.
The beautifully told story, with colorful illustrations from Israeli artist Noa Kelner, depicts important aspects of Middle Eastern Jewish experience, including the often urgent immigrations to Israel that followed the state's establishment in 1948 due to antisemitic attacks and discrimination. An author's note references Sassoon's memories of times spent with her own grandmother, who "retold the story of Operation Ezra & Nehemiah, when she was airlifted to Israel in 1951," along with her family members and 120,000 other Iraqi Jews.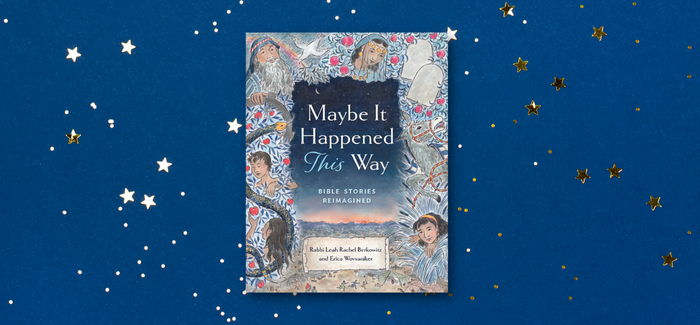 Maybe It Happened This Way: Bible Stories Reimagined
By Leah Rachel Berkowitz and Erica Wovsaniker. Illustrated by Katherine Messenger (Apples & Honey Press)
This collection opens with an informal definition of the concept and use of midrash: "Did you ever try to make up an explanation for a plot hole in your favorite series? Or wonder what two characters from different universes might say to each other if they met? There have been generations of people who have asked those same kinds of questions about the Torah."
The 20 stories included in this accessible reader use midrash to discuss and describe characters who have received plenty of attention—Adam and Eve, Rachel and Leah—as well as those who may be less familiar. (I was middle-aged before I encountered Machlah, Milcah, Noa, Tirzah and Hoglah, aka Zelophehad's Daughters; in this book, Hoglah narrates the sisters' story.)
If I had to choose a favorite, I'd go with the chapter titled "Sisters Stick Together," which depicts matriarchs and sisters Leah and Rachel as allies rather than the more traditional portrait of them as rivals. An extensive discussion guide highlights values, source materials for the retellings and more.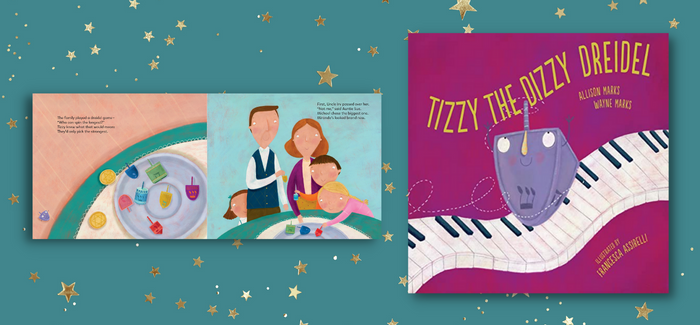 Tizzy the Dizzy Dreidel
By Allison Marks and Wayne Marks. Illustrated by Francesca Assirelli (Kar-Ben Publishing)
Poor Tizzy! Spinning makes this dreidel dizzy, and everyone in the house seems to know it. When the family gathers to play the dreidel game on the first night of Hanukkah, Tizzy is certain that no one will choose her. "They'd only pick the strongest," she worries. But when 4-year-old Sara "plucks Tizzy off the floor," a new Hanukkah miracle ensues.
This is a sweet, clever story with a meaningful conclusion: "When winter's chill has filled the air/ and dreidels start their dance,/ why not pick a dizzy one/ who only wants a chance?"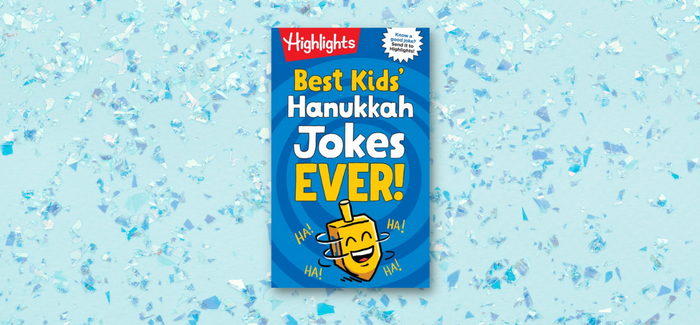 Best Kids' Hanukkah Jokes Ever!
By Highlights (Highlights Press)
"Knock, knock.
Who's there?
Noah.
Noah who?
Noah good Hanukkah joke?"
So begins this collection of over 500 jokes, puns and riddles that will provide young comedians with a trove of new material to recite over the family table while enjoying latkes or jelly doughnuts. Note that despite the many Hanukkah-centric chapters, with titles such as "Menorah Mania," "Latke Laughs" and "Maccabee Mirth," the book also includes clusters of "Tu Bishvat Tee-Hees," "Shavuot Sillies" and plenty more for year-round entertainment.
---
Erika Dreifus has published two books for adults: Birthright: Poems and Quiet Americans: Stories. A fellow in the Sami Rohr Jewish Literary Institute, she lives in New York City and writes and teaches on Jewish and literary subjects.