Auschwitz Survivors Share Treasured Recipes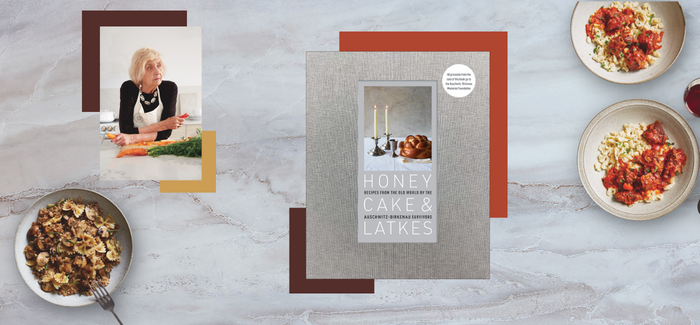 Deep into the first few months of the Covid-19 lockdowns in 2020, philanthropist Ronald Lauder—scion of the Estée Lauder cosmetics empire and founder and funder of the 10-year-old Auschwitz-Birkenau Memorial Foundation—organized a Zoom reunion with dozens of survivors of the notorious concentration camp. Only months earlier, he had brought these men and women to Auschwitz to mark the 75th anniversary of the camp's liberation on January 27, 1945, a day that is now observed as International Holocaust Remembrance Day.
While many topics were covered on that Zoom, as soon as the conversation turned to gefilte fish, the chat room came alive with animated culinary conversation.
"We very quickly realized that one of the things that kept people engaged and fostered a lively, charming dialogue was food and cooking," said Maria Zalewska, the executive director of the foundation. "We could barely get them to stop talking."
At the end of the call, Zalewska put out a request for recipes—and received a multitude of gefilte fish variations as well as other Ashkenazi classics.
"That's when the idea for a cookbook was born," she told me from New York City.
The result is Honey Cake & Latkes: Recipes From the Old World by the Auschwitz-Birkenau Survivors, a historical record as much as a cookbook that came out in September. It features dozens of old photos and accounts of life before, during and after the war as well as the recipes that helped sustain survivors' memories of family and kept them anchored to their Jewish heritage.
"The Nazis tried to eradicate Jewish culture, music, literature and cuisine," said Zalewska. "This is an affirmation that they didn't."
Rather than a sad postscript to genocide, the book is a celebration of the power of food told from the perspective of a population who, contrary to expectations, telegraphs survival, renewal and joy.
Underwritten by Lauder, edited by Zalewska, photographed by top New York food photographer Ellen Silverman and styled with a timelessly chic aesthetic, the book—with homey recipes for favorites from potato kugel and stuffed cabbage to plum dumplings and rugelach—invites readers to engage and participate with survivors' stories rather than merely sympathize.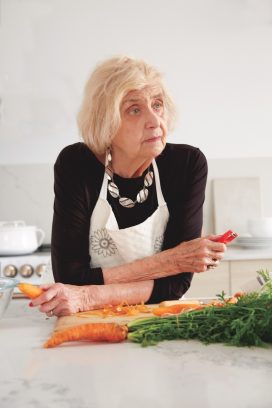 "Survivors are used to being pigeonholed into a proscribed identity and an expected set of emotions," said Zalewska. "It was important to me that this book allowed them to be seen in a fresh light without erasing the tragedy of the Holocaust."
There was also a sense of urgency.
"We knew that the survivors were dying, and that there were perhaps a few hundred remaining around the world," said Zalewska.
In the book, Budapest-born survivor Eva Szepesi, who has lived in Frankfurt, Germany, since 1954, shares a recipe for Hungarian Goulash and nokedli (dumplings) that she remembers her mother and grandmother making before the war and which the 90-year-old now cooks for her grandchildren and great-grandchildren.
Tova Friedman, who was 1 year old when the war ended, shares a recipe for tzimmes that her mother began making once the family settled in a displaced persons camp in Germany after the war.
"It was as if through remaking those recipes she was reawakened," said the Polish-born Friedman, 84, whose own book, The Daughter of Auschwitz, became a New York Times best seller in the fall.
One of five survivors who gathered in New York City to be photographed for the book, Friedman also contributed a recipe for kasha varnishkes from her late husband's family. She started making the dish after they married and settled in Highland Park, N.J.
For her part, Zalewska—whose great-grandfather, Jan Zalewski, was one of an estimated 70,000-75,000 Polish Catholics who died in Auschwitz-Birkenau—sees the book as a potent weapon against the current rise in antisemitism.
"Anything we can do to refute Holocaust denial right now is essential," said Zalewska. "That this book projects hope and joy is a bonus."
FOR THE GOULASH:
2 tablespoons vegetable oil
2 large onions, sliced
1 pound boneless beef shoulder, cut into bite-size chunks
1 red bell pepper, chopped
1 yellow bell pepper, chopped
2 tomatoes, sliced
1 tablespoon tomato paste
2 teaspoons sweet Hungarian paprika
1 1/2 teaspoons salt
FOR THE DUMPLINGS (NOKEDLI):
1/4 teaspoon salt, plus more for the cooking water
1 cup all-purpose flour
2 eggs
Up to 1/2 cup cold water
Vegetable oil, for finishing
Make the goulash: Heat the oil in a large Dutch oven over medium heat. Add the onions and cook until they start to soften. Increase the heat to medium-high, add the beef and brown on all sides. Add the red and yellow peppers, tomatoes, tomato paste, paprika salt and 1/2 cup water. Bring to a simmer, then cover, reduce the heat to low and cook for about 2 hours, until the beef is tender. Lift the lid a few times to stir and add more water if the pot is looking dry.
Make the dumplings: Set a large saucepan of salted water to boil over medium-high heat. In a large bowl, whisk the flour and salt. Stir in the eggs using a wooden spoon and add just enough water to make a soft, sticky dough. Grate or cut the dough into small pieces and drop them into the boiling water. After the nokedli rise to the surface, cook for an additional 2 minutes. Drizzle the oil over the nokedli and serve immediately with the goulash.

4 cups water
1 cup kasha (buckwheat groats)
1 extra-large egg, beaten
Salt
1 cup bowtie (farfalle) pasta
3 tablespoons butter or vegetable oil
1 large yellow onion, diced
12 ounces white mushrooms, sliced about 1/4-inch thick
3 cloves garlic, minced
1/4 cup soy sauce
Bring 4 cups of water to a boil and have it ready. Put the kasha in a medium bowl. Add the beaten egg to the dry kasha. Mix thoroughly so all the grains are uniformly coated.
Heat a heavy-bottom 8-quart pot over medium-high heat until it is very hot. Add the kasha-egg mixture and stir continuously, breaking up clumps so that the kasha is very hot. Slowly pour the boiling water onto the hot kasha and add a pinch of salt. The kasha will explode and froth (this is the fun part). After all the water has been added and the pot settles down, skim any schmutz that might be floating on top. Reduce the heat to low, cover and cook until the water is absorbed, about 30 minutes.
While the kasha is cooking, prepare the bowtie pasta according to package instructions (cook in salted water for about 12 minutes).
While bowties are cooking, heat the butter (or oil, if pareve) in a wide saucepan. Add the onion and cook until slightly softened, about 5 minutes. Add the mushrooms and then the garlic and cook until the mushrooms and onions are tender. Add the cooked kasha to the mushroom mixture, then add the soy sauce and toss gently to coat. Add the bowties just before serving.
An alternative way of cooking this dish is to place the kasha mixture in a casserole dish and bake at 300° 20 minutes, or to desired dryness. When ready to serve, add bowties and mix. Serve hot.
Note: Bowties are added last to keep them white.
---
Adeena Sussman is the author of Sababa: Fresh, Sunny Flavors from My Israeli Kitchen and the upcoming Shabbat: Recipes and Rituals from My Kitchen To Yours, set to be released on September 5. She lives in Tel Aviv.