Letters to the Editor: Can Jews Handle Change?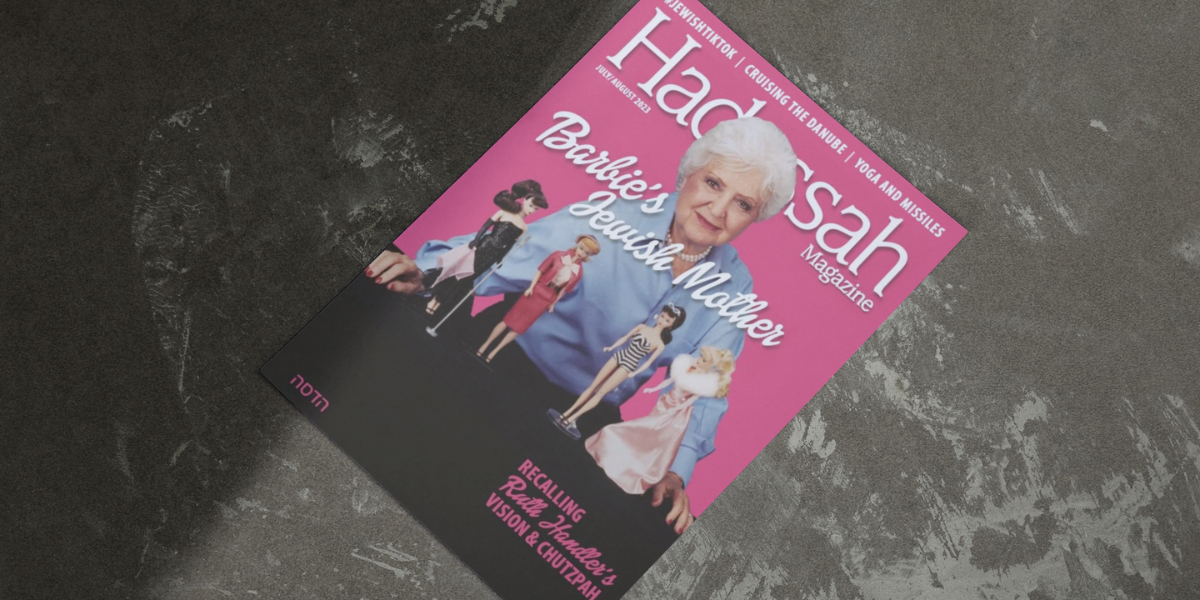 We want to hear from you! Please email letters to the editor to letters@hadassah.org.
Questioning Change
Despite Anita Diamant's argument in her commentary in the July/August issue that "Things change. Which is a good thing," our survival for millennia as Jews rests on those who follow Torah values and accept Maimonides' 13 Principles of Faith. Traditional Jews cannot accept same-sex marriage, fluid gender and pronouns, and interfaith marriage.
Only 25 percent of American Jews belong to any synagogue. American rabbis are bewildered because Jews who relied on Zoom during the pandemic now refuse to return to the synagogue. With an almost 75 percent
intermarriage rate among American Jews, how can Diamant call change a good thing?
Gary S. Laveman
Livingston, N.J.
Camp Memories
Hadassah Magazine is always full of interesting articles—and sometimes wonderful surprises. When reading " 'Leftovers' Maven Tamar Adler" in the July/August issue, I was shocked to see Sam Kadison's name and discover Adler's family connection to Camp Modin in Maine, where I spent three wonderful summers in the 1960s.
At Modin, we put on Broadway shows, climbed mountains, took canoe trips and benefited from the cultural enrichment of visiting artists. I watched the moon landing in 1969 on a fuzzy black-and-white television in the dining hall. And there was always singing and delicious challah.
Thanks for this unexpected blast from the past!
Betsy L. Barr
Somerville MA
TikTok as Threat?
I was surprised to see "The Incredible Rise of #JewishTikTok" in the July/August issue and was appalled that Hadassah Magazine touted the app as a vehicle for outreach by Jewish women—and held a virtual event on the topic.
According to the Center for Internet Security, TikTok is required by law to turn certain user data over to the Chinese government if asked to do so. A recent Pew Research Center survey showed that a majority of Americans see TikTok as a threat to national security, and TikTok is now lobbying Congress to counter that image.
Deborah Diamond
Fairfax, Va.
More on Neologs
In the July/August story "Jewish Heritage Along the Danube," the builders of the Dohany Street Synagogue are identified as Neologs, "a Hungarian Reform group." The Neolog tradition is a non-Orthodox but halachic movement, not affiliated with the German Reform movement. A Hungarian Neolog rabbi, Alexander Kohut, was the co-founder of the Jewish Theological Seminary of New York, the center of Conservative Judaism.
George Alexander
Hamden, Conn.
Eating in Translation
The colorful photo of a salad-laden dining table that accompanied "Defining the Israeli Kitchen" (May/June 2023 issue) reminded me of a meal we had in Kfar Saba about 15 years ago. We were a group of 12 people, and the restaurant served us about 40 of the salads like those in the photo. Not one salad had a serving spoon, as per Israeli custom, but alien to the three Americans at the table. I asked my cousin to request serving spoons from the waitress, who looked at her like she was from Mars, and asked why we wanted spoons. To which my cousin said, in Hebrew, "Americanim."
Adrienne Fishman
Boynton Beach, Fla.
Corners of Opinion
Thank you, Rhoda Smolow, for the May/June column "A Unity of Purpose, Not of Opinion"—a quote that could apply to all Americans as well as Hadassah members.
Here in Los Alamos, N.M., our Hadassah chapter was formally founded in 1947, but local Jewish women had already been sending support to Palestine for a number of years.
About a year ago, our formerly engaged and active chapter, like so many other venerable groups, melted away. The grand old founders of Los Alamos Hadassah had died off. Women under 40 (O.K., 60) weren't joining.
But I believe another issue that broke us apart is the Israeli-Palestinian conflict. We seemed to have forgotten our unity of purpose and instead backed into our corners of opinion.
Jody Benson
Los Alamos, N.M.
Find more reader feedback to the cover of Hadassah Magazine's July/August issue featuring pioneering Jewish businesswoman Ruth Handler, aka Barbie's Jewish Mother, here.