New Year, New Hadassah Magazine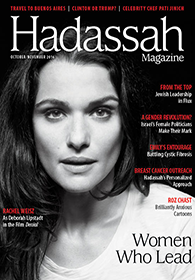 Just in time for the Jewish New Year, we are delighted to present a brand new Hadassah Magazine—a fresh, contemporary print design along with new content and a new editorial focus that will inform our digital platform as well.
Our inaugural issue focuses on "Women Who Lead," featuring an array of profiles of Jewish women who are making their mark in politics, arts, medicine and beyond. Highlights include leading lady Rachel Weisz in her latest role playing Holocaust scholar Deborah Lipstadt in the film Denial; a young woman battling cystic fibrosis who has become a White House Champion of Change in the growing area of patient-powered medical research; and breast cancer specialists at Hadassah Hospital, a story timed to coincide with Breast Cancer Awareness Month.
Longtime and loyal readers will find expanded and lively spreads of their favorite features—travel (to Buenos Aires); food (with a Mexican twist); an arts profile (on cartoonist Roz Chast) and books (on parenting and much more).
Hadassah Magazine is committed to exploring in new and meaningful ways topics that are enlightening, inspiring and entertaining. We will be emphasizing subjects that make Hadassah—the organization that created the magazine more than a century ago and continues to support the first-rate journalism that is its hallmark—and Hadassah Magazine distinctive, notably issues revolving around women, health and Israel (see our in-depth exploration of the next generation of Jewish leadership and an analysis of the political gender revolution taking place in Israel) We also will be including more essays and opinion pieces (see our pro-Clinton and pro-Trump political exchange), giving voice to the leaders of today and tomorrow who are helping shape the Jewish conversation.
Hadassah Magazine, in print and online, can help you join that conversation. Share your magazine with your children or grandchildren if they aren't already regular readers. Like us on Facebook and follow us on Twitter, where we are regularly posting news and ideas about Jewish women. Enjoy the read, and may your New Year be filled with many blessings and new beginnings!