Finding Inspiration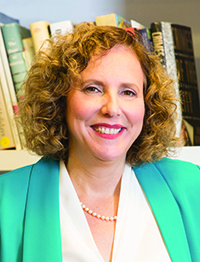 How do you make a bimonthly magazine timely and relevant? This is the question we often grapple with as we strive to produce a top-notch publication that engages and inspires. Well, we must be doing something right! In addition to the enthusiastic feedback we are getting from you, our loyal readers, we recently won seven Simon Rockower Awards, Jewish journalism's highest honors, from the American Jewish Press Association. I am particularly gratified that we were  recognized for our focus on women making an impact—from Supreme Court Justice Ruth Bader Ginsburg to artist Roz Chast to Israel's female Knesset members—and for a special section devoted to the timely issue of refugees and immigrants.
In this summer issue, you will find an eclectic mix of thoughtful and exciting stories that we hope will continue to inspire you.
Two of our features take you to different lands but are connected by a common theme: disadvantaged populations whose lives are being dramatically altered by Jewish philanthropy and service. With "Overcoming Adversity: Disadvantaged Youth in Israel Find a Home," Danna Harman provides an in-depth look at two of the youth villages in Israel where Hadassah has made a dramatic impact on the lives of at-risk youth over the years. In "Helping Hands in Nepal," Rahel Musleah transports you to the impoverished South Asian nation where an American-born Israeli is harnessing the energy of Israeli and Diaspora volunteers with projects to improve the lives of Nepalis.
In a very different realm, you may have read about ex-Hasidim who have left their strict religious lives, but you likely haven't met Pearl Reich. Uriel Heilman's portrayal of her transformation from ultra-Orthodox teen bride and mother of four to body-painted nude model and jewelry designer is both startling and transfixing.
With much debate swirling over proposed health care legislation in America, we feature two timely pieces: an interview with former New York Times health writer Dr. Elisabeth Rosenthal, whose new book explores the health care crisis and what you can do to take some control, and a Q&A with Rear Adm. Susan Blumenthal, M.D., a leading voice in women's health care issues, who shared her insights at Hadassah's recent Women's Health Empowerment Summit in Washington. Also in our expanded health coverage, we visit Hadassah Hospital's Dr. David Shveiky, a gynecologist looking at new treatments for pelvic organ prolapse, which has reached epidemic proportions among women worldwide.
Lastly, be sure to check out the lyrical essay by Allison Kaplan Sommer in the books section. She finds inspiration and camaraderie in the writings of Dorothy Kahn Bar-Adon, an American journalist whose own aliyah to pre-state Israel preceded Kaplan Sommer's by six decades.
We wish you a peaceful and relaxing summer! Enjoy the read!