Kreplach, Brisket Bourekas and Mock Chopped Liver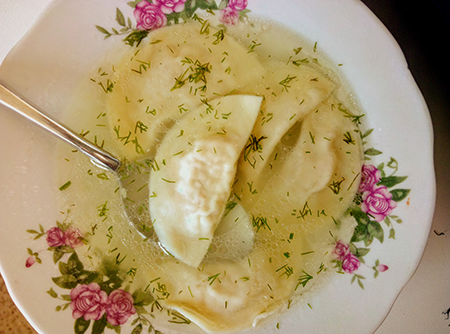 All I really need to be satisfied at a holiday meal are appetizers: chicken soup (usually with matzah balls) and a good schmear of chopped liver on some sort of bread. I love chopped liver—a staple of many Rosh Hashanah tables—so much that I even eat it for breakfast, a rare preference for something savory when typically I'm known for my insatiable sweet tooth.
Matzah ball soup and chopped liver would probably be my last meal on Earth if I ever had to choose. However, my vegetarian husband would beg to differ. Once he started eschewing meat five years ago, I realized that I would have to eventually make a version of chopped liver that he could enjoy, too. It took me all of five years, but I finally buckled down to work out the formula for a vegetarian version this year.
The last 12 months have brought more changes than just my determination to master mock chopped liver. I became the proud owner of a now-beloved pasta machine, and so I also vowed this Rosh Hashanah to learn how to make delicious, chicken-filled kreplach for my homemade chicken soup. Yes, I will be swapping out my preferred matzah balls to try something new. After all, isn't the new year a time for fresh beginnings?
At my holiday gathering, I want to pay tribute to the traditional brisket entrée served by Ashkenazi Jews in America—and what I grew up eating—that my Israeli family has, quite frankly, never understood. My fusion solution? Brisket bourekas. They hearken back to both brisket and knishes, yet come wrapped in savory boureka pastry that my kids (and extended Israeli family) already know and love. Are the bourekas authentically Israeli? Are they Jewish American Ashkenazi? All I can say for sure is that they are delicious, and a welcome replacement for a thick slab of brisket on many Rosh Hashanah tables. Shanah Tovah to you and yours, and happy holiday hosting!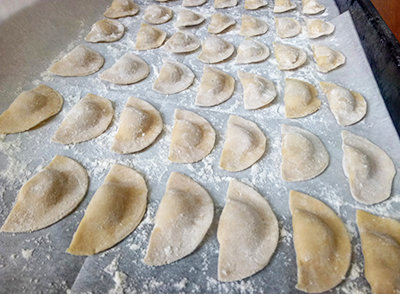 Chicken Kreplach Soup
Makes about 145 kreplach
Taking a good deal of time and care to assemble doesn't mean you should shy away from making classic kreplachs. Instead, see it as an excuse to recruit friends and family to help you in a holiday food-prep session. This is a great recipe to cook in advance, arranging the kreplach spaced out evenly on a tray and freezing, then storing in a plastic container in the freezer until Rosh Hashanah dinner.
CHICKEN SOUP
1, 4-pound roaster chicken
1 large onion, peeled and halved
2 large carrots, halved
3 large pieces celery, halved
1 tablespoon coarse salt
6 whole peppercorns
Enough water to cover the chicken in a pot
Place the chicken in a large pot, then cover with the vegetables and seasonings. Fill with enough water to cover the chicken, and bring to a boil.
Simmer for 1 1/2 hours, skimming any foam off the top of the soup.
Remove the chicken from the soup, let cool, then remove the meat from the bones. This meat will be used in the filling. Any leftover meat not used can be shredded and stored in the freezer for future recipes.
Let the soup cool, then strain off the vegetables and peppercorns. Set the broth aside until you are ready to cook the kreplach, or save for later.
KREPLACHS
3 eggs plus 1 egg yolk
1 cup bread flour
1 cup all-purpose flour
2 1/2 cups boiled chicken, cut in chunks
2 medium onions sautéed with 1/4 cup vegetable oil until translucent
A few chunks celery from the chicken stock
Salt
Freshly ground black pepper
Small bowl of water for assembly
Make the dough: Crack the eggs and egg yolk into a small bowl.
Combine the two flours in a medium-size bowl. Make a well in the flour mixture and pour in the eggs.
Lightly beat the eggs with a fork, and mix the flour into the center a little at a time until a dough is formed.
Turn out on your work surface and lightly knead until smooth. Resist the urge to add water, as pasta dough is meant to be more firm than bread or pastry dough. Set dough aside, covered, to rest for 10 minutes.
Prepare a baking paper-lined tray by dusting with flour; set aside.
Cut the dough into 5 sections, storing each section you're not using under a dish cloth.
On a lightly floured surface, roll out a portion of dough until it is as thin as possible (preferably until it is nearly see through). If you have a pasta machine, pass it through to level 7, or the third thinnest setting.
Cut dough with a 2 1/2-inch round cookie cutter into as many circles as possible, gathering the scraps and quickly adding them to the remaining dough portions before they dry out.
Working in assembly-line form, place 1 teaspoon of filling in the center of each circle, then flatten filling with your fingers.
Wet around the edge of the entire circle (do this one kreplach at a time as you assemble) and fold the dough up into a half moon shape, sealing the edges and taking care to press out any air bubbles. If the dough is too wet, dipping your fingers in flour will help the edges to seal. Once you have assembled the kreplach from one section of dough, move onto the next following the same steps, until there is no more dough to work with.
Place each finished kreplach on the floured tray. When room runs out, simply top with another sheet of floured baking paper, and continue.
Cook the kreplach in boiling soup or broth for 5 minutes, or until soft.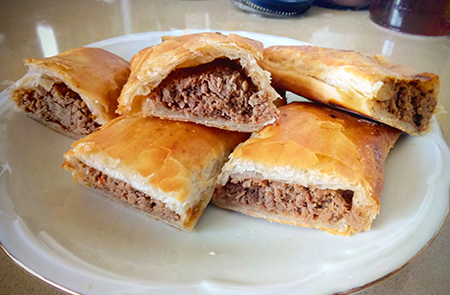 Brisket Bourekas
Makes 16 large borekas
I have a nostalgic pull toward ground-meat knishes in thin pastry crust, but often find the ground meat in Israel to be disappointing. Imagine how thrilled I was to discover that using shredded, slow-cooked and cooled meat instead of ground makes for a delicious pastry filling? Although not traditional, frozen puff pastry gets the job done and makes these appetizers more boureka-like than knish-like. Use pareve pastry dough to make these kosher.
2 to 2 1/2 pounds brisket
1/4 cup vegetable oil
1 large onion, sliced
1 cup canned crushed tomatoes
5 whole cloves garlic, peeled
1/4 cup brown sugar
1 teaspoon paprika
1 1/2 teaspoons coarse salt
1/4 teaspoon black pepper
Enough water to cover meat
2 packages prepared frozen puff pastry, defrosted according to package instructions
1 egg plus 1 tablespoon water for egg wash
Trim brisket of any excess fat. In a large pot, heat oil on high heat and sear the meat on all sides.
Add the onions, crushed tomatoes, garlic, brown sugar and spices to the brisket, then and add enough water to barely cover the meat.
Turn down to low and continue to cook for 4 hours, or until meat is tender. Check the pot periodically to make sure the liquid hasn't receded too low.
Once meat is soft, remove from heat and let cool. Add the meat and a bit of the reduced juices from the simmering pot to a food processor, and blend until smooth. Taste and adjust seasoning if necessary. Allow meat filling to cool before stuffing bourekas.
Preheat oven to 375.
To assemble bourkeas, roll out the puff pastry dough and cut into 8, 4 x 4-inch rectangles. Place heaping 1/4 cup filling in a horizontal line along the center of each rectangle of dough, and fold the top half of the bourekas up and over the filling, sealing along the bottom edge. Finish sealing the edge by marking all around with the tines of a form, and transfer to a baking tray.
Bake for 30-32 minutes, or until golden brown and cooked on the bottom. Serve hot or at room temperature.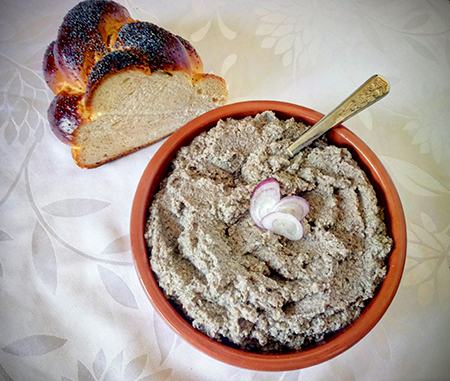 Roasted Mushroom Mock Chopped Liver
Makes 5 cups
Before my husband became a vegetarian, we loved to order liver pâté in restaurants. We even begged our wedding caterer to add it to our celebration menu. In the spirit of a restaurant pâté, rather than a chopped liver, I suggest pairing this with homemade or store-bought onion or fig jam. Those jam flavors bring out a slightly bitter walnut aftertaste, making it practically indistinguishable from the real thing. Try serving it to your guests, and see if anyone even notices that it's meat free!
1 pound button mushrooms
1/4 cup vegetable oil
1/2 teaspoon coarse salt
1/4 teaspoon black pepper
5 large eggs for boiling
1/4 teaspoon granulated garlic
1/4 cup white wine
1-2 tablespoons vegetable stock
1/4 cup walnut halves
CARAMELIZED ONIONS
3 medium red onions
1/4 cup vegetable oil
1/4 cup white wine
1/4 cup vegetable stock or water, plus more as needed
Preheat oven to 400.
Clean mushrooms of any grit using a damp paper towel. Place the whole mushrooms on a large baking tray and toss together with the oil, salt and black pepper. Roast 30-35 minutes, until deep brown and cooked through.
While the mushrooms cook, prepare the hard-boiled eggs: In a small sauce pan, place five large eggs, and fill with water to cover. Bring to a boil, then reduce heat and simmer for 15 minutes. Remove from heat, and rinse eggs with cold water. Set aside until needed.
While the eggs cook, slice the red onions into thin half-moons. Heat vegetable oil in a frying pan and sauté the onions on high heat until they start to brown. Add the wine and deglaze the pan. Cook until all the liquid has evaporated, about 5 minutes. At this point, add stock or water, and let cook another 5 minutes, or until the liquid has completely evaporated. Repeat the last step if necessary, until onions are caramelized and golden. Transfer onions to a bowl, and set aside to cool slightly.
In the same frying pan, toast the walnuts on high heat for a minute or two, until lightly toasted.
Transfer mushrooms, onions and walnuts to a food processor and pulse until coarsely ground. Add the garlic, wine, stock and adjust salt and pepper, to taste, and pulse until desired consistency. Chill for 4-6 hours before serving.