Honey Crinkle Cookies and an Israeli Update to Mandelbrot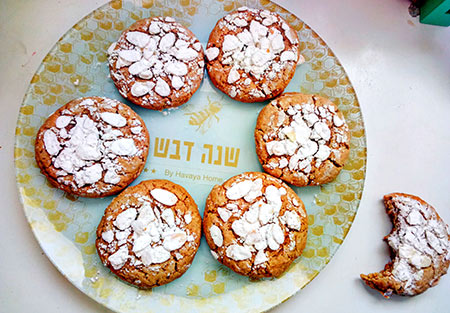 Cookies are almost always a good dessert choice when baking for a crowd. They're not too fussy, and one batch can easily feed a bunch—a strength in numbers that makes for an impressive display on any holiday table. Paired with a cup of tea at the conclusion of your Rosh Hashanah meal, they are a sweet end note without being too decadent, and most cookie recipes are simple enough to allow you to focus on main-course preparations.
Likewise, when I'm a guest and asked to bring something to a holiday meal, I usually show up with cookies in hand. They travel well, so much better than cakes that may sweat in transport—icings, frostings and creams smudging. One year, an ill-fated ganache-covered cake cracked in half, straight down the middle, when our car hit a speed bump just minutes from our destination.
In my adopted hometown of Haifa, I humbly confess that, when it does come to holiday cake-baking, I have something of a reputation for my honey cake. Each Rosh Hashanah, I gift one to friends, family members, co-workers and our children's teachers. (One year when I was pregnant, I skipped this ritual out of sheer exhaustion—and received dozens of complaints!)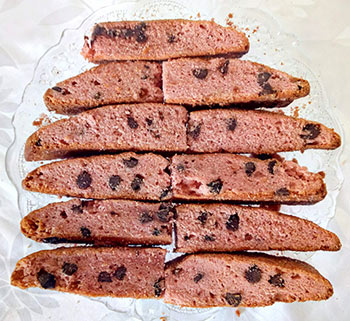 But this year I decided to change things up, and created a cookie version that mirrors the same flavors of a good honey cake—sweet nectar, sharp whiskey, slightly bitter coffee, bright orange and warm spices. Since I brush my honey cakes with warmed honey and top them with sliced almonds, these cookies received a similar topping, minus the honey. Switching out honey—and rolling the wet dough in powdered sugar before baking—results in an appealing crinkle cookie. If you are making these in advance and plan to freeze them, top with the sliced almonds before baking, then either sprinkle with powdered sugar just before serving, or decorate with a simple light glaze of powdered sugar and a couple of teaspoons water or orange juice, mixed up until thin enough to lightly drizzle over the cookies with a fork.
If honey isn't your thing, how about pomegranate?
Growing up, Rosh Hashanah always included a gigantic batch of cinnamon-sugar-topped cherry or chocolate chip mandelbrot. My mother would divide the batter of a single batch into three parts: One part would feature chopped-up maraschino cherries mixed throughout, and two parts were chocolate chip, stained a light pink from the addition of syrup from the jarred cherries.
Each year, I try to recreate this pinkness, but never get it quite right. Candied cherries in Israel are not packed in the same type of syrup as in the States, and the boxed cherry juice available here never seems to work. But in my quest to incorporate more pomegranate into my desserts—a popular symbol of the holiday in Israel that rivals the centrality of apples and honey in America—I found a worthy contender. Adding fresh-squeezed pomegranate juice (or non-sweetened jarred juice) to mandelbrot is truly transformative, making my chocolate and pomegranate mandelbrot a suitable Israeli update to my mother's beloved cookies.
L'shanah tovah, and happy holiday baking!
Honey Cake Crinkle Cookies
Makes approximately 20 cookies
This cookie has a wet, cake-like batter. Traditionally, crinkle cookie recipes require the batter to be refrigerated before baking, but I have an aversion to starting a baking project and then waiting a half hour for something to chill before I can move on. This batter is engineered to be baked as soon as it is formed. Dress these cookies up as you like, the crinkle happens in the oven—powdered sugar or not.
TOPPING
1 cup powdered sugar
1 cup slivered almonds
COOKIES
4 cups flour
1 teaspoon salt
1 teaspoon baking powder
1 teaspoon baking soda
3/4 teaspoon ground cloves
2 teaspoons ground cinnamon
1/2 teaspoon ground ginger
3/4 cup butter or margarine
3/4 cup brown sugar
3/4 cup honey
1 egg
1 tablespoon vanilla extract
2 tablespoons orange juice
2 1/2 tablespoons whiskey
2 teaspoons instant espresso powder
Preheat the oven to 350 degrees. Fit two baking trays with parchment paper and set aside.
In a medium bowl, combine the powdered sugar and slivered almonds; set topping aside.
In a medium bowl, whisk together the flour, salt, baking powder, baking soda and ground spices, and set aside.
In a mixer bowl, beat together the butter or margarine and brown sugar. Spray a one-cup dry measuring cup with cooking spray, and fill 3/4 of the way with honey. Pour honey into the mixer bowl, and mix to combine.
Add the egg, vanilla, orange juice, whiskey and espresso powder, and beat to combine.
Scoop out the cookies one at a time using a 1/4-cup spring-handled ice cream scoop, or with two spoons. Hold each cookie over the bowl with the slivered almonds and powdered sugar, and press a generous amount of the mixture (about 2 tablespoons) on the top of each cookie. Place on the tray and flatten slightly, reattaching any almonds that might have fallen.
Bake for 12 minutes, until golde, and cracked in appearance.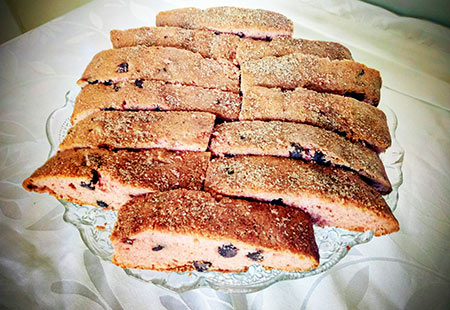 Pomegranate Chocolate Chip Mandelbrot
Makes 3 dozen cookies
I have taken the liberty of adding a few drops of red food coloring to the batter, but this is entirely optional.
CINNAMON SUGAR TOPPING
1/4 cup sugar
1 1/2 teaspoons cinnamon
4 cups all-purpose flour
1 teaspoon baking powder
3/4 teaspoon salt
1/2 cup butter or margarine
1 1/2 cups sugar
1/2 cup vegetable oil
3 eggs
1/3 cup all-natural pomegranate juice
2 teaspoons almond extract
3-4 drops red food coloring (optional)
1 1/2 cups chocolate chips
Preheat oven to 350 degrees. Fit two baking trays with parchment paper and set aside.
In a small bowl, mix together the cinnamon-sugar topping and set aside. Prepare a small bowl with a bit of water and set aside as well.
In a medium bowl, whisk together the flour, baking soda and salt, and set aside.
In a mixer bowl, beat together the butter or margarine and sugar until fully incorporated. Add the oil and mix to combine. Add the eggs one at a time, beating thoroughly between each addition.
Add the pomegranate juice and almond extract and mix until just combined; add the flour mixture and mix to combine.
Add the red food coloring one drop at a time to get a light pink hue (if using), then add chocolate chips and stir to combine.
Tip out half the mixture onto one baking sheet, and the other half onto the other. Using slightly wet hands, shape into a long thin rectangle, or loaf shape. Sprinkle with about two tablespoons worth of the cinnamon-sugar mixture.
Bake for 20-22 minutes. Let cool completely before cutting into thick strips. Each large cookie can be cut into two to yield the amount specified in the recipe.