Hearty Turkish Red Lentil Soup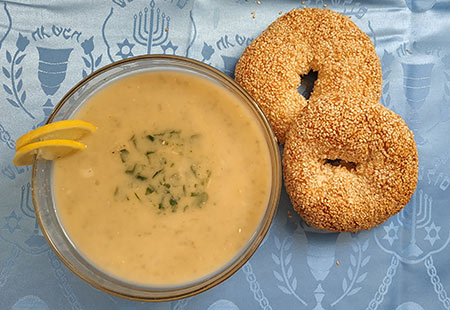 One of the first things I learned to cook in my early 20s was Turkish Red Lentil Soup. I was inspired to master the dish while on a vacation to Turkey—a side trip during my studies abroad in Israel at Ben Gurion University in Beersheba.
A year later, after graduating and moving to Israel, I had only a few recipes under my belt: lasagna, my mother's meatloaf, chicken schnitzel and this lentil soup, which I used to woo my husband while we were dating. Cooking the soup on a hot plate, which sat on an oddly shaped blue desk in my studio apartment overlooking Rabin Square in central Tel Aviv, I remember it made that little place smell like an actual home.
I'm not a huge fan of brown or green lentils, but red lentils, which are actually orange in hue, are a different breed entirely. Unlike other lentils, they grow soft and break apart to form a soft porridge when cooked, and are much less strong in flavor.
When traveling, I noticed that this soup was on the menu in Turkey nearly everywhere I went—Including in Izmir, the coastal city with a large Jewish population where I enjoyed matzah pizza. Limited by a strict budget and what I was convinced for many years was an allergy to milk, I ate it a lot while in Turkey. And while it may have been one of the cheaper menu items, its rich complexity of flavor was astounding.
Soups call for a layering of flavors. In this one, mild lentils are paired with herbs, creamy potato and zingy lemon, making the finished product mild, rich and surprisingly meaty in taste—all at the same time. It gets even better when garnished with more lemon juice just before eating, and when accompanied by a pale lager, like the Turkish beer I always ordered alongside my meal. Deglaze your pan with the same beer you plan on serving, or use water or chicken stock in place of the beer if you wish.
Consider pairing a steaming hot bowl of Turkish Red Lentil Soup with my challah or hearty focaccia bread.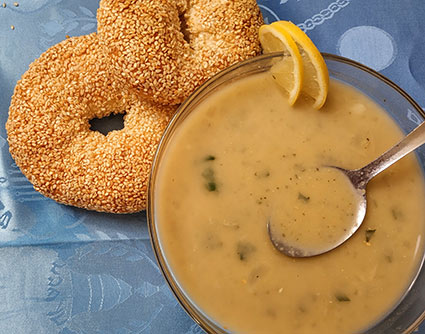 Turkish Red Lentil Soup
1/4 cup olive oil
2 cups red lentils
1 large onion
2 cloves garlic
Scant 1/2 teaspoon freshly ground black pepper
1 teaspoon paprika
1 cup beer
1 large potato
10 cups water
2 tablespoons lemon juice
1 tablespoon salt
1 tablespoon dried parsley, or 1/4 cup fresh parsley, coarsely chopped
Lemon wedges for garnish
In a large pot, heat the olive oil on medium high.
Rinse the lentils in a fine mesh strainer and set aside.
Roughly chop the onion, then sauté in the oil until translucent, 2-3 minutes.
Peel and finely chop the garlic and add it to the pot. Sauté for another minute or so before adding the rinsed lentils, pepper and paprika. Stir to combine, then add the beer. Let the liquid cook off, scraping any lentils that may have become stuck to the bottom or sides of the pot. Add the water.
Peel and cut the potato into medium-sized chunks. Add to the pot and bring the soup up to a boil. Reduce heat to a simmer, and continue to cook for 25-30 minutes, stirring periodically.
Once the potatoes are fork tender, remove one cup of soup from the pot and reserve it. Purée the remaining soup with a stick blender. Or wait until the soup cools a bit and purée the remaining soup in a blender or food processor
Add the reserved one cup of non-blended soup to the pot, and add salt. Adjust seasoning to taste, then add lemon juice and parsley.
Pour into bowls, and serve with a lemon wedge.