Like Your Hummus Chunky? Try Whole-Chickpea Masabacha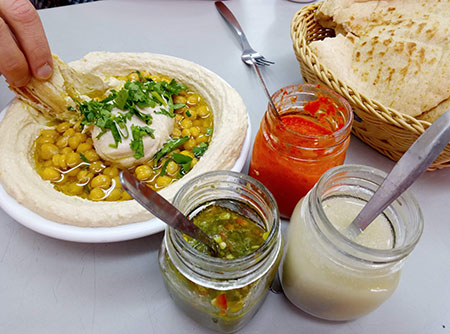 When it comes to hummus, Israel gets it right. Indeed, the authentic Israeli version is another animal entirely when compared to the yellow, grainy, packaged stuff I ate as a teen in the United States. Israeli hummus is contrastingly light and creamy, possessing a richness that I liken to cooked egg yolks, thanks to high-quality tahini paste.
So, what do Israeli hummus shops do to liven things up? They have fun by changing the toppings, garnishes and side sauces, but almost never the base recipe. Then there are the regional discrepancies. Hummus in Jerusalem might have a hot pepper blended into the mix, while up north you'll find most hummus cafes offering more rustic renditions like the masabacha recipe below.
Stylistic differences extend to the texture and consistency of the dish. Arab restaurants prefer to serve the dish cold or at room temperature, often adding a good amount tart lemon juice—a key flavor note in Arab cuisine—and whipping some air into the mixture. Cooling the chickpeas helps to control the final consistency of the hummus whether you eat it at home or in a shop.
Then there are Jewish hummus cafes that tend to serve the spread hot. Eaten like a hearty stew, it is meant to be consumed by the bowlful, alongside a slow-cooked egg and fluffy, thick pita. In Haifa, one of my favorite spots—a little hole in the wall called Hummus Fadi in Haifa's downtown—serves their hummus topped with an array of classics: cooked chickpeas or sautéed mushrooms accompanied by a squirt of Galilean olive oil.
At Hummus Fadi, homemade hot pepper sauces grace the tables. Some hummus joints have begun to replace their jars of beloved North African harissa paste with the cilantro-and-garlic-infused Yemenite "salsa" known as schug. A third sauce at Fadi, one found in most hummus joints, is a liquified concoction of fresh lemon juice and grated garlic.
Hipster spots around the country get creative by topping their spreads with different flavored tahini sauces, blended preserved lemon and, sometimes, sprinkling with black sesame seeds.
I have my go-to hummus recipe, which you can find here. But if you're looking to change things up, consider making a hummus that goes by many different spellings but one delicious technique: mashawsha or masabacha, depending on who you ask. Think of this as a rustic version of everyone's favorite chickpea and tahini spread (never call it a "dip" in Israel). The silky-smooth texture of original hummus is replaced with a chunky consistency comprised of chickpeas kept both whole and just slightly mashed, bound together with high-quality tahini sauce, a bit of cooking liquid, fresh lemon juice and minced garlic. It's more of a lemony-garlicky deconstructed hummus, and I hope you love it as much as I do!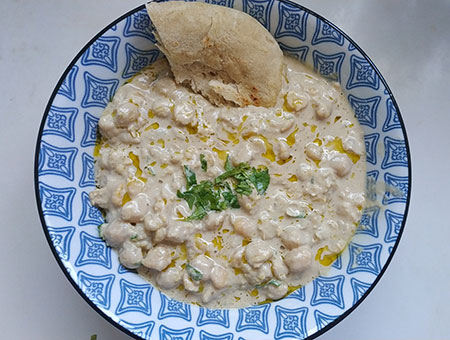 Hummus Masabacha
Makes enough for a generous lunch for 2
2 1/2 cups raw chickpeas
1 tablespoon baking soda
1/2 cup tahini paste
1/4 cup room temperature water
Juice of 1 medium lemon
1/2 teaspoon salt
1/4 teaspoon freshly ground black pepper
1 clove garlic, crushed
2 tablespoons cooking liquid from the chickpeas
Pinch of cumin
2 tablespoons chopped fresh parsley
Olive oil for garnish
Lemon juice for garnish
Soak the raw chickpeas by covering them with water for 12 to 24 hours at room temperature.
Drain soaked chickpeas and set aside all but 2 cups. (You can freeze the remainder of the chickpeas for future use, but defrost before using.) Place the 2 cups of chickpeas and baking soda in a pan and cook over medium high heat until very soft, between 30 and 45 minutes.
Meanwhile make the tahini sauce: Combine the tahini paste, water, lemon juice, salt, pepper and garlic. Beat with a fork until a smooth paste forms. (The mixture will initially seize up, but this is normal.)
Remove 1/2 cup cooked chickpeas from the pot using a slotted spoon. Take off any loose skins manually. Smash the chickpeas into the tahini along with the 2 tablespoons cooking liquid.
Fold in the remaining 2 cups cooked chickpeas (again, remove any visibly loose skins from the beans), cumin and chopped parsley with a silicon spatula. .
Garnish with olive oil and an extra squeeze lemon juice to taste.