Earl Grey and Jasmine Tea-Infused Buttery Shortbread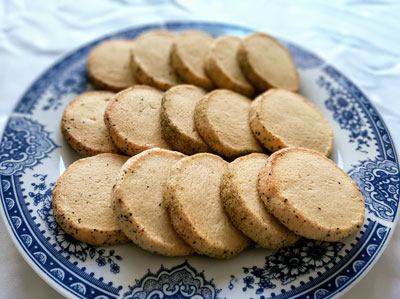 In the world of baking, refined white sugar can be a gateway to endless flavor possibilities. Infused with citrus zest—as in my basbusa cake—espresso or cocoa powder, or even fragrant herbs like lavender, mint and basil, sugar becomes a vehicle for delivering a potent flavor boost to elephant ears, scones and buttery shortbread cookies, among other delights.
Shortbread cookies, one of the simplest recipes I learned to master in pastry class, are especially good when the edges are rolled in sparkling sugar before baking. But, infuse that sugar with a flavor boost, and suddenly you have a rainbow of possibilities. What's my favorite boost, you ask? Well, since so many tea drinkers make a habit of pairing shortbread with a cuppa, why not infuse the sugar with tea leaves? After all, tea leaves are a fragrant admixture of herbs and spices that lend themselves to infusion.
As a little girl, I drank cups of Twinnings Irish Breakfast Tea as well as my mother's orange-boxed Swee-Touch-Nee, all the while daydreaming about the romance of grownup, sophisticated high teas. Today, I am drawn to the strong floral notes in Earl Grey tea and the intoxicating musk of Jasmine-infused green tea. These teas, it turns out, are a delightful addition to the sugar used to rim the cookies before they're baked up into thick stable rounds.
But enough about sugar, let's move on to the main flavor component of shortbread—butter. Be sure to use high-quality butter that is a rich yellow in color. It took me years to appreciate that the quality of your butter truly affects the final product. Eat a croissant or a good tart at a French bakery and you will see what I mean. Those bakers are not using magic. Their products probably taste so very good because they are using high-quality, European-style butter, which is richer in fat than most American versions.
Spring for the good butter and prepare some infused sugar and these cookies will be nothing short of fragrant tea-time bliss.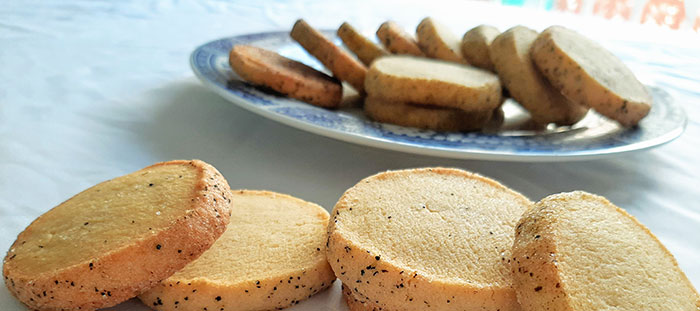 Earl Grey or Jasmine Green Tea-Infused Buttery Shortbread
Makes 2 dozen cookies
1/4 cup refined white sugar + the finely ground tea from one Earl Grey or jasmine green tea bag (about 1 teaspoon)
1 cup butter, with at least 80 percent butter fat
Scant 2/3 cup powdered sugar
1 egg yolk
1 tablespoon vanilla extract
2 1/3 cups all-purpose flour
1/4 teaspoon salt
Preheat oven to 350°.
Infuse the sugar: Open up the tea bag, grind the leaves and pour them into a small bowl with the sugar. Mix with a fork until combined. Set aside.
In a separate bowl or mixer, cream together butter and powdered sugar. Add egg yolk and vanilla and mix to combine. Add flour and salt and mix until the dough starts to clump together in a ball around the beater.
Remove cookie dough from the bowl or mixer. Gather into a ball, divide into two parts, and roll each part into a 12-inch-long cylinder. Sprinkle the tea infused sugar on your work surface. (This can be done on top of a piece of parchment paper for easy cleanup). Roll each log in the sugar to thoroughly coat the outside.
Slice the logs into thick 1/2-inch slices, dip the bottoms of the cookies into the remaining sugar, and set on a baking sheet with a little space between each to account for spreading in the oven.
Bake for 12 to 15 minutes, until golden.