'Hadassah Magazine' Awarded for #MeToo Coverage and More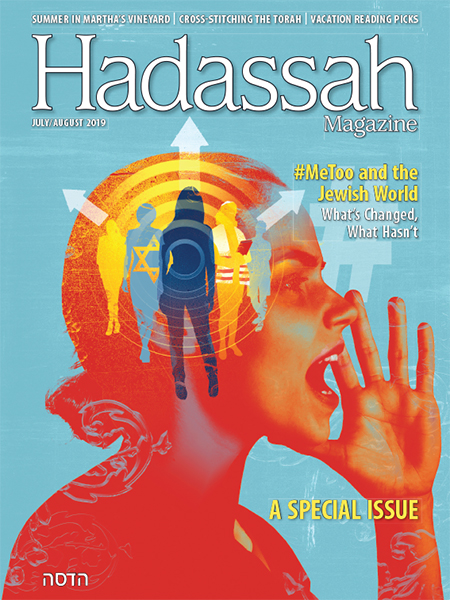 Hadassah Magazine has won six Simon Rockower Awards from the American Jewish Press Association, including three First Place honors for its coverage of the #MeToo movement.
The magazine was recognized for its articles published in 2019 during the AJPA's virtual awards presentation on July 2.
In July/August, a special themed issue of Hadassah Magazine was devoted to "#MeToo and the Jewish World." The package of four features garnered First Place for Special Sections or Supplements: "What's Changed? #MeToo Inspires New Initiatives but Many Questions Remain" by Debra Nussbaum Cohen; "When Rabbis Say #MeToo: A Reckoning for Female Clergy"  by Uriel Heilman; "#Gam Ani: The #MeToo Movement's Impact in Israel" by Wendy Elliman; and "Sexual Harassment Takes a Toll on Health" by Sarah Yahr Tucker. Artist Andy Potts, whose evocative illustrations accompanied the stories, was also named among the winners.
The judge in the category commented about the package: "This is a model of how a special issue can be clear-headed and concise, moving and dismaying, yet hopeful and inspiring. A must read."
Heilman's  "When Rabbis Say #MeToo" also took First Place both in the category Writing About Women and in Writing About Social Justice and Humanitarian Work.
In the Feature Writing category, Hilary Danailova won Second Place for "Bringing the Catskills Back to Life," a multipart story that explored the history, nostalgia and reinvention of the iconic Catskills Mountain.
In the category focused on Jewish Heritage and Peoplehood in Europe, Toby Axelrod won Second Place for "We are Not Aliens," a story about teenagers in Germany seeking to educate their peers about what it means to be Jewish.
The magazine's sixth award went to Eetta Prince-Gibson's "The Jewish Mother, a Love Story," which won Honorable Mention for Writing About Women. The story explores the roots of the stereotypes of Jewish mothers in both Israel and America.
In addition, the magazine's advertising and marketing manager, Celia Weintrob, was named the AJPA's Volunteer of the Year for her work as chair of the organization's Advertising and Marketing Committee.
"This year's awards from the AJPA reaffirms the journalistic excellence we always strive for at Hadassah Magazine," said Executive Editor Lisa Hostein. "The recognition of our #MeToo coverage is particularly gratifying as those stories  enabled us to highlight a critical issue in our community that resonates and impacts Jewish women in particular."