'Eating Out Loud' With Eden Grinshpan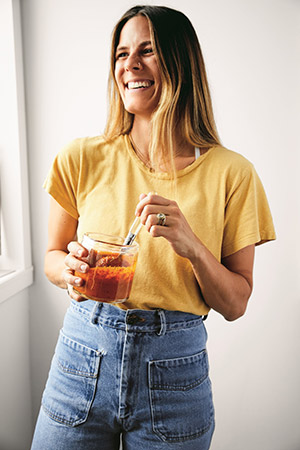 As host of Canada's Top Chef television program, Eden Grinshpan is known for doling out brutally honest critiques to contestants—and belting out, "Hand up, tools down!"
Grinshpan, 34, is also a food personality and chef in her own rite, going well beyond her hosting duties. (Check out Eden Eats, which she co-created and starred in for the Cooking Channel). With her Israeli ancestry, she admits to being cuckoo for tahini and fiery hot schug, of which she keeps two different versions in her fridge at all times. Now, in her debut cookbook, Eating Out Loud: Bold Middle Eastern Flavors for All Day, Every Day
, she channels her playful candor into fresh ideas for utilizing bright, bold Israeli flavors in unexpected ways.
Growing up in Toronto with Israeli parents, she spent the summers back in Israel. After graduating from Le Cordon Bleu cooking school, she went on a global trek through Asia, ending up in Israel, where she cemented her love and focus on foods of the Levant. Indeed, she became so taken with this moment in modern Israeli/Middle Eastern cuisine that she opened an Israeli-themed restaurant in Manhattan in 2018, called Dez (which has since closed).
"I've spent so much time in Israel," she told me, "and would always crave the hummus, shawarma, falafel, kebabs, mezzes…all those flavors when I would get home, so I made it a point to explore and come up with my own version of those classics."
However, if you're looking for a super traditional shawarma recipe, you won't find it in Eating Out Loud—and that's deliciously O.K. Instead, Grinshpan peppers the book with recipes that use the classics as a jumping off point toward their final destination, which is mostly an interpretation of modern Israeli cuisine integrated with global flavors.
You won't be disappointed with recipes like Aleppo Pepper and Orange Roasted Fennel; Sesame Schnitzel Sandwich With Harissa Honey and Tartar Slaw; Lamb Flatbread With Pomegranate and Mint; and Brown Butter Couscous With Cinnamon.
One potential controversy: An Israeli faux-pas can be found in the sunchoke hummus (don't worry, Grinshpan includes a more traditional recipe in the book as well). While Israelis are creative about changing up hummus toppings, they remain adamant about never touching the base flavor of chickpeas. I decided to overlook the sunchoke hummus when I came across Grinshpan's equally untraditional but ridiculously tasty summer fatoush salad, which calls for fresh juicy peaches and fresh mint to spruce up the usual tomatoes and toasted pita bread.
Grinshpan subtitles her book "Bold Middle Eastern Flavors for All Day, Every Day," but she also infuses a little of her Toronto upbringing in the recipes. One of the most diverse food cities in North America, Toronto's influence can be found in her multicultural creations such as Barberry-Studded Persian Rice Tahdig and the Turkish Lavash bread her father challenged her to try as a child.
In the book are recipes to feed a crowd, but also ones meant to be eaten standing over the sink, as Grinshpan admits to doing now and again as a busy working mom of one. And a whole chapter on recipes with well-balanced vegetable dishes has an Ottolenghi-esque feel of simple extravagance. Of note, check out her Roasted Cauliflower With Date and Parsley Gremolata, which Grinshpan tells me is inspired by a dish she served at Dez.
She dedicates section to her love of egg dishes (check out her Spring Frittata, a recipe she shared with Adeena Sussman earlier this year), and she doesn't let you forget about sauces, which she deems "essential."
And then there are Middle Eastern condiments. With the ability to be downright transformative, tahini is one of the dominant flavors Grinshpan reaches for again and again. Just test out her Tahini-dressed Caesar salad to see what a real creative mind can accomplish when all the stuffy food "rules" go out the window.
Here, we're lucky to be able to share with you a peak into Grinshpan's world of modern Israeli flavors with her Sumac Roasted Whole Snapper for two and Tahini Sheet Cake.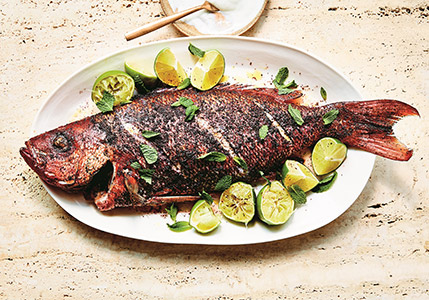 Sumac-Roasted Snapper with Lime Yogurt
Serves 2
I've been obsessed with Persian cuisine for most of my adult life, reading tons of books on the topic and, obviously, eating all the food there is to eat. One combination that comes up again and again is sumac, lime and yogurt. This whole roasted fish recipe is the perfect place to put that trinity to work. When you smother the fish in sumac—literally packing it into the skin like you're giving it a clay mask—it forms a crisp crust while infusing the fish with its unique floral acidity.
ROASTED SNAPPER
1 whole red snapper, cleaned
2 tablespoons sumac
2 teaspoons kosher salt
1/4 teaspoon freshly ground black pepper
2 garlic cloves, thinly sliced
2 tablespoons extra-virgin olive oil
LIME YOGURT
1 cup whole-milk Greek yogurt
Grated zest and juice of 1 lime
1/2 teaspoon kosher salt
1 garlic clove, grated
FOR SERVING
Chopped fresh mint
Juice of 1 lime
2 limes, cut into wedges
Roast the snapper: Preheat the oven to 425°.
Carefully use a sharp knife to score each side of the fish, making 5 or 6 incisions into the skin and flesh of the fish (this will help even more flavor seep in to the flesh). Season inside and out with the sumac, salt, and pepper. Really pack on the sumac! Place the fish on a baking sheet. Stuff with the sliced garlic and drizzle the olive oil all over. Roast until the eyes have popped and the flesh is firm to the touch, about 20 minutes.
Make the lime yogurt: In a medium bowl, stir together the yogurt, lime zest, lime juice, salt, and grated garlic.
To serve: Place the roasted fish on a serving platter and scatter mint over the top. Squeeze the lime juice over the fish and serve the yogurt and lime wedges on the side.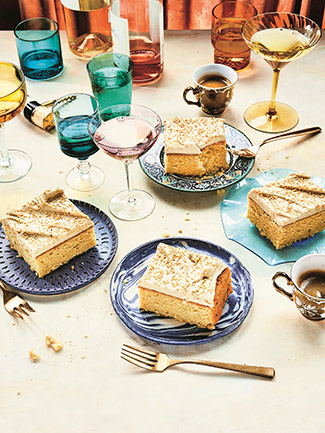 Tahini Sheet Cake
Makes 1, 9 × 13-inch cake
When you get on the tahini train, it's hard not trying to find a way to use it in every recipe you make. Lucky for us, when it comes to dessert, it's a natural fit. I tried whipping it into a buttercream and the result is In. Sane. It adds creamy body while tempering the richness of the frosting, and the lemon-scented cake brightens the pairing. You've probably had a million sheet cakes before, but never one like this.
CAKE
1/2 cup (1 stick) unsalted butter, at room temperature, plus more for the pan
3 1/2 cups all-purpose flour, plus more for the pan
2 teaspoons baking powder
1 1/2 teaspoons kosher salt
1 teaspoon baking soda
1/2 cup grapeseed, sunflower or safflower oil
1 3/4 cups granulated sugar
4 large eggs, at room temperature
1 cup whole milk, at room temperature
1/2 cup tahini paste, at room temperature
2 teaspoons vanilla extract
Grated zest of 2 lemons
1 cup sour cream, at room temperature
BUTTERCREAM
2 sticks (8 ounces) unsalted butter, at room temperature
2 cups powdered sugar
1/2 cup tahini paste, at room temperature
1 teaspoon vanilla extract
1/2 teaspoon kosher salt
FOR SERVING
2 tablespoons toasted sesame seeds, for garnish
Make the cake: Preheat the oven to 350°. Butter and flour a 9 × 13-inch baking pan.
In a medium bowl, whisk together the flour, baking powder, salt and baking soda. Set aside.
In a stand mixer fitted with the paddle attachment (or in a large bowl with a handheld mixer or a spoon), cream the butter on medium-high speed until light and fluffy, about 2 minutes. Add the oil and granulated sugar and continue to whip it until light and fluffy, about another 2 minutes, scraping down the sides with a spatula as needed. Add the eggs one at a time, waiting until each egg is incorporated before adding the next. Beat in the milk, tahini, vanilla and lemon zest. Add the sour cream and mix just until it's incorporated, only a few seconds.
Reduce the speed to low (this helps keep the flour from whooshing up in the mixer) and add half of the flour mixture to the butter mixture, increasing the speed to medium as more flour gets incorporated. Repeat with the other half of the flour mixture and mix for about 1 minute, just until it all comes together.
Pour the batter into the prepared pan, using a spatula to help smooth it evenly. To help the batter settle evenly in the pan, gently lift the pan an inch or two off the work surface and drop it back down. Repeat a couple of times.
Bake until a skewer or cake tester inserted into the center comes out clean, about 30 minutes. Let the cake cool completely in the pan while you make the frosting. You could also invert the cake onto a cooling rack after allowing it to cool in the pan for about 10 minutes, then serve it on a platter or tray.
Make the buttercream: In a stand mixer fitted with the paddle attachment (or in a large bowl with a handheld mixer or a spoon), cream the butter on medium-high speed until light and fluffy, about 2 minutes. Add the powdered sugar and continue mixing until well combined, making sure to scrape down the sides. Add the tahini, vanilla, and salt and continue mixing until the mixture is light and fluffy, about 5 minutes. The frosting will be nice and thick.
To serve: Liberally frost the cake with the buttercream and sprinkle with the sesame seeds.
NOTE You can make the frosting up to 2 days in advance and store it in the fridge. Just be sure to let the frosting sit at room temp for about 20 minutes to soften before spreading it over the cake.