Chebakia, the Fried Moroccan Cookie Perfect for Hanukkah
Every year around Hanukkah time, when there's finally a little nip in the air, even in sunny Israel, friends and family start asking me about sufganiyot. After all, those doughnuts are the quintessential Israeli culinary symbol of the holiday, most often appearing in their nondescript, red jelly-filled, powder sugar-dusted form.
But I have a confession: Sufganiyot are my nemesis—or at least my Hanukkah dessert nemesis. Let me explain why.
Getting a round chunk of dough to fry up so it's not too dark on the outside, yet fully cooked on the inside, is an art, and most times, a crapshoot. And no one likes biting into a doughnut that's not cooked in the middle. The trick I have found, in my past life of escorting food tours through bakeries around Hanukkah time and witnessing some serious behind-the-scenes, deep-frying magic, is to fry doughnuts in oil that is barely simmering for a relatively long time. But even that technique can deliver inconsistent results. Then there is the sought-after, light-golden-white line that separates the top half from the bottom half of a cooked sufganiya, which, I'm sorry to say, is near impossible to achieve.
But, all that said, you should know that I do love making American-style doughnuts with holes in them and available year long—like yeasted vanilla-glazed and, a special favorite that I have shared with readers in past years, chocolate-glazed cake doughnuts.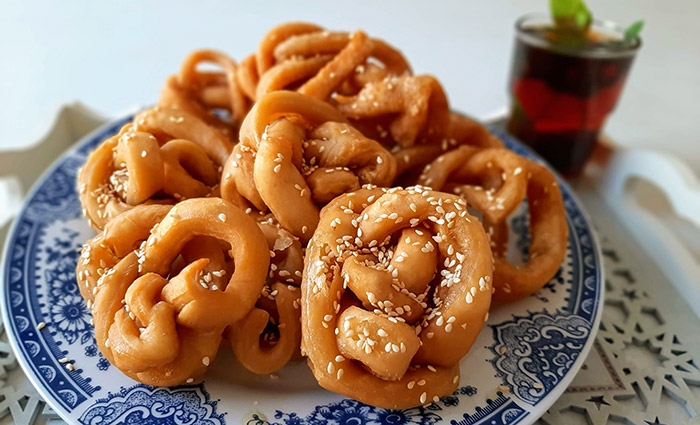 This Hanukkah, as we all try to inject some added cheer to our lives and, just maybe, our cooking routines as we hunker down for a winter marked by the still-pervasive coronavirus pandemic, I decided to eschew even my beloved Dunkin Donut-esque holiday treats in favor of the fried Moroccan celebration cookie called chebakia (pronounced sheh-bakia).
Resembling an Indian funnel-cake cookie known as jalebi—although the Moroccan version is crunchier and less syrup laden—you'll most often see chebakia, in Israel, at a henna party (pronounced chee-na in Hebrew). A henna party is the equivalent of a rehearsal dinner before a wedding in the Mizrahi Jewish community and is distinctive for its traditional costumes and dancing and other customs unique to each country of origin. There might be gift exchanges, a depiction of good luck rituals for the happy couple and, most exciting to us dessert-lovers, a host of specialty cookies, including chebakia.
Chebakia are made from a pareve dough that is shaped like a flower then fried, submerged in a warm honey-based syrup and, finally, sprinkled with toasted sesame seeds.
You might not expect it, but these cookies register as not too sweet. And, thanks to their bath in oil and their perfect pairing with a cup of coffee, they are somewhat reminiscent of a doughnut.
One last thing: If making chebakia for a small group, and not the big Hanukkah shindig you might host in regular years, you may want to reduce the dough amount by half.
Wishing you all a happy Hanukkah, and may your holiday frying be safe and never tedious.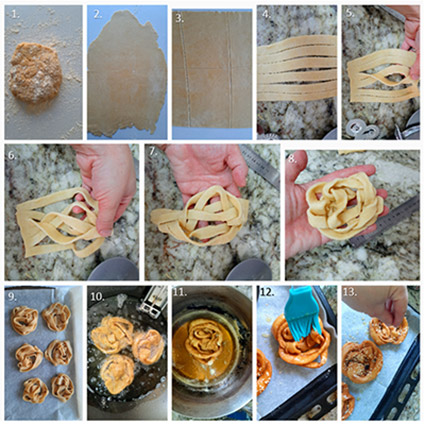 Chebakia
Makes 3 dozen cookies
1/2 cup sesame seeds, for sprinkling
DOUGH
8 cups all-purpose flour
1 heaping tablespoon sugar
4 teaspoons baking powder
1/2 teaspoon salt
1 cup vegetable oil
1 1/2 cups water
1 tablespoon white vinegar
1 1/2 teaspoons vanilla extract
FOR FRYING
84 ounces neutral vegetable oil (I prefer safflower oil)
HONEY SYRUP
3 cups liquid honey
1 cup water
1 tablespoon orange blossom water
Line a large baking tray with parchment paper. Set on the countertop next to your stovetop.
Toast the sesame seeds: Toss sesame seeds into a skillet over high heat and cook until they turn golden and emit a nutty aroma, a couple of minutes. Pour into a bowl and set aside to cool.
Make the dough: In a large bowl, whisk together the flour, sugar, baking powder and salt. Add the oil, roughly 80 percent of the water, vinegar and vanilla extract to the dry ingredients and mix to form a rough dough.
Turn the dough out onto your work surface and knead until it just comes together. Add the rest of the water little by little as needed and continue to knead until the dough becomes soft and pliant. Place the dough back in the bowl, cover with plastic wrap or a damp dish towel, and set aside.
Heat the oil: In a 5- to 6-quart pot or large wok, heat the oil to 350°. When you wait for the oil heat up, make the honey syrup. In a small pot, combine the honey and water. Bring to a light boil, then turn off the heat and add the orange blossom water. Stir to combine. Place the pot with the syrup next to the pot with your frying oil, so you can easily submerge your cookies in the syrup after they are fried.
Form and fry the chebakia: Cut the dough into four equal sections, and work with one section at a time, keeping the others wrapped in plastic wrap to prevent them from drying out. Roll sections into rough 20- x 13-inch rectangles that are approximately 1/16-inch thick. Using a pizza wheel, trim the edges of the rectangle to achieve a cleaner shape. Still using the pizza wheel, cut each rectangle into 6 smaller, even rectangles.
Working with one rectangle at a time, gently slice each into five strands with the pizza wheel, but make sure to leave a 1/4-inch uncut border on both ends of the rectangle (see photo, steps 4 and 5).
Cross the two middle strands, then cross the next two inner strands behind the first two strands, and do the same with the third set of strands.Turn the ends under to form a rose shape. Place on your work surface and continue to form a few more roses, to be fried together in one batch.
When you're ready to fry, place the formed chebakia on a metal spatula or spider and gently lower down into the hot oil. Hold the utensil in the pot briefly, then remove it leaving just the chebakia in the oil. Fry 2 to 3 minutes on each side until deeply golden.
Once the chebakia have achieved the desired color, remove them from the oil, one at a time, and immediately lower into the warm honey syrup. Turn each cookie to coat, then immediately transfer to the prepared baking tray. Brush with a little more syrup, then sprinkle with toasted sesame seeds and let cool.
Continue forming and frying more chebakia, then re-roll any scraps and repeat the process.
Let the chebakia cool completely before serving. Cookies will last up to one week wrapped tightly and stored in the refrigerator.
A note about frying: Once anything is added to hot oil, the temperature of the oil will drop. Therefore, between each new batch of chebakia, you will want to bring your frying oil back up to 350° before starting. This takes patience but will make your frying even and consistent from batch to batch.