Jake Cohen's 'Jew-ish' Pride in the Kitchen
I'm not the only one who can't stop watching Jake Cohen's social media content. A prolific recipe developer, writer and social media commentator, Cohen, 27, is growing an audience the new-fashioned way—online.
With nearly 400,000 followers on Instagram and another 550,000 fans on short-video platform TikTok (@jakecohen on both sites), Cohen's recipe videos, often accompanied by his distinctively mellifluous voice-overs, have become a digital font of culinary inspiration at a time when more people than ever are relying on social media for food fun.
Though his most popular posts are of an avocado breakfast sandwich on Instagram (538,963 likes) and a simple pasta dough recipe (1.4 million likes on TikTok), his Jewish-themed videos—babka stuffed with cookie butter, French onion latkes and the Persian crispy rice dish known as tahdig among them—are also virtual favorites. Another example: A Rosh Hashanah video featuring a round challah glistening with a double lacquer of yolky egg wash, which has been liked by half
a million people and counting.
Cohen's ever-evolving experiment in creating a sort of culinary Hebrew school for younger generations is now finding its analog expression with the publication of Jew-ish, his first cookbook. Subtitled Reinvented Recipes for the Modern Mensch, the book, which was released on March 9, is as much an exploration of Cohen's Jewish evolution as it is a primer on Jewish cooking for 20-somethings. It includes recipes like Schmaltzy Chex Mix enriched with chicken fat and Pastrami Biscuits and Gravy that dare his readers to experiment with their ideas of what Jewish food can be.
Raised in Bayside, Queens, Cohen attended a magnet school where he was one of only two white kids in his class. Right before junior high—"peak bar and bat mitzvah season," according to Cohen—his family moved to the affluent suburb of Dix Hills on Long Island.
"I entered a bubble of what you would expect of suburban Jewish life," he recalled. "My most important symbol of Jewish identity was choosing the theme for my bar mitzvah." (It was a nautical-themed party he co-celebrated with his younger sister, Jamie, in case you were wondering.)
Having grown up in an era when Food Network television and Facebook were staples of popular culture, Cohen always knew he wanted a career in food. While his high school classmates angled for spots at Harvard, Princeton and Columbia, Cohen had his sights firmly set on the Ivy League of cooking schools: the Culinary Institute of America in Hyde Park, N.Y. It was during his time there that he came out as gay—an event he describes as a non-issue with his family—and graduated with honors. Post-graduation, he cooked at top New York City restaurants ABC Kitchen and Daniel for a year each, sharpening his culinary skills while simultaneously feeling that his level of personal fulfillment was fading.
"As a young, queer Jewish man, I was trying to find my place. Where did I fit into this world?" Cohen remembered asking himself. He got his first inkling when he became a test kitchen assistant at Saveur magazine, where he was given the opportunity to write about his great-grandmother's apple cake recipe, which he adapted into a plum bar that has since become a family favorite and which he includes in Jew-ish. "It was the first time I was able to put myself and my heritage into my recipes and writing, and I was hooked."
His creative culinary chops have attracted praise from some of the Jewish food world's best-known practitioners, including chef and restaurateur Michael Solomonov. "Jake demystifies antiquated dishes and reimagines them through his own lens as something super cool and relatable for his generation," said Solomonov, the powerhouse behind Zahav restaurant and other Jewish-themed eateries in Philadelphia.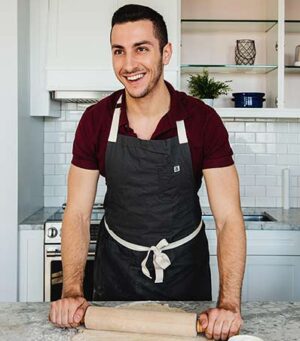 Rewarding stints as food editor at the online Tasting Table and at Time Out New York magazine, as well as editorial and test kitchen director at TheFeedFeed—a crowdsourced digital food publication—followed for Cohen. He continued to develop his unique fusion of viral mainstream content and Jewish themes.
And while other millennial Jews might shy away from a direct embrace of Jewish identity and especially support of Israel, Cohen is all in on both—a clarity he attributes in large part to being gay.
"When you come out as a queer person, you are ingrained with this idea of pride," he said. "It is just who you are, and the same is true of my Judaism, which I chose to lean into during a time of growing antisemitism. We live in a reality in which every 20-something with a Twitter account thinks they are an activist and they can say really ignorant, inappropriate things."
To combat that hate, he will often share actual activists' content, such as a video by Einat Wilf, a former member of the Knesset, that connects antisemitism with anti-feminism. "I find that much more effective than calling someone out by name on Twitter," said Cohen.
As his Jewish identity came into sharper relief in his mid-20s, he became intent on exploring it with his husband, Alex Shapiro, a concert pianist of Iraqi Jewish heritage whom he met via the dating app Hinge on New Year's Day in 2015.
Indeed, Jew-ish is not only Cohen's expression of his own culinary approach; it's also the story of how that approach has been enriched by the love of his life, whose non-Ashkenazi background meant that Shapiro knew nothing about babka, for instance, before meeting Cohen. But that lack of Jewish food fluency was two way, and so, after the two married in 2018, Cohen began cooking Persian-Iraqi dishes with his mother-in-law, Robina Shapiro. While previously unfamiliar to him, the food, as well as the family stories she interwove into their time together, resonated with Cohen's growing desire to stretch his Jewish consciousness.
"She has taught me spices and flavors I never knew existed, and it brought us closer," said Cohen. Several recipes and stories in Jew-ish attest to their collaboration in the kitchen: Iraqi Roasted Salmon with Tomato and Lemon, and the Passover-friendly Chewy Iraqi Almond cookies among them.
Meanwhile, as a pair of happy young professionals, Cohen and Shapiro nevertheless realized that something was missing in their lives—community. The couple began exploring synagogue attendance in New York City as a way to build connection but eventually decided, like many in their generation, that shul didn't hold a (Shabbat) candle to the opportunity to create their own rituals on their own terms.
"I may not go to shul, but I will listen to a podcast that resonates with me," said Cohen, who tunes in weekly to former Disney Channel television star Raviv Ullman's podcast, The Study, which explores the weekly Torah portion in unconventional ways.
---
Thursday, March 11 at 12pm EST
---
In 2015, he was invited to attend a Shabbat dinner hosted by OneTable, an outreach organization focused on connecting Jews in their 20s and 30s over Shabbat meals and on whose board he now sits. He became a regular participant and then a host, as Shapiro and he began welcoming guests to Friday night dinners of their own, inviting their family, close friends, acquaintances and virtual strangers to light candles and make the traditional blessings over wine and challah before sitting down to a meal cooked by Cohen. (Cohen and Shapiro live in the same building in Long Island City as his sister, Jamie, and his mother, Elizabette, who often attend his Friday night meals. His father, Mike, who lives nearby in Astoria, is a frequent dinner guest, too.)
Over the course of a OneTable meal, everyone is encouraged to express gratitude for something in their life. "For me, the most important thing was understanding how to respect tradition while modernizing it," said Cohen. "My generation doesn't relate to anything the way those before us did. We look at what's in front of us right now, and I see it as my job to imbue some meaning into that sense of immediacy."
Recent sociopolitical events have only cemented his passion for Jewish culture and his desire to share it with as wide an audience as possible. "I cried when Kamala Harris and Doug Emhoff did their Hanukkah candle-lighting video," Cohen said of the vice president and her Jewish husband. "When have you ever seen politicians use the term tikkun olam? What they're saying is what I am saying, too—that being Jewish is not only something to be accepted, but something to be celebrated."
Now, Cohen has anticipated both Passover and his book launch by writing an alternative digital Haggadah. "Over the years, I've become more and more passionate about using the Passover seder as an opportunity to talk about the themes of overcoming oppression and valuing freedom in a modern world," said Cohen. "This digital Haggadah is a curation of prayers, quotes, poems and conversation-starters to take seder a little deeper."
Those who order Jew-ish will receive the text as a digital download available from Cohen's website, perhaps to study while enjoying some of the Passover recipes from the cookbook. Among the holiday standouts are those shared here: Salted Honey Chopped Liver, Lotte's Meringue Cookies and Tiramatzu—the classic Italian dessert retrofitted with matzah.
---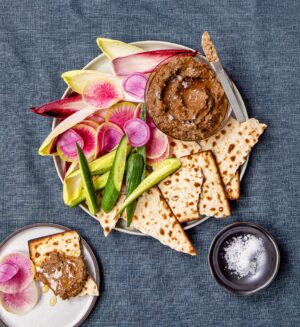 Salted Honey Chopped Liver
Serves 6-8
1 pound chicken livers, rinsed
Kosher salt
1/4 cup schmaltz or 4 tablespoons (1/2 stick) margarine
2 garlic cloves, thinly sliced
1 medium yellow onion, thinly sliced
3 tablespoons honey, plus more for garnish
Flaky sea salt, for garnish
1. Using a paring knife, clean the livers of any visible fat or connective tissue. Transfer to a bowl with 2 heavy pinches of kosher salt and cover with cool water. Let stand at room temperature for 1 hour, then drain. Dry the livers well with paper towels. (Those who keep kosher may follow kashering methods for the livers.)
2. In a large skillet, melt the schmaltz or margarine over medium-high heat. Add the garlic and onion and cook, stirring often, until softened and caramelized, about 15 minutes. Add the livers to the pan and season with a heavy pinch of kosher salt. Cook, stirring often, until the livers are just cooked through, 8 to 10 minutes. Stir in the honey and cook until lightly caramelized, 2 to 3 minutes. Remove from the heat and transfer to a bowl to cool slightly.
3. Transfer the liver mixture to a food processor and pulse until a coarse puree forms. Taste and adjust the seasoning with kosher salt, then transfer to a serving bowl.
4. Drizzle with more honey and finish with a pinch of flaky sea salt. Serve warm or at room temperature. This chopped liver is best served shortly after it's made.
---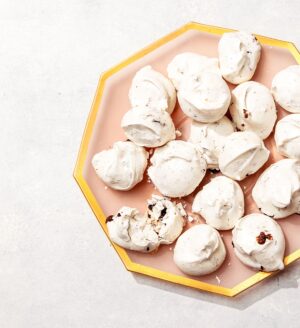 Lotte's Meringue Cookies
Makes 36 cookies
3 large egg whites
1/4 teaspoon cream of tartar (if you cannot find Kosher for Passover cream of tartar, lemon juice and white vinegar are popular substitutions)
1 cup sugar
2 teaspoons cornstarch (substitute potato starch if you do not eat kitniyot)
1 teaspoon kosher salt
1 teaspoon vanilla extract
5 ounces dark chocolate (70 percent cacao), chopped (1 cup)
1 cup walnuts, coarsely chopped
1. Preheat the oven to 200°. Line 2 half sheet pans with parchment paper.
2. In the bowl of a stand mixer fitted with the whisk attachment, whip the egg whites and cream of tartar on medium speed until frothy. Then, with the mixer running, stream in the sugar and whip until white in color and beginning to grow in volume, but not yet able to hold soft peaks.
3. Meanwhile, in a small saucepan, whisk the cornstarch with 1/3 cup water. Cook over medium-high heat, stirring continuously, until thickened, about 2 minutes.
4. With the mixer running, slowly pour the hot cornstarch slurry into the egg white mixture, followed by the salt and vanilla. Raise the mixer speed to medium-high and whip until the mixture holds stiff peaks, 10 to 12 minutes. Gently fold in the chocolate and walnuts.
5. Spoon 2-tablespoon-sized mounds of the meringue mixture onto the prepared sheet pans, spacing them 1 inch apart. Bake for 2 hours, then remove from the oven and let cool completely.
6. Serve once cool, or store in an airtight container lined with paper towels at room temperature for up to 4 days.
---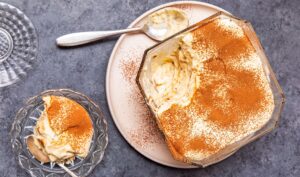 Tiramatzu
Serves 8-10
6 large egg yolks
1/2 cup plus 2 tablespoons granulated sugar
1/4 cup plus 2 tablespoons coffee liqueur
1 teaspoon vanilla extract
1 teaspoon kosher salt
1 1/2 cups heavy cream
1 cup mascarpone, at room temperature
1 1/4 cups hot coffee
6 sheets matzah
2 tablespoons unsweetened cocoa powder, for garnish
1. Set a large metal bowl over a medium pot of simmering water. In the bowl, combine the egg yolks, 1/2 cup of the sugar, 2 tablespoons of the liqueur, the vanilla and the salt. Heat, whisking continuously, until the mixture is pale yellow, thickened and tripled in volume, 6 to 8 minutes. Remove from the heat.
2. In another large bowl, using a hand-held mixer, whip the heavy cream to stiff peaks. Gently fold the whipped cream and mascarpone into the egg mixture.
3. In a shallow baking dish or quarter sheet pan, stir together the hot coffee, remaining 2 tablespoons sugar and remaining 1/4 cup liqueur until the sugar has dissolved.
4. To assemble, soak 1 sheet of matzah in the hot coffee mixture for 30 seconds. Place the soaked matzah on the bottom of a 2-quart casserole dish or 9-inch square baking dish, breaking it into pieces to fit if needed. Spread 1 cup of the cream mixture evenly over the matzah. Repeat this process of soaking and layering until all the matzah and cream mixture have been used. Cover and refrigerate for at least 4 hours or preferably overnight before serving.
5. Using a fine-mesh sieve, dust the cocoa powder over the Tiramatzu right before scooping and serving.
---
Adeena Sussman is the author of Sababa: Fresh, Sunny Flavors from My Israeli Kitchen. She lives in Tel Aviv.