Challah Stuffed With Sweet and Savory Fillings
Sukkot, the eight-day harvest festival that begins the night of September 20, is often marked by meals that feature filled and stuffed foods. Traditionally served as a way to signal the abundance of the season, these dishes are also a harbinger of prosperity for the ensuing year as the High Holidays come to a close.
Lately, though, instead of sticking to the more expected memula'im (filled classics such as cabbage, tomatoes, peppers and zucchini), chefs and bakers in Israel—and sabras living abroad—are adding a new culinary category to the Sukkot stuffing story: bread. Instagram food accounts and, increasingly, cookbooks, come replete with gorgeous loaves of challah and other baked goods that, when torn open, reveal fillings ranging from bitter greens to mushrooms and even marzipan.
I'll never forget the first time I watched Israeli master baker Erez Komarovsky, who is widely acknowledged as an originator of the trend, stuff a challah. It was at his house in the pastoral northern Israeli hamlet of Mattat, where much of his almost three acres of land is carpeted with a multilevel fruit, vegetable and herb garden. After feeding his chickens and assembling a basket of ripe produce, we returned to his rustic stone kitchen, where he proceeded to fill logs of challah dough with garlic that he had poached over low heat earlier that day. Then, he braided the strands with edible flowers and scallions, let the loaves rise again and baked them to a fragrant, fluffy fusion of garden and gluten.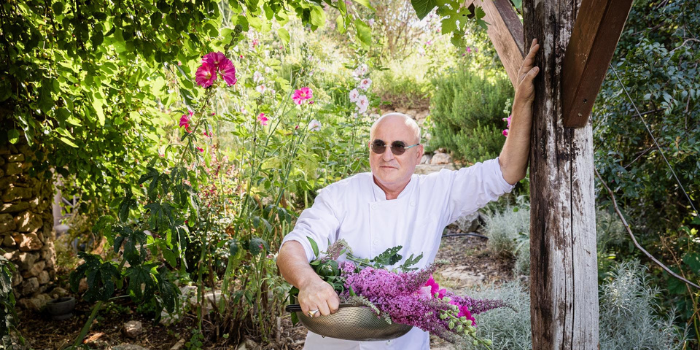 "There's nothing better than a stuffed loaf of bread," said Komarovsky, who helms a popular catering company, teaches private cooking classes from his home and serves as a judge on Israeli television's top-rated Chef Games. He also sees this edible artform as a way to modernize one of the sacred cows of Jewish cooking. "Challah was always sort of untouchable. It was sesame seeds, poppy seeds or nothing. I wanted to change that."
The most exciting part about eating a stuffed challah is slicing or tearing the bread open to discover the sweet or savory filling. "When you think about it, it is a form of glorified sandwich," said Komarovsky, who will sometimes eat stuffed breads in lieu of a meal. "But let's be honest—the best sandwich that ever existed."
Making a stuffed challah is certainly a creative endeavor, but it also requires some skill and discipline. In most cases, the three strands of a challah are each "opened" so that a strip of filling can be arranged on top, then the filling is sealed inside the logs before braiding.
"Since it's the ultimate combination of cooking and baking, you need to apply elements of both," said Uri Scheft, owner of Tel Aviv's influential Lehamim Bakery and author of the Breaking Breads cookbook.
To that end, Scheft—whose spicy, feta-stuffed challah appears in my book, Sababa, and who created an iconic marzipan-filled challah that he sells at his bakery around the High Holidays —adheres to some simple rules.
"Make sure to start with an excellent, elastic and pliant challah dough recipe," he said. "And never overstuff. Too much filling disturbs the balance and the filling can leak or burst, then burn." Rather than making the third challah from his classic recipe, which makes three loaves, he reserves the final piece of dough and incorporates whatever ingredients he has lying around his bakery or home kitchen. "Caramelized onions, garlic, cheeses, herbs—the combinations are only limited by your imagination."
Popular Israeli baker Bat-Chen Diamant, who studied the craft at the French Culinary Institute in New York City, first created what has become one of her most popular recipes, a za'atar-stuffed laffa bread, when her daughter returned from their garden clutching a large handful of herbs. (Laffa is a pita-like flatbread that is ubiquitous in Israel.)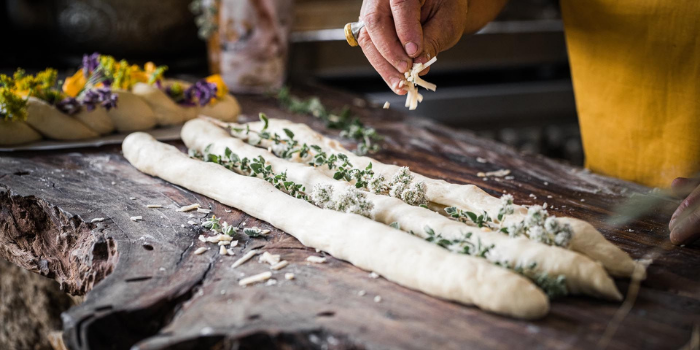 "Israelis love abundance, and stuffed foods are the epitome of that," said Diamant, who leads baking classes from her home in Moshav Ein Vered in central Israel. "We love filling things with other things, it's a huge part of our culinary culture." Diamant recommends using bread flour or pizza flour—each with higher levels of gluten than all-purpose flour—for laffa. "Those flours make doughs that are more forgiving and stronger at the same time."
With Sukkot feasts in mind, New York restaurateur and author Einat Admony suggests serving the mushroom- and leek-stuffed challah from her cookbook, Shuk, as a side or even a main course.
"It could be an entire brunch on its own," said Admony. Or try the recipe as a light lunch in your sukkah accompanied by a bowl of soup or a salad.
---
Marzipan Challah
Makes 3 loaves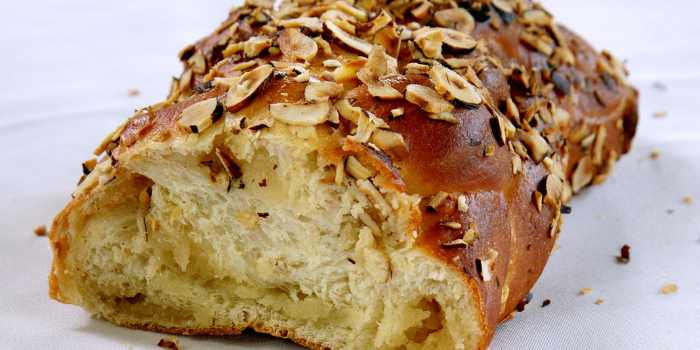 FOR THE DOUGH
5 3/4 cups all-purpose flour, plus more as needed
1 tablespoon active dry yeast
1/4 cup sugar
1/4 cup unsalted butter, softened
1 cup whole milk (or non dairy milk)
3 tablespoons warm water
2 eggs
1 tablespoon fine sea salt
FOR THE FILLING AND TOPPING
10 ounces marzipan
1 cup sugar
1 3/4 stick (14 tablespoons) unsalted butter, softened
1/4 cup flour
1 egg, beaten
1/2 cup coarsely chopped almonds
1.  Make the dough: In the bowl of a stand mixer fitted with the dough hook, combine the flour, yeast, sugar, butter, milk, water, eggs and salt and knead for about 10 minutes on medium-low speed until the dough is elastic and supple, adding extra flour by the tablespoon if necessary so the dough pulls away from the sides of the mixer bowl.
2.  Lightly grease a large bowl, transfer the dough to the bowl, cover with a clean kitchen towel and let rise in a warm place until the dough doubles in volume, 1 1/2 hours.
3.  Make the filling: In the bowl of a stand mixer fitted with the paddle attachment, combine the marzipan, sugar and butter and beat at medium-high speed until creamy and incorporated, 2 minutes. Add the flour and continue to mix until a soft dough forms, 1 minute more. Transfer to a bowl, cover and refrigerate until firm, 1-2 minutes.
4.  Divide the marzipan dough into 9 equal parts and roll each part into a thin log about 8 inches long; arrange on a large plate, cover and chill until ready to use.
5.  Prepare the challahs: Divide the dough into 3 equal pieces, then divide each of those pieces of dough into 3 equal-sized pieces.
6.  Shape each dough strip on a lightly floured work surface into 2 x 9-inch rectangles and place a marzipan strip in the middle. Seal the edges of the dough around the marzipan. Lightly roll the stuffed strip and repeat with the rest of the challah dough and marzipan logs. Braid 3 strips into a challah; repeat with remaining 6 strips to form 3 challahs.
7.  Place the challahs on parchment-lined baking sheets, cover and let rise until almost doubled in volume, 45 minutes to 1 hour. During the last 15 minutes of rising, preheat the oven to 400°. Brush the challahs with the beaten egg and sprinkle generously with almonds. Bake until golden, 25 to 30 minutes. Cool on a rack and serve.
Challah Stuffed with Mushrooms, Leeks and Za'atar
Makes 2 small loaves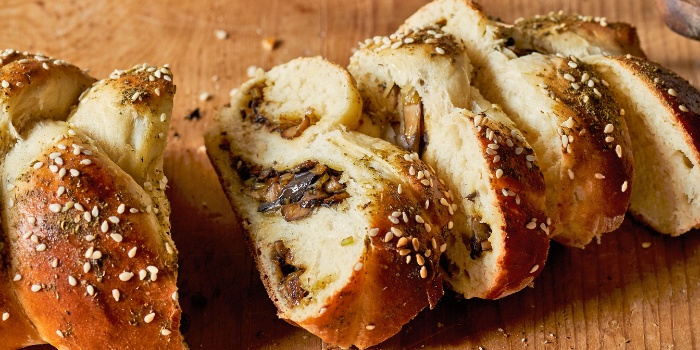 FOR THE FILLING
2 tablespoons extra-virgin olive oil
1 leek, white and light green parts only, diced
10 ounces button or cremini mushrooms, stemmed and thinly sliced
2 tablespoons plus
1 teaspoon za'atar
3/4 teaspoon kosher salt
FOR THE DOUGH
2 teaspoons active dry yeast
1 cup lukewarm water (about 110°), divided
1/4 cup plus 1/2 teaspoon sugar
3 1/4 cups all-purpose flour, plus more for dusting
1 tablespoon kosher salt
2 teaspoons vegetable oil, plus more for greasing
2 tablespoons honey
2 large eggs
1 teaspoon za'atar
1.  Make the filling: Heat the oil in a large skillet over medium heat. Add the leek and sauté until soft and light golden, about 7 minutes. Add the mushrooms and cook, stirring frequently, until they are deep golden and almost dry (mushrooms are 90 percent water, and you don't want any moisture soaking the dough), about 20 minutes. Remove from the heat and stir in the za'atar and salt. Set aside to cool completely, then divide in half.
2.  While the filling is cooling, start on the challah dough: Mix the yeast with 1/4 cup of the lukewarm water and 1/2 teaspoon of the sugar in a small bowl and let stand until foamy, about 10 minutes.
3.  Put the flour in a large bowl. Make a well in the center and pour the yeast mixture into the well.
4.  Whisk together the salt, vegetable oil, honey, the remaining 1/4 cup sugar, the remaining 3/4 cup lukewarm water and 1 egg in a separate medium bowl.
5.  Gradually stir the liquid mixture into the flour, about 1/2 cup at a time. When the dough becomes sticky and difficult to stir, turn it out onto a floured surface and knead by hand (adding a little more flour if necessary to keep it from sticking) until smooth and elastic, about 3 minutes.
6.  Grease a large bowl with vegetable oil. Shape the dough into a ball and set it in the bowl. Cover with a damp kitchen towel and let stand in a warm place until it has doubled in size, about 40 minutes.
7.  Line a baking sheet with parchment paper.
8.  Gently punch down the dough and turn it out onto a floured surface. Divide the dough in half, then divide each half into three equal pieces (you'll be making two loaves). Working with one piece and keeping the other two covered with a damp kitchen towel to prevent them from drying out, roll the dough into a 9-by-3-inch rectangle. Position the rectangle with one long side facing you. Sprinkle 1/3 of your half-batch of mushroom mixture right down the center, leaving about 1 inch exposed on each end. Fold the long side closest to you over to meet the other side. Press the edges gently to seal and roll so you have a rope. Be careful not to press too hard, so the filling stays inside the dough.
9.  Repeat to create three filled ropes that are the same length.
10.  Align the ropes side by side on the prepared baking sheet. Squeeze and pinch the ends together at the top. Braid the ropes loosely—like you're braiding hair—then pinch the ends together and tuck them underneath. Repeat with the other dough and filling.
11.  Cover with a damp kitchen towel and let sit until nearly doubled in size, 20 minutes or so. Preheat the oven to 350°.
12.  Lightly beat the remaining egg with 1 tablespoon water and brush it over the top of each challah. Sprinkle with the za'atar.
13.  Bake the challahs for 25 to 30 minutes, rotating the baking sheet once halfway through the cooking time, until deep golden brown all over—check the bottoms as well. Let cool and serve at room temperature.
---
Adeena Sussman is the author of Sababa: Fresh, Sunny Flavors from My Israeli Kitchen and co-author of Gazoz: The Art of Making Magical, Seasonal Sparkling Drinks. She lives in Tel Aviv.