'Savor': A Menu of Music and Food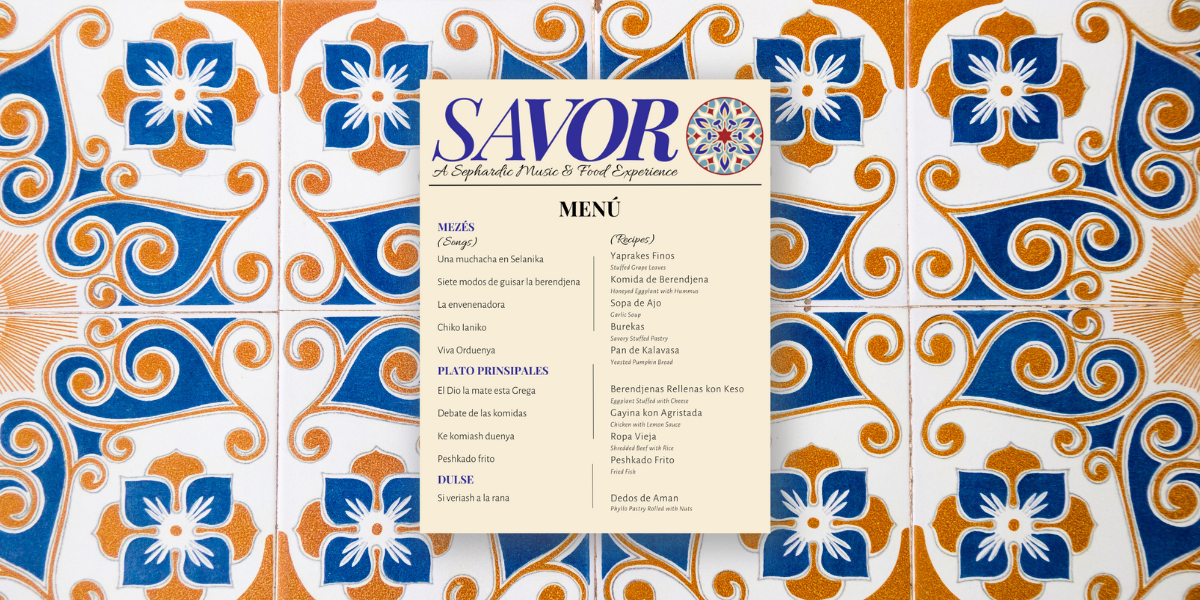 There's a certain kind of magic in the perfect melding of food and music that creates our most enduring memories. Think homemade challah and the zemirot sung around the Shabbat table, or "Happy Birthday to You" with a favorite cake.
Those special moments are what inspired singer-songwriter Sarah Aroeste and chef Susan Barocas to create the multimedia, multifaceted project Savor: A Sephardic Food and Music Experience.
The modest title, which means taste or flavor in Ladino, belies this rich portal into a world that explores Sephardi culture through classic Ladino songs, traditional recipes and detailed cooking videos. The project, however, began simply. Aroeste, an internationally known performer as well as an advocate for contemporary Ladino music, was researching songs for a new collection—her eighth—during Covid lockdowns.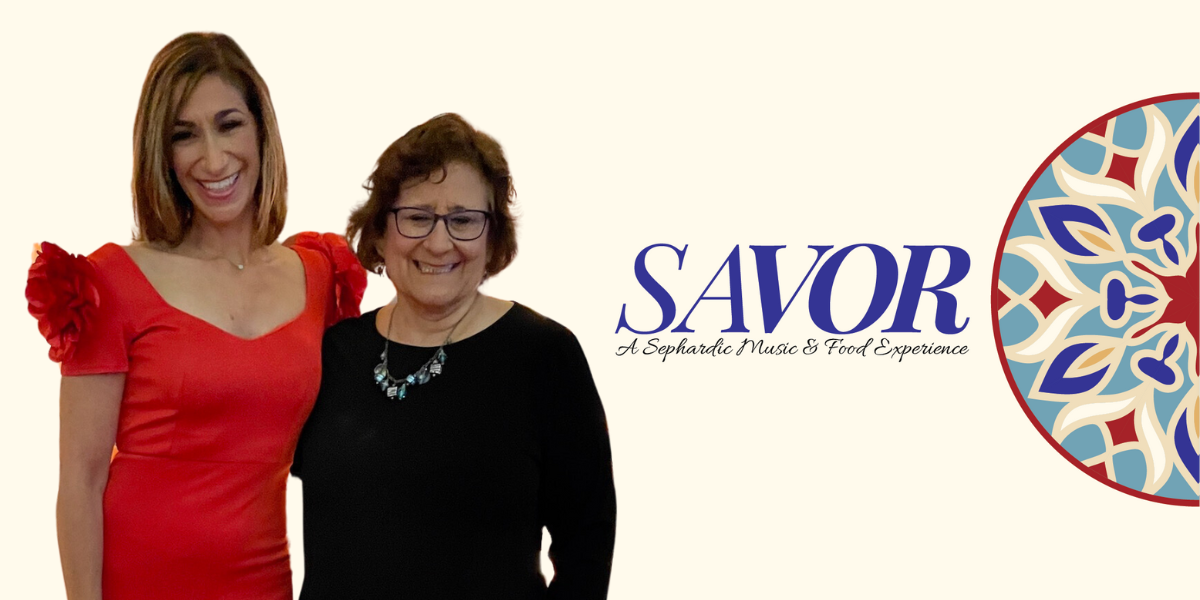 At the same time, she said, "I was leading virtual song workshops and was asked to share family recipes as well, as I had been doing a lot of cooking with my daughters"—she has two with her husband, Jeffrey Blaugrund. "To enhance the sets, I was inspired to start looking at songs that related to the food I was preparing."
With visions of songs dancing in her head about the many ways to cook eggplant and the delights of making bourekas with a child, Aroeste realized that the music was only half the story. You can't have an album about food and not have the actual food, she realized.
She reached out to her friend Barocas, a chef as passionate about Sephardi food as Aroeste is about the music, and the two began to build the project. Barocas recruited a community of well-known female Sephardi chefs from around the world. That was important to them, because, as Aroeste said, one "impetus of Savor was to highlight the important role women have played—and continue to play—in preserving Sephardic culture. There were no written Jewish cookbooks that came out of medieval Spain, but the women in the diaspora kept on cooking and taught their daughters who taught their daughters. That's how the food remained distinctive. And when they cooked, they sang, and through the songs and the food, they preserved their rich history."
---
ONE BOOK, ONE HADASSAH WEBINAR: Kantika
Join us on Thursday, June 15 at 7PM ET for a virtual discussion with Kantika author Elizabeth Graver and a special performance by feminist Ladino rock artist Sarah Aroeste.
---
Each of the chefs found songs that inspired them, and their 10 resulting recipes and how-to videos, alongside an album of 10 songs performed by Aroeste and her band, make up the Savor package. (Both a physical CD and access to a digital portal with the recipes, videos and music can be purchased at saraharoeste.com.)
In one video, nonagenarian writer Kaye Israel, alongside her daughter Marcia Israel Weingarten, seems to time the precise hand-turned crimps on her crisp bourekas to the rhythm of Aroeste's rendition of "Chico Ianiko." The sweet tune about making the savory stuffed pastry with a grandson was originally written by Bosnian Sephardi musician Flory Jagoda.
Komida de Berendjena, a honeyed eggplant and hummus dish, gets a free-style demo in a video by exuberant young chef Hélène Jawhara Piñer, whose bona fides include a Ph.D. in medieval history and the history of food. The dish is paired with "Siete Modos de Guisar La Berendjena," an equally lively song describing seven ways to cook eggplant, one of the essential ingredients of Sephardi cuisine.
Ropa Vieja, classic Cuban shredded beef, is revealed as a centuries-old Iberian dish by historian-chef Genie Milgrom. She prepares the recipe to a lilting counting song, similar to those sung on Pesah, "Ke Komiash Duenya," that commemorates a vast meal that went on for days.
Taken together, the recipes with their videos create an exuberant delectable meal.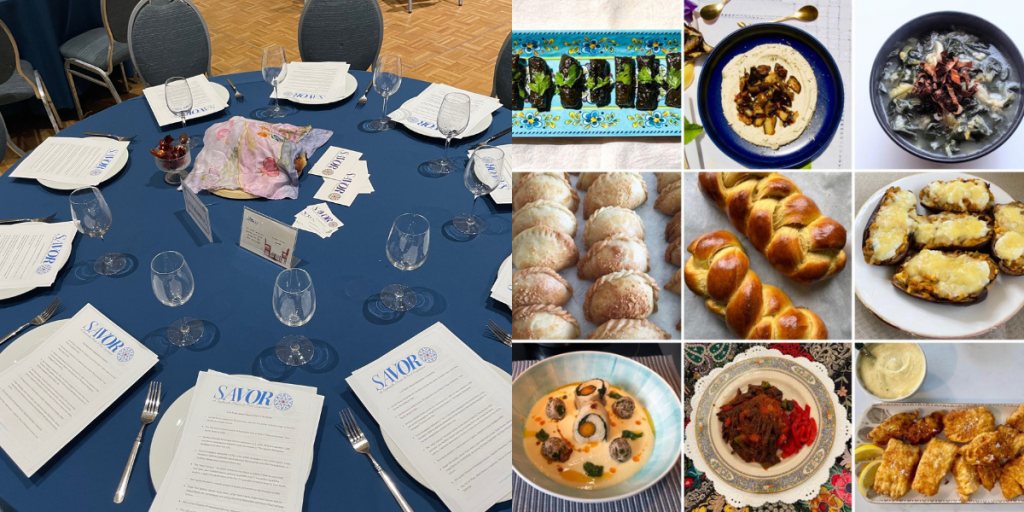 But there is more to Savor. Barocas and Aroeste are developing in-person events this fall that will combine singing, historical education, cooking demos and hand-on experiences. For a more expansive adventure, the two are putting together a tour similar to the first Savor Athens-to-Istanbul cruise they led in May, which included Sephardi music performances, workshops and guided tours in the cities they visited.
Preserving memories of food and music by passing them along to new generations and making Sephardi culture accessible to everyone is what Savor is all about, said Aroeste.
"We have survived so much and come out the other side carrying these traditions that are so magnificent and so beautiful," she said of the Sephardi diaspora. "We want to share the culture with joy."
---
Yaprakes Finos/Stuffed Grape Leaves
From Jennifer Abadi, author of Too Good to Passover: Sephardic & Judeo-Arabic Seder Menus and Memories from Africa, Asia and Europe and A Fistful of Lentils: Syrian-Jewish Recipes from my Grandmother Fritzi's Kitchen. The recipe pairs with "Una muchacha en Selanika," the first song on the Savor album.
Makes about 2 dozen stuffed leaves
Wrapping
One 16-ounce jar grape leaves, packed in brine
Filling
2 tablespoons extra virgin olive oil plus more to grease the pan
1⁄2 cup coarsely chopped white onion
1 1⁄2 teaspoons dried mint leaves
1 cup cold water
3 tablespoons pine nuts
1⁄4 cup dried currants
3⁄4 teaspoon kosher salt
1 teaspoon ground cinnamon
1 1⁄2 teaspoons sugar
1⁄2 cup uncooked Turkish-style rice or another medium-grain white rice, rinsed several times in cold water and drained
Sauce
1⁄2 cup cold water, plus more if needed
2 tablespoons extra virgin olive oil, plus more if needed
For serving
1⁄2 lemon
Drain and dislodge grape leaves from the jar. Unroll, separate them gently and place in a medium bowl. Set the bowl in the sink and fill with cold water to soak and rinse the leaves. Remove rinsed leaves and place in a large colander over a bowl or plate to drain. When well drained, separate leaves into 3 piles–larger, smaller, and ripped.
Use olive oil to grease a 9- or 10-inch skillet, 2 to 3 inches deep, with a tight-fitting lid. Line the bottom with some of the smaller and/or ripped leaves that won't be used for filling and rolling.
To prepare the filling, heat the oil in a large skillet (about 12 inches) over medium-high heat for 1 minute. Add the onion and cook until soft and transparent, about 5 minutes. Crush the mint in your hands over the onion. Add the water, pine nuts, currants, salt, cinnamon, and sugar. Mix well, then stir in the rice. Simmer over very low heat, uncovered, about 10 minutes until the liquid is mostly absorbed and the mixture becomes porridge-like. Pour the mixture into a large bowl to cool to room temperature. There will be about one and half cups of filling.
To stuff and roll the leaves, spread out a large grape leaf with the veined underside facing up and base or stem closest to you. Trim the stem close to the leaf if it's longer than the leaf. The shiny, smooth side should be the outside of the stuffed leaf once rolled.
Place about 2 teaspoons of filling at the bottom-most center of the leaf and gently arrange the filling in a horizontal line about 3 inches long. Fold the bottom part of the leaf tightly over the filling. Fold in the left and right sides of the leaf just up to the edges of the filling. Continue to very tightly roll up to create a cigar shape.
Place the rolled grape leaf, seam side down, on top of the flat leaves lining the skillet. Continue filling and rolling leaves until the filling is finished, placing rolls close together in the pan. The rolls must fit together snugly to prevent them from unraveling while cooking. If you run out of room on the bottom of the pan, layer the remaining stuffed leaves on top in a crisscross pattern or in the opposite direction of the ones underneath.
Make the sauce by stirring together the water and olive oil. Pour evenly over the stuffed grape leaves. Place a small plate on top of them to compress and prevent unraveling while cooking. Cover the skillet with its tight-fitting lid.
Simmer 1 to 1 1/2 hours over low heat, or until the stuffed grape leaves are tender, but not mushy, and the filling is very soft. Check every half hour, and, if all the liquid is absorbed and the leaves appear dry, make another sauce mixture and pour it over the yaprakes. When cooked, remove from the heat, let cool to room temperature, still covered.
To serve, arrange the stuffed grape leaves on a platter or plate and squeeze juice from 1/2 fresh lemon on top.
---
Beth Segal is an award-winning writer and photographer specializing in food projects. Her work has appeared in The Plain Dealer, The New York Times, Bon Appétit and many other publications.