Kvelling! Hadassah Magazine Collects 9 Rockower Awards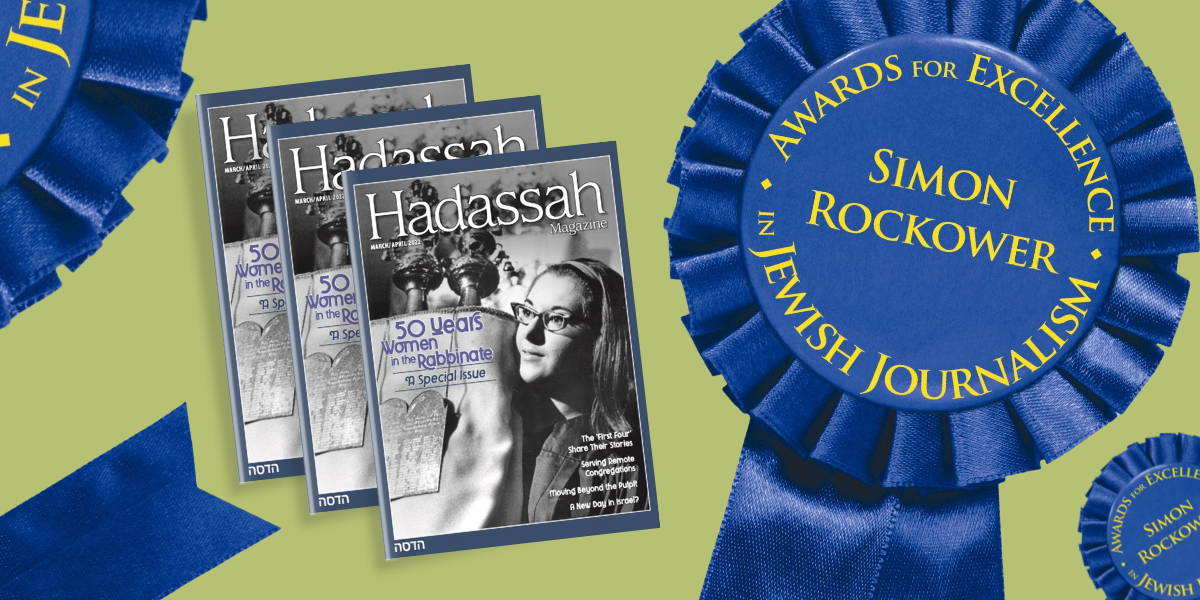 Hadassah Magazine has won nine new Simon Rockower Awards, the annual prizes for excellence in Jewish journalism handed out by the American Jewish Press Association. The award-winning magazine was recognized on July 11 for its work done in 2022 during the AJPA's 42nd annual conference, this year held in New Orleans.
Longtime Hadassah Magazine contributor Rahel Musleah collected four awards, two of them in the category of Excellence in Writing about Social Justice and Humanitarian Work. Praised by the judges for its "thorough reporting on how others can help the refugee crisis and good human interest," Musleah's "Welcoming the Stranger, Literally" won first place. Her "moving" profile of Georgette Bennett ("Bringing Light Into Darkness"), "a remarkable and inspiring woman," the judges noted, won honorable mention.
The magazine hit a double whammy in another category—Excellence in Writing about Antisemitism—with Musleah winning first place for her "wonderfully researched" story, "Battling Antisemitism on Campus." Veteran Hadassah Magazine writer Hilary Danailova was awarded second place for "A Place at the Diversity Table," which explored anti-Jewish bias in arts and culture. With both stories being "so well written, thoughtful and eloquent," the judges admitted it was difficult to award one story over the other.
In the category of Excellence in Special Sections or Supplements, Hadassah Magazine won second place for "50 Years of Women in the Rabbinate." Praised by the judges for its "impressive, attractively presented and interesting" reporting of female rabbis, the March/April 2022 themed issue featured articles by Debra Nussbaum Cohen ("Transforming the Rabbinate over 50 Years" and "Building Community Far From the Madding Crowd"); Rahel Musleah ("Holy Sparks: Celebrating Fifty Years of Women in the Rabbinate" and "Envisioning the Rabbinate Through a Different Lens"); Michele Chabin ("In Israel, Breaking Barriers in the Orthodox World"); Executive Editor Lisa Hostein ("Blu Greenberg Is Still Advocating for That Rabbinic Will,") Rabbi Andrea L. Weiss ("The Would-Be Rabbis"); and Rabbis Sally Priesand, Sandy Eisenberg Sasso and Amy Eilberg as well as Rabba Sara Hurwitz who contributed to "Then and Now: Challenges for the Jewish Community."
Hadassah Magazine digital editor Arielle Kaplan won second place for "Jewish Matchmaking? There's an App for That" in the category of Excellence in Writing About Young Families/People. "Loved this story for what it explains and for the hope it offered in this time and place," the judges commented.
Meanwhile, Dina Kraft won second place in the category of Excellence in Feature Writing for "Israel's Take on Abortion." Moving and personal, the judges wrote, "this story gazes through an Israel lens to contrast what is a divisive and controversial issue here in America."
In the category of Excellence in Single Commentary, Rabbanit Adena Berkowitz won an honorable mention for her "Jewish Tradition's Nuanced Approach to Abortion."
Another honorable mention was awarded to Rabbi Shira Stutman for her "What if Ruth Didn't Convert?" in the category of Excellence in Writing About Jewish Thought and Life.
"I am so grateful once again for AJPA's recognition of the talented writers and editors who are responsible for Hadassah Magazine's journalistic achievements," said Hostein, the executive editor. "It is especially fitting that our stories of women's empowerment, reproductive rights, antisemitism and social justice garnered top awards. These are the kinds of issues that matter to our readers and these are the stories we will continue to pursue."
Yasher koach to all the magazine's writers and readers!
---
Arielle Kaplan is the Digital Editor of Hadassah Magazine.