How Food, Tradition and 'Shabbat' Nurture Judaism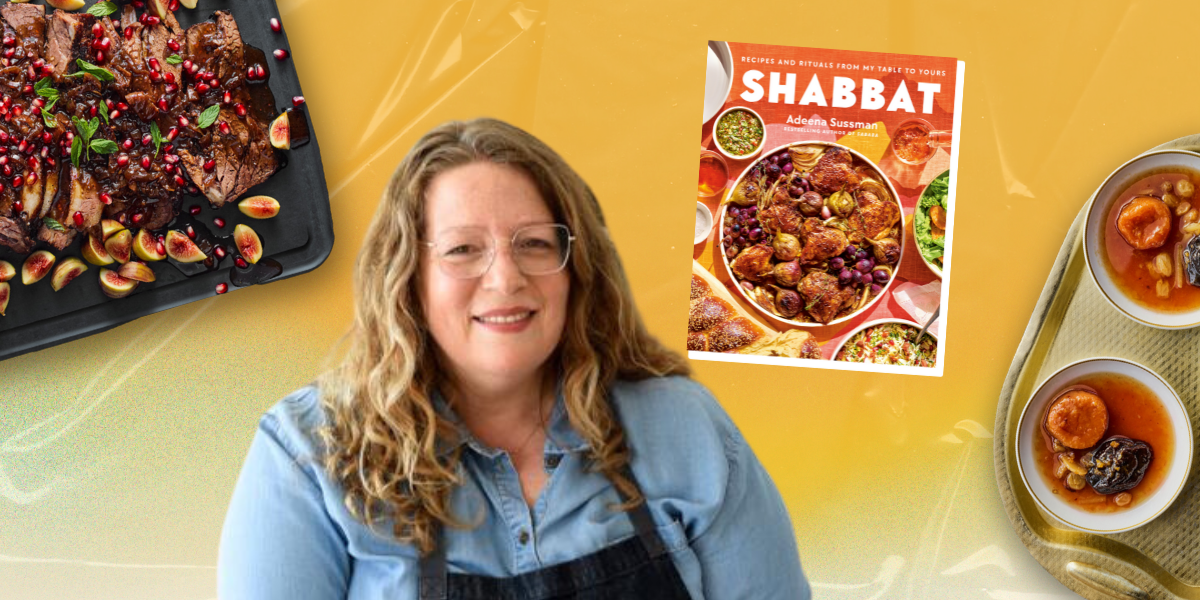 When I began thinking about a theme for my next cookbook, I sought a subject that would expand on those that I explored in my last one, Sababa: Fresh, Sunny Flavors from My Israeli Kitchen, which was published in 2019. Having recently made aliyah, I had used that book as an opportunity to immerse myself in the diversity of the Jewish culinary experience in my adopted homeland. I had wanted to confirm the central role that eating plays in everyday life here and amplify the ways that food helped deepen my relationship to Israel since moving to Tel Aviv in 2017.
Around the same time that I was brainstorming my next book project, I came across a quote from the 20th-century Russian Jewish Zionist writer Asher Zvi Hirsch Ginsberg, who became better known by his Hebrew name, Ahad Ha'am: "More than the Jews have kept Shabbat, Shabbat has kept the Jews."
And so it came to be that Shabbat essentially chose me as the organizing principle for my brand-new cookbook, Shabbat: Recipes and Rituals from My Table to Yours. Its pages are filled with 130 recipes for weekend cooking, some traditional and many with my own spin. It is the conclusion of a three-year journey that took me around Israel to cook with locals and pass on their expertise and stories to you. Meals are often the focus of Shabbat, and in the book, I try to paint a rich picture of the many ways it is observed in Israel, from late-night food crawls through the ultra-Orthodox neighborhood of Bnei Brak on Thursdays to Saturday morning dairy brunches hosted by secular Jews.
It might be a stretch to characterize an age-old tradition as a "trend," but The New York Times recently reported how young, often secular Jews in the United States are turning to Shabbat dinner as a way to build community. And by its own accounting, OneTable—an outreach organization aiming to keep younger Jews connected to their culture by sponsoring Shabbat dinners—recently facilitated its 100,000th meal.
---
HADASSAH MAGAZINE DISCUSSION: Behind-the-Scenes with Adeena Sussman
On Thursday, September 21, at 7 PM ET, join longtime creative collaborators Libby Barnea, Hadassah Magazine's deputy editor and food editor, and Adeena Sussman, themagazine's much beloved food writer, for an in-depth conversation about Sussman's latest cookbook, Shabbat: Recipes and Rituals from My Table to Yours, a follow-up to her best-selling Sababa, from 2019.
Sussman, a celebrity in the Jewish food world, will share both the stories behind the research and writing of Shabbat as well as menu planning ideas for the High Holidays.
SPECIAL GIVEAWAY: Anyone who registers to attend this event will be automatically entered to win a free copy of Shabbat: Recipes and Rituals from My Table to Yours. We are giving away three copies, and the lucky registrants* will be announced live during the virtual event.
*Winners will need to provide their mailing address for the publisher to ship the book. Hadassah employees are ineligible for the giveaway.
---
The power of Shabbat meals has never been lost on me, and this project afforded me a chance to reach back into my personal archive of family recipes, traditions and memories to reinforce how formative Shabbat was, and continues to be, to my own Jewish identity.
Growing up Modern Orthodox in Palo Alto, Calif., a place where there were few other Jews like me, Shabbat was a family oasis. It was a 24-hour bubble where my sister, Sharon, and I had the undivided attention of our busy parents in the absence of television, shopping, phone calls or trips to the mall.
My late mother, Steffi, organized her entire week around planning and executing the Shabbat meals that would not only nourish us, but bond our family and form the basis for rituals that we would carry forward into the next generation. As a working mom, her delicious food was prepared early in the morning and late at night, so I'd often wake up to the aroma of roasted chicken with schmaltzy onions (dubbed My Mother's Shabbat Chicken in my new book) or a tin of brownies cooling on the stove.
Since store-bought challah was hard to come by, we made our own, a process that gave me a lifelong comfort level with handling dough. Although my challah recipe in Sababa, made with olive oil and honey, has been popular, for this book, I created a simpler version, Golden Challah, using vegetable oil and sugar.
Once the sun went down, there were blessings over candles, wine and challah, Shabbat zemirot (songs) we came to know by heart and often guests ranging from Nobel Prize winners to unhoused people my father would invite home from shul. (The Sussmans of Palo Alto had one of the very few kosher homes in town, so everyone found their way to us.) My parents' Shabbat table was an object lesson in food, family and menshlichkeit all in one.
As an adult, I have drifted from Orthodox practice, but I have never strayed far from my core Jewish identity. Indeed, I have made a career out of codifying the culinary traditions that define it. For Shabbat, I spent time in the home of a Bukharan Jewish woman, Doris Haimov, who made aliyah from Uzbekistan at age 16 and married just one year later. Her delicate, meat-filled dushpara dumplings rival the best Michelin-starred pasta I've tasted. Idit Katz, whose mother hailed from Calcutta, shared her family's recipe for an onion-smothered curry that will challenge your ideas of what that Indian dish can be.
And Fanta Prada, a dear friend whose Ethiopian restaurant, Balinjera, celebrates her African-Jewish culture, serves the best berbere-laced stews in Tel Aviv. Fanta told me stories of how her relatives trekked thousands of miles by foot to reach Israel, with some dying along the way. As she taught me how to make dabo, a spice-infused bread that's at the centerpiece of Ethiopian Shabbat tables, I marveled at how the joy of baking a celebratory loaf could provide healing comfort from painful memories.
In my own experience, marrying my husband, Jay Shofet, added richness to my Shabbat table. Sometimes we opt for a dairy Shabbat lunch, serving a big salad topped with feta and roasted vegetables, a cold yogurt soup studded with chickpeas and tiny loaves of pull-apart challah breadsticks (see Pull-Apart Challah Sticks in Shabbat). Hosting meals has taken on new meaning with the addition of Jay's children and our grandchildren at the table. Our gaggle of friends has expanded to encompass his, mine and the new circle we've created, which now includes my stepmother and father, Bette and Stan Sussman, who made aliyah recently and live in Jerusalem.
At this time of year, I like to serve a sweet and tangy brisket that pays homage to my mother's more classic version (Steffi's Brisket in Shabbat), but with an Israeli twist courtesy of pomegranates and figs. And for dessert, I often make my Grandma Mildred's Fruit Compote, which I've jazzed up with dry white wine, fresh ginger and a splash of lemon juice. Both dishes keep well, can be made in advance and will enhance a Shabbat or Rosh Hashanah table.



Ingredients
1 large lemon
2 3/4 cups water
1 cup dry white wine
2/3 cupsugar
1 cinnamon stick
3/4 cup pitted, dried apricots (about 4 ounces)
3/4 cup pitted prunes (about 4 1/2 ounces)
1/4 cup golden raisins (1 1/2 ounces)
1 tablespoon finely grated fresh ginger
2 tablespoons thinly sliced crystallized ginger
1 teaspoon pure vanilla extract
1/8 teaspoon kosher salt
Instructions
1. Use a Y-peeler to peel thick strips of zest from the lemon; place them in a medium saucepan. Juice the lemon and reserve the juice (you should have 3 table- spoons). To the saucepan with the zest strips, add the water, wine, sugar and cinnamon stick. Bring to a boil, stirring occasionally to help the sugar dissolve, then reduce the heat to medium-low and simmer until thickened slightly, 10 minutes.
2. Add the apricots, prunes, raisins and fresh and crystallized gingers, then return to a boil. Reduce the heat to low and simmer gently until the fruit plumps, but doesn't fall apart, 25 to 30 minutes. Remove from the heat and stir in 1 tablespoon of the lemon juice (or more to taste), the vanilla and salt.
3. Chill the compote for at least 2 hours and up to 24 hours; as it chills, the liquid will thicken slightly and the flavor will deepen.
4. Remove the cinnamon stick and divide the fruit and liquid among bowls. (Discard the lemon peels if you like, or enjoy eating them since they're semi candied after cooking.) Store in an airtight container in the fridge for up to 1 week.

Ingredients
1 5-pound brisket with a good amount of fat
1 tablespoon plus 1 teaspoon kosher salt, plus more for seasoning
1 1/2 teaspoons freshly ground black pepper, plus more for seasoning
1/4 cup vegetable oil
3 large onions, thinly sliced (6 cups)
2 tablespoons all-purpose or gluten-free flour
10 garlic cloves, peeled and left whole
2 tablespoons tomato paste
2 cups dry white wine
1 1/2 cups beef or chicken broth
1/3 cup pomegranate molasses
4 dried figs, chopped
1/4 cup honey
1 1/2 teaspoons red wine vinegar
1 tablespoon ground cumin
1 teaspoon dried red pepper flakes
6 fresh figs, quartered
1/2 cup pomegranate seeds
Mint leaves, for garnish
Instructions
1. Preheat the oven to 300°.
2. Arrange the brisket on a large plate and season it generously on all sides with 1 tablespoon of the salt and 1 teaspoon of the pepper. In a large, heavy Dutch oven, heat the oil over medium-high heat until very hot but not smoking. Add the brisket (fattier side down, if there is one) and sear until deeply browned and crisped in parts, 6 to 7 minutes. Carefully flip the brisket and sear for another 6 minutes, then, if they're thick enough, sear each of the narrow sides, standing up the brisket, if possible, 3 minutes per side. Remove to a plate, leaving any fat and juices in the pan.
3. Add the onions and flour and cook, stirring occasionally, until the flour is absorbed, 1 minute, then add the garlic and tomato paste and cook, stirring occasion- ally, until the onions begin to soften, 5 minutes. Add the wine, raise the heat to high, bring to a boil, then turn down the heat and simmer until the wine reduces by half, 4 to 5 minutes. Add the broth, pomegranate molasses, dried figs, honey, vinegar, cumin, red pepper flakes and the remaining 1 teaspoon salt and 1/2 teaspoon black pepper.
4. Bring to a boil over high heat, then reduce the heat to a simmer and gently lower the brisket back into the Dutch oven, spooning some of the sauce and onions over the brisket. Cover the brisket with a piece of parchment paper (this will prevent the acid in the sauce from interacting with the foil), seal the roasting pan tightly with foil and cook in the oven until the brisket is tender, 4 to 4 1/2 hours. Remove from the oven, unseal slightly, then let the bris- ket come to room temperature, about 1 hour.
5. If you have time, refrigerate the brisket overnight, then un- cover it and remove and discard the congealed fat. Remove the brisket from the sauce and slice it against the grain into 1/4-inch thick slices. Heat the sauce in the roasting pan or another pot over medium-high heat, until boiling. Lower the heat and simmer until the sauce thickens to your liking, 10 to 15 minutes. Nestle the sliced brisket back in the sauce, cover with foil, and warm gently in a 200° oven until everything is heat- ed through, 45 minutes to 1 hour.
6. To serve, transfer the brisket and sauce to a platter, season with salt and pepper, and garnish with fresh figs, pomegranate seeds and mint leaves. If you can't find fresh figs, garnish with more pomegranate seeds.
Adeena will be preparing the following two recipes live on Zoom on September 21 at 7:00 PM. Register here for the event.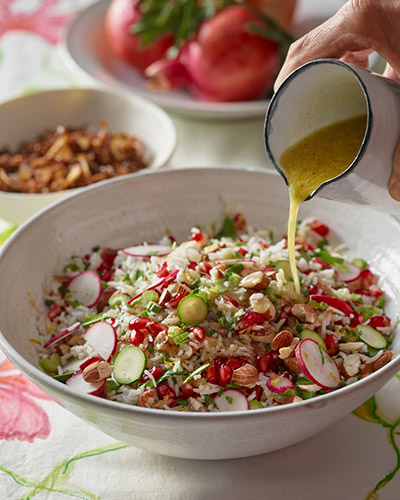 COLD & CRUNCHY RICE SALAD
Serves 6
If you have leftover plain white rice, using it can be not just a con­cession but a celebration of the rice itself. When cold, it takes on a different kind of sweetness and texture, not to mention its unique abil­ity to soak up any flavor thrown its way. It is important to start with a good basmati or jasmine rice, one that holds its shape after cooking. A mustardy lemon dressing coats this bowl of rice, studded with raw zucchini, almonds, radishes, celery, and pomegranate seeds—basically every crunchy thing I could think of. I recommend tossing the salad just before serving to let the dressing have maximum impact.
FOR THE DRESSING
Finely grated zest and juice of 2 lemons (1 tablespoon zest and 6 tablespoons juice)
1/4 cup olive oil
1 tablespoon Dijon mustard
3/4 teaspoon kosher salt, plus more to taste
1/2 teaspoon dried basil
1/4 teaspoon freshly cracked black pepper
FOR THE SALAD
1/2 cup whole almonds
5 cups cold cooked basmati or jasmine rice
4 baby (2 inches long x 1/2-inch diameter) or 1 small zucchini (4 ounces), thinly sliced into rounds
3 small radishes, thinly sliced
1 large celery stalk, finely diced
1/2 cup pomegranate seeds
1/2 cup finely chopped fresh parsley
Make the dressing: In a jar, combine the lemon zest and 4 tablespoons of the juice, the olive oil, mustard, salt, basil, and pepper and shake until creamy. Dressing can be refrigerated, tightly sealed, in an airtight container for 1 week.
Preheat the oven to 350. Arrange the almonds on a small rimmed baking sheet and toast until fragrant, 9 to 10 minutes. Remove from the oven, allow them to cool, and coarsely chop them.
Make the salad: In a large salad bowl, combine the rice, zucchini, 1/2 cup of the almonds, the radishes, celery, pomegranate seeds, and parsley and gently toss to combine. Just before serving, add the dressing and toss; taste and add more lemon juice and salt to taste. Top with the remaining almonds and serve immediately.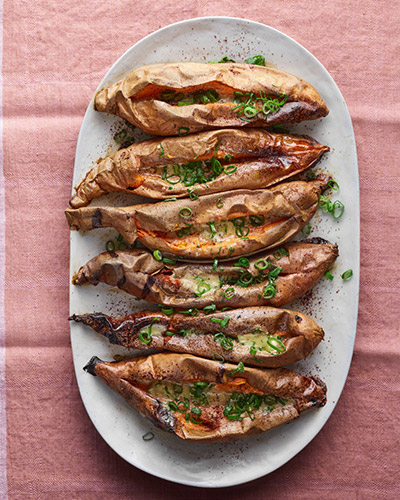 SWEET POTATOES WITH MISO TAHINI BUTTER
Serves 6
Called batata in Israel, sweet potatoes have none of the Thanksgiving associations we Americans automatically attach to them. Here, they play savory very, very well. By combining a funky miso and creamy, nutty tahini with butter (or a nondairy substitute), you can top all man­ner of things with an herb-infused flavor bump that takes a dish to a whole other level. After you mix the butter, you can dollop it on top of the sweet potatoes while soft, or roll it up into a tube, chill it, then slice off pieces and use them whenever you want. Extra butter dresses up toast, pasta, or a bowl of rice.
FOR THE SWEET POTATOES
6 long, thin sweet potatoes (each about 2 inches in diameter, 2 1/4 pounds total), scrubbed and dried
FOR THE MISO TAHINI BUTTER COMPOUND
1/2 cup (1 stick/4 ounces) unsalted butter, softened
2 tablespoons thinly slices scallion greens, plus more for garnish
2 tablespoons pure tahini paste
1 tablespoon blond (shiro) miso
1 teaspoon chopped fresh jalapeno
1 small garlic clove, very finely minced
1/2 teaspoon kosher salt (optional)
1/2 teaspoon ground sumac
Preheat the oven to 400. Arrange the sweet potatoes on a rimmed baking sheet, prick each a few times with a fork, and roast until tight and puffy and the flesh is soft, 45 minutes to 1 hour.
While the potatoes are roasting, use a fork to combine the butter, scallion greens, tahini, miso, jalapeno, and garlic in a bowl until smooth. Taste and add the salt, if desired. The butter can be sealed in an airtight container and refrigerator for up to 1 week.
When the sweet potatoes are done, split them open, dollop the butter on top, sprinkle with the sumac, and garnish with scallion greens.
---
Adeena Sussman is the author of Shabbat: Recipes and Rituals from My Kitchen to Yours, and Sababa: Fresh, Sunny Flavors from My Israeli Kitchen. She lives in Tel Aviv.