And 'Now for Something Sweet' From Australia
"There's something about the Jewish community and cake…." So begins the narrative of Now for Something Sweet
, the fourth cookbook from the Australian-based Monday Morning Cooking Club—or MMCC, as they call themselves. Not surprisingly, this new offering focuses exclusively on desserts and baked goods and is a continuation of the burgeoning empire of delightful and insightful Jewish cookbooks published by the club over the years.
What started in 2006 as a group of six Sydney-area friends gathering to chat, test out Jewish recipes and then blog about the results has morphed into a career for the women. Now down to four principal members—Merelyn Frank Chalmers, Lisa Goldberg, Natanya Eskin and Jacqui Israel—the sisterhood continues, in this new title, its tradition of testing and tweaking heritage recipes as well as delving into the stories behind the dishes and how they made their way into Jewish households around the world.
While Now for Something Sweet is partly an anthology of eclectic, interesting and unexpected baked delights (hello, Coconut and Passionfruit Slab Cake, I see you!) that range in origin from Rome's ancient Jewish community to those in South Africa, New Zealand and the Middle East, there still remains a plethora of traditional Ashkenazi desserts, evens ones that are less mainstream than perennial favorites like babka or seven-layer cake. Recipes such as Chocolate Cherry Kindlech, a traditional strudel-like pastry, which grabbed my attention and held it.
The featured recipes were contributed by bakers primarily in Australia as well as a few from fellow Jewish cooks in America (Leah Koenig) and Israel (Janna Gur), who shared a recipe for her date and nut "coins" cut from a log that's been rolled in coconut.
"It has been such an honor to glimpse into the extraordinary lives of so many women (and a few men) when they have shared their recipes and life stories with us," says Natanya Eskin. "We are not only preserving recipes from Jewish homes in Australia and around the world, but also ensuring the stories of the contributors, their families and their community continue to be told."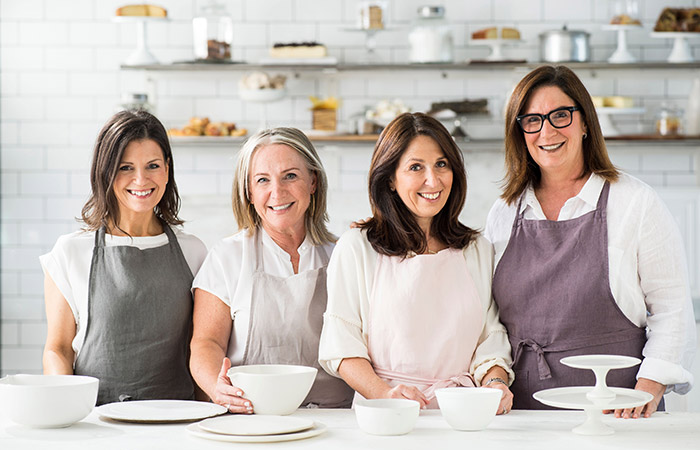 MMCC are as equally known for their heartwarming anecdotes as they are for their user-friendly recipes (which, in Now for Something Sweet, are thankfully converted into cups for American cooks). Some top picks from the new book: Viennese Ishla Biscuits, which are nutty, buttery cookie layers that sandwich apricot jam and are dipped in chocolate and garnished with chopped apricots; Pizza Ebraica—like the version sold in Rome's Jewish quarter—a dense, crumbly bar cookie enriched with marsala wine and stuffed to the brim with nuts and candied fruit; onion pletzel squares; and a Flourless Poppyseed Cake that you seldom see in this century.
"It is always so exciting to be given a recipe we have never seen or heard of before—and there are a few in this book," Eskin tells me. "A standout for me is Kolac, the Czech apricot crumble slice. I make it with dried apricots, and the combination of the sweet cheese filling with the tart apricots is just delicious."
Where Now for Something Sweet most excels is in showcasing different styles of cakes, from multiple chocolate versions to an entire section on chiffon cakes, including two Passover sponges. While the women do a great job of giving everyday Jewish cakes their due, they don't shy away from complicated weekend projects like Hungarian Dobos Torte, a traditional cake comprised of very thin layers of vanilla cake sponge sandwiched between layers of chocolate icing. (Theirs is spruced up with toffee-shard garnishes.)
And rounding out the sweetness is a savory chapter that features myriad crunchy crackers destined to be baked and gobbled up at a post-coronavirus cocktail party.
Overall a joy to read and bake from, I hope you'll enjoy making the club's rendition of Romany Creams (a classic South African cookie) and Almond Meringue Torte—a chocolate interpretation of an Australian pavlova, complete with layers of berries and fluffy whipped cream topping.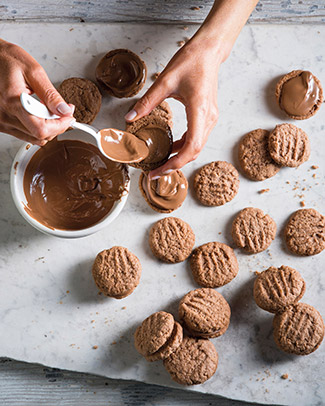 Romany Creams
From contributor Felicia Kahn
Makes 30 cookies
This wonderful heirloom recipe from Felicia's mother is cherished so deeply for the memories it creates, and the comfort it brings Felicia. In Australia, these biscuits remind us of Arnott's Kingstons. In South Africa, however, everyone grew up eating the real deal: Romany Creams. Eating these transports us back to childhood days spent working our way through packets of Arnott's Assorted Creams.
3 teaspoons unsweetened Dutch cocoa powder
1/4 cup boiling water
18 tablespoons unsalted butter, at room temperature, chopped
1 cup superfine sugar
2 1/4 cups desiccated coconut
2 cups all-purpose flour
1 teaspoon baking powder
5 1/3 ounces milk chocolate, roughly chopped
Preheat the oven to 350°. Line two large baking trays.
Combine the cocoa powder and boiling water and set aside.
Beat the butter and sugar until pale and creamy. Add the cocoa mixture and beat to combine. Fold in the coconut.
Sift together the flour and baking powder, and fold into the mixture until well combined.
Roll large teaspoonfuls of the mixture into balls and arrange on the prepared trays. You should end up with around 60 biscuits. Lightly press the tines of a fork on to the top of each ball. Bake for 15 minutes or until golden, then allow to cool.
Melt the chocolate in the microwave or over a double boiler until just melted and still thick. Use the melted chocolate to sandwich the flat sides of the cookies together.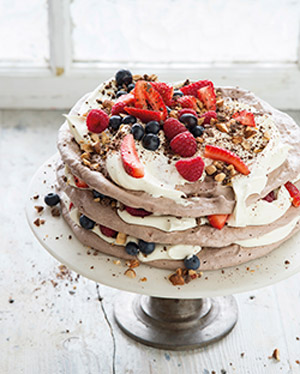 Almond Meringue Torte
From contributor George Sternfeld
Serves about 10
We adore George, and we're so pleased Jacqui introduced us to him. We are in awe of his work at the Jewish Museum, and we also love his curiosity and exploration in the kitchen. This is his go-to Passover dessert; George tells us it was devoured again this year, and likely to be reproduced next year by popular demand. Unlike most layer cakes, this torte can be served as soon as it is made or kept in the fridge for up to two days before serving.
MERINGUE NUT LAYER
1/2 cup roasted almonds
4 egg whites
1 1/2 cups confectioners' sugar
1 tablespoon white vinegar
1/4 cup unsweetened Dutch cocoa powder
FILLING
2 1/2 scant cups whipping cream
1/2 cup roasted almonds, chopped
3 1/2 ounces dark chocolate, finely chopped
1 cup raspberries
1 cup blueberries
1 cup strawberries, quartered
Preheat the oven to 300°. Line two large baking trays. Trace 3 circles approximately 8 inches in diameter on the baking paper.
To make the meringue nut layer, place the roasted almonds in a food processor and pulse until they are ground and resemble breadcrumbs. Set aside.
Using an electric mixer, whisk the egg whites until soft peaks form, then slowly add the icing sugar 1 tablespoon at a time, while continuing to whisk. Whisk for 10 minutes or until stiff and glossy.
Using a spatula, fold in the vinegar, cocoa powder and the ground almonds.°
Use the spatula to spread the meringue inside the outlines you've traced, smoothing out to the edges. Bake for 45 minutes or until the discs are crisp to the touch. Place on a wire rack to cool completely.
To make the filling, whip the cream in a bowl just until soft peaks form, and set aside. In a separate bowl, combine the almonds and the chocolate. In a third bowl combine the berries.
To assemble the torte, place the first disc of meringue on a serving platter and top with one-third of the cream, one-third of the almond/chocolate mixture and one-third of the berries. Repeat with the remaining discs.
Recipes and photos courtesy of HarperCollins and the Monday Morning Cooking Club.