One Book, One Hadassah: A Year in Review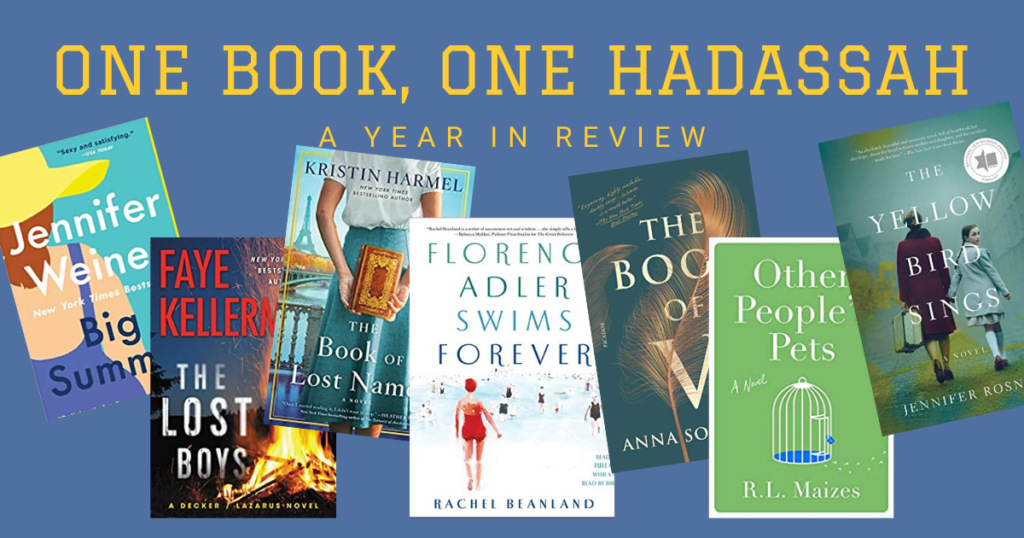 When Hadassah Magazine launched the One Book, One Hadassah national book club in June 2020, our first question was how best to mine the wealth of new Jewish literature published each year. We had two primary goals: to provide a shared and engaging experience for our book-loving members and to highlight female authors whose work brings insight into topics important to our world and our readers.
"We never dreamed how popular this program would become when we first conceived of it with Hadassah's Engagement division," said Lisa Hostein, executive editor of Hadassah Magazine. "It has been a true honor and delight to interview both renowned and new authors, all amazing women who have enriched our lives with their work and generously shared their stories behind the stories."
One year in, and our bimonthly Zoom events have just scratched the surface of today's great Jewish literature and Jewish authors. Our One Book, One Hadassah bookshelf underlines how noteworthy Jewish stories span all genres, from mystery to family drama, romance to historical fiction. Our first choice—Big Summer by Jennifer Weiner—was a fun beach read that explores female friendship, self-acceptance and forgiveness, a book she hoped would "bring some escape and joy and sunshine" to readers during the pandemic, Weiner said during the inaugural One Book Zoom event.
In a vastly different vein was The Yellow Bird Sings, a work of historical fiction set during the Holocaust. "It was a huge honor to have The Yellow Bird Sings featured as the winter pick for One Book, One Hadassah," said author Jennifer Rosner. "The event drew a great crowd of spirited, engaged women—Hadassah women—providing a wonderful opportunity to discuss themes of mothers and daughters, the role of creativity and beauty in human survival and war, literature and love."
Thank you to all our One Book authors for being part of our inaugural year, and thank you to our readers who joined us for our Zoom events. For those who need a summer catch-up—or are still looking for outstanding selections for their book club—here are the selections from the past year. Click on the links to connect to full reviews of each book and discussion guide questions. We look forward to another successful year!
Big Summer by Jennifer Weiner
Last June's premiere of our book club kicked off with Big Summer by best-selling author and social commentator Jennifer Weiner. The novel's protagonist, Daphne Berg, a Jewish 20-something, plus-sized Instagram influencer, is warm, funny and self-aware. She reconnects with a former friend who years before had humiliated her for being overweight. With nods toward Jewish culture and luscious descriptions of food, the novel follows Daphne as she navigates romance and a murder mystery over one momentous summer in Cape Cod.
Weiner's book not only launched Hadassah Magazine's reading initiative, it is also the first of her Cape Cod trilogy. The recently published second book in the trilogy, That Summer, explores serious themes of life choices and the #MeToo movement through the unexpected friendship that develops between two very different women.
The Book of V. by Anna Solomon
From Cape Cod we traveled to ancient Persia as well as 1970s and contemporary America in the second One Book pick. In The Book of V., author Anna Solomon masterfully interweaves the stories of three women: Lily, a contemporary stay-at-home mother living in a Brooklyn brownstone; Vee, a 1970's-era wife of a United States senator; and Esther, Queen of Persia. Solomon credits Michael Cunningham for the structure of her novel, inspired by his Pulitzer Prize-winning The Hours. Imaginative and vibrant, The Book of V., recently released in paperback, mines the biblical Scroll of Esther as rich source material to discuss themes of femininity, sex and power.
Other People's Pets by R.L. Maizes
A thief, two cats, one dog and a would-be veterinarian is not the start of a joke but the cast of a quirky family drama that asks, what constitutes a family? And how far do you go to honor your parents?
La La Fine is the daughter of Zev, a locksmith-turned-burglar, and Elissa Gold, who never really wanted a child. Taught how to break into homes as a child, La La has given up burglary for veterinary school. When Zev is arrested, she drops out and resumes robbing houses to pay her father's legal fees, rationalizing her theft by focusing on houses with pets whose illnesses she can sense and cure.
The crisp characterizations and swift pace in Other People's Pets, R.L. Maizes's debut novel, moves the story along almost like a mystery while delving into deeply human questions of obligation, love and relationships.
The Yellow Bird Sings by Jennifer Rosner
"The girl is forbidden from making a sound, so the yellow bird sings." This is the opening of Jennifer Rosner's suspenseful and gripping debut novel about a widow and her daughter on the run in Nazi-occupied Poland. The pair first finds refuge in a barn belonging to a farming family. The imaginary bird sings the songs 5-year-old musical prodigy Shira composes in her mind because the young girl must remain quiet. Róża, her mother, whispers stories at night about a girl in an enchanted garden where the bird lives amid an invisible chain of daisies that will keep the girl and her mother connected, even when they're apart.
Inspired by the stories of hidden children during the Holocaust, Rosner deftly explores the bonds between a mother and her child and the sacrifices that both make to survive the Nazi horrors.
The Lost Boys by Faye Kellerman
Who doesn't love a good mystery? Especially one starring the husband-and-wife detecting duo created by mystery novelist Faye Kellerman.
In her latest Peter Decker/Rina Lazarus mystery, two missing persons cases overlap. Peter, the famously observant Jewish detective, has retired from the LAPD and is living with his wife, Rina, in a sleepy college town in upstate New York, where he finds a job with the local police department. Bertram Lanz, a man with cognitive disabilities, disappears during a field trip arranged by his residential home. While trying to untangle the strands in the Lanz case as more people go missing, Decker reopens a decade-old cold case of three college students who vanished during a camping trip. Throw in the sudden reappearance of the biological mother of Peter and Rina's foster son, Gabe, and things get complicated.
The Book of Lost Names by Kristin Harmel
The second Holocaust-related selection in the One Book series, The Book of Lost Names by best-selling author Kristin Harmel fictionalizes a fascinating story of resistance during the Holocaust: document forgers who helped create paperwork that allowed Jews to escape Nazi-occupied countries. In war-torn France, German-Jewish refugee Eva Traube becomes involved in an underground operation that relies on the creation of fake identifications and other official documents to smuggle Jewish children out of Nazi-occupied France and to aid Resistance efforts. Harmel, a former magazine reporter, has a journalist's eye for details, and she captures small-town life in the southern French countryside in which Eva and her cohorts carry out their missions.
Leah F. Finkelshteyn is senior editor and books editor of Hadassah Magazine.
---
Celebrate the first anniversary of One Book, One Hadassah as Hadassah Magazine Executive Editor Lisa Hostein interviews Rachel Beanland, author of the acclaimed Florence Adler Swims Forever. Touted as "the perfect summer read" and one of the best books of 2020 by USA TODAY, the story, set in 1930s Atlantic City, begins with a shocking tragedy that results in three generations of a Jewish family grappling with heartbreak, romance and the weight of family secrets. The book is the winner of the 2020 National Jewish Book Award's Goldberg Prize, which honors a debut work of fiction.
This event is free and open to all. REGISTER NOW.