The Next Chapter for Zibby Owens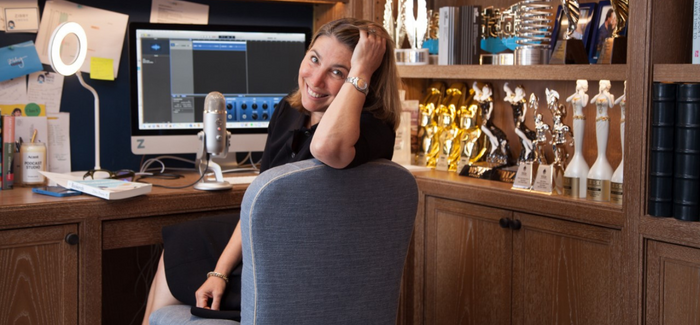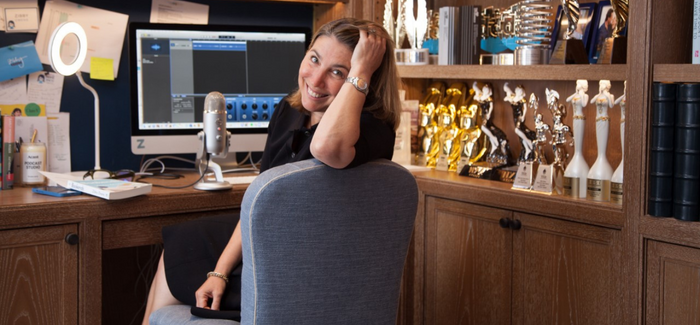 Her podcast and brand may be tagged "Moms Don't Have Time to Read Books," but Zibby Owens's days are nevertheless filled with books. She reads while waiting for her children to return home from school and on weekend mornings, while the kids watch cartoons. She peruses books while leaning on the island in the blue-and-white kitchen of her airy Park Avenue triplex apartment in New York City, marking pages of interest as the domestic chaos of busy children swirls around her.
"I can read through noise. I can read, like, backwards on a plane. I can read anywhere," Owens says with a laugh.
That's a good thing for the legions of busy moms—along with dads, grandparents and plenty of others—looking for the curated book recommendations that have made a hit of Moms Don't Have Time to Read Books, her seven-days-a-week podcast.
Episodes of the nearly five-year-old podcast, for which Owens has interviewed more than 1,200 authors—from relative unknowns to recognizable names like actress and children's book author Natalie Portman and fiction writers Jennifer Weiner and Caroline Leavitt—have been downloaded nearly 10 million times.
The award-winning podcast established the 46-year-old as a leading voice in the literary world. Indeed, she has been dubbed "NYC's most powerful book-influencer" by New York Magazine for her facility in bringing books and authors to new and larger audiences.
The podcast also forms the heart of the Zibby Media network, the burgeoning multimedia company Owens has built around a lifelong love of literature, packaged with a distinct and savvy focus on the bookish needs of busy women.
Since 2018, that empire has grown to include Zibby Mag, an online literary destination showcasing essays by favored writers—many of whom Owens champions during her appearances on Good Morning America, where she is a regular contributor. More recently, the Yale undergraduate and Harvard Business School graduate has launched her own publishing house, Zibby Books, with monthly titles that are set to launch in February.
Slated to open in late February is her first brick-and-mortar independent bookshop, Zibby's Bookshop, located in Santa Monica, Calif.
In addition to her media business, Owens has edited two essay anthologies, Moms Don't Have Time To: A Quarantine Anthology and Moms Don't Have Time to Have Kids. She also wrote Bookends: A Memoir of Love, Loss, and Literature , an Amazon best seller, as well as a children's book, Princess Charming, about a princess trying to find her perfect talent.
Currently, Owens is at work on her first novel, BLANK, about a Los Angeles author with writer's block, and a sequel to Princess Charming.
---
READ MORE: America's Most Distinctive Jewish-Owned Bookstores
---
Who else but a mom would be able to juggle all that? Indeed, it's all the more remarkable considering that the energetic entrepreneur launched her literary empire less than a decade ago. At the time, knee-deep in childrearing, Owens was a sporadically published freelance writer of parenting essays. (Her children, from her first marriage, are 15-year-old twins, a girl and a boy; a 9-year-old daughter; and an 8-year-old son.)
"My husband said, 'You should really turn those essays into a book,' " Owens recalls, referring to her second husband, multimedia producer Kyle Owens, who she wed in 2017. "I responded: 'Moms don't have time to read books,' " assuming her natural audience would be too consumed with mothering to read the essays.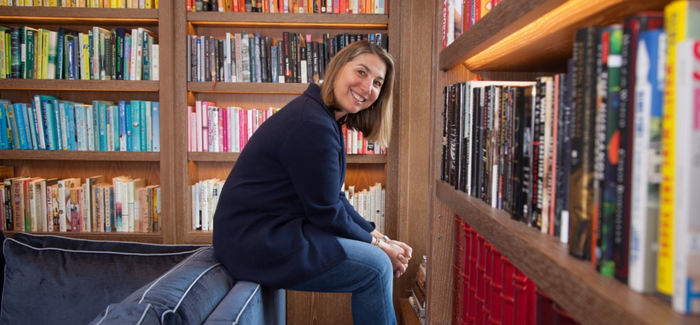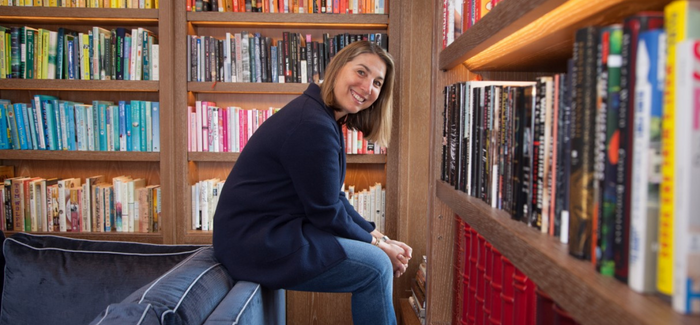 From that flippant rejoinder came not only the podcast but also the titles for the two anthologies that followed. Published during the pandemic, both feature essays from authors who appeared on her podcast as well as by Owens herself. The pieces are organized into sections around the five things that the book maven frequently jokes that moms don't have time to do: eat, breathe, work out, read and have sex. What busy parent—current or former—can't relate?
That relatability is a key ingredient in Owens's success. She even looks like your friend from, say, the library moms' group, with preppy outfits paired with her signature wide smile and straight hair parted to the side.
She has an approachability, a down-to-earth friendliness that's impossible to fake, despite growing up in one of America's wealthiest and most influential Jewish families. Her father is Stephen Schwarzman, CEO and co-founder of Blackstone, one of the world's largest private investment firms.
"Zibby recognizes that she has power and connections, and she uses them for good," says Leavitt, whose most recent novel, With or Without You, was featured by Owens on Good Morning America. The novelist was also interviewed on the Moms Don't Have Time to Read Books podcast. "She makes other writers feel that she's right down with all of us in the trenches."
On her Instagram feed, she's humble and effusive in her praise of friends and colleagues and frank about her struggles with everything from her weight to scheduling mammograms. (Though unlike most of us, she gets encouragement in the comments from supporters like Paulina Porizkova. Owens interviewed the onetime supermodel in December about Porizkova's new book, No Filter: The Good, the Bad, and the Beautiful, an essay collection about her fashion career and complicated marriage to now-deceased Cars frontman Ric Ocasek.)
But Owens's unprepossessing style belies an ambition to transform the publishing world on women's terms. The initial author cohort at Zibby Books happens to be all female, and Owens fosters what she hopes is a warm, nurturing culture that accommodates families and children.
---
REGISTER NOW: Join Hadassah Magazine Executive Editor Lisa Hostein in conversation with book maven Zibby Owens on Thursday, January 19 at 7 pm ET/ 4 pm PT. This event is free and open to all. Click here to register.
---
"Zibby has cultivated a real community of primarily women within the company who are dedicated to discovering fun and collaborative ways to put good stories into the hands of readers," says Sherri Puzey, Zibby Mag's contributing editor and marketing manager for Zibby Books. "Zibby's given all of us on her team a seat at the table, figuratively and literally—our current office is her dining room table!—welcoming ideas and offering opportunities to grow within and alongside the company."
In addition to its communal ethos, Zibby Books is upending bookselling norms. The publishing house plans to issue one title a month and lavish equal resources on all its authors—unlike most publishers, who reserve the lion's share of promotion for literary stars and best sellers.
At a November media launch for Owens's newest projects, the female energy was palpable and joyous as sunlight streamed through the windows of her apartment.
Seated in front of the large fireplace in her family room, the hostess beamed as "her" authors took turns Zooming in to present their books. Among them was Alisha Fernandez Miranda, who joined from her home in Scotland. Her memoir, My What If Year—a book that the author has jokingly called a "coming-of-middle-age story"—is the publishing house's inaugural release.
As Miranda and her fellow authors presented their titles, a small, in-person mix of book industry people and press chatted and lunched on sandwiches, fried chicken and that New York Jewish classic, black-and-white cookies.
"We're just moving and shaking over here," Owens enthused, smiling warmly to her audience.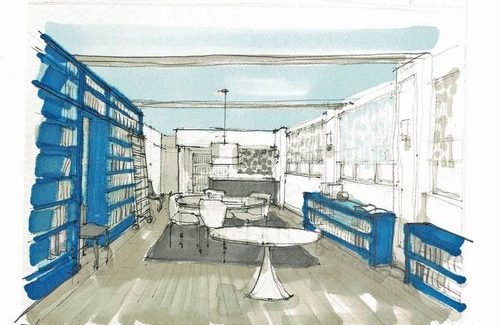 Then she surprised everyone by announcing the planned 2023 opening of Zibby's Bookshop in Santa Monica, sharing architectural images and sketches of the indie bookstore. It will be "curating in a whole new way," she said—categorizing books by topic rather than genre, creating author-recommended sections and, naturally, showcasing Zibby Books titles.
A bookstore may feel old school in an Amazon-dominated world, but Owens is a book influencer for a generation that moves seamlessly between the printed page and e-readers, podcasts, blogs and social media.
"People love to connect over books," Owens muses of the myriad ways readers interact with each other through literature.
Readerly kinship, after all, is at the heart of Moms Don't Have Time to Read Books. Over and over, authors interviewed for this article said that talking to Owens feels like chatting with a good friend.
In an interview with Tony Award-winning Broadway star Idina Menzel and her sister, teacher Cara Mentzel, the three Jewish women bonded over shared camp experiences and sibling dynamics while discussing Loud Mouse, a children's book the sisters co-wrote about a mouse whose singing causes her to change size. When Menzel told Owens she wanted to foster conversations about talent, navigating fame and wanting "to be seen and heard" from a young age, Owens played a short clip of a song her 9-year-old had created for the book. "She's got such a vibe already!" Menzel observed.
In another recent episode, Owens showcased an unusual Holocaust story when she interviewed author Michael Frank about his book One Hundred Saturdays: Stella Levi and the Search for a Lost World. Frank described his weekly meetings with Levi, who grew up in the little-known prewar Jewish community on the island of Rhodes before being deported to Auschwitz.
Listening to the breezy ease of these interviews and others, it's hard to believe that Owens had never actually listened to a podcast before launching her own in 2018. "Originally, it was going to be me reading book excerpts for busy people. But I found out that was illegal," Owens recounts. She decided to interview authors instead, "and I loved it."
Owens is a stalwart fan of Jewish writers. She mentions Dani Shapiro, a longtime friend, and romance novelist Jean Meltzer as favorites, and she has been a judge for the National Jewish Book Awards. But she's little-c-catholic when selecting authors and genres for her podcast, which features novels, memoirs, picture books, self-help titles and even cookbooks. "I like to mix it up with people of different cultures, races, religions, sexualities. I want to talk to everyone," Owens says.
Listeners are equally enthusiastic.
"I felt like my new friend Zibby was introducing me to all these authors, and they became my cheerleaders," says Sagit Schwartz, a Los Angeles therapist who became hooked on the podcast while working on her first novel, Bean. Due out in 2024 from Alcove Press, Bean is a thriller whose protagonist is a Jewish woman suffering from an eating disorder. "I really credit them with helping me get to the finish line of my book."
Discovering the role she'd unwittingly played in helping Schwartz to finish Bean, Owens then featured an essay by the author on her Zibby Mag website.
Books have been a consuming passion for Owens since a childhood that, for all its privilege, had its share of darkness. As Owens explains in her memoir Bookends—which focuses on her early years, the death of a friend on 9/11 and falling in love with her second husband—classics like Charlotte's Web and Little Women served as emotional refuge from the trauma of her parents' divorce when she was 14.
Later, Anita Diamant's The Red Tent and Tuesdays with Morrie by Mitch Albom (she has interviewed both authors for her podcast) sustained the then-20-something Owens through the loss of her college roommate and best friend, Stacey Sanders, in the World Trade Center attack, the tragedy that ultimately motivated Owens to pen Bookends, published last summer.
Soon to join the ranks of the novelists she promotes—her first novel, which does not yet have a title, is due out next year—Owens has redoubled her focus on championing authors. Pamela Redmond, who has three novels forthcoming from Zibby Books, praises the way Owens treats her authors as collaborators rather than commodities.
"I worked at Condé Nast for many years, and there are a lot of advantages to that," reflects Redmond, a former columnist at Glamour Magazine who has published more than 20 novels, memoirs and nonfiction works with large publishing houses and has experienced the greater resources these companies can put behind a book. "But inevitably, the book is a product."
In contrast, Zibby Books "is a totally different experience," says Redmond. "Zibby's big vision is that there should be more community—between authors, publishers, readers. It's an entrepreneurial spirit based on relationships."
It's likely that Owens can realize this vision because Zibby Media is a privately held company and not answerable to shareholders. But Leavitt, the Jewish novelist whose works Owens has supported, sees Jewish values at play, too.
"In Jewish culture, you're supposed to take care of others in the community. And that's what she does," Leavitt says about the way that Owens fosters writers and readers.
Owens's strong Jewish connections date to her childhood on Manhattan's Upper East Side. Her family belonged to Temple Emanu-El, the landmark Reform synagogue, and her recollections of the Jewish holidays and Hebrew school amid a 1980s upbringing are broadly relatable. "My mother was on the lookout for High Holiday outfits for me for, like, the entire year," Owens says with a laugh.
Inevitably, as technology has changed the book industry and paved the way for the Zibby Media literary empire, it has also changed books themselves. Authors are trying new formats, like short-form pieces and Audible Originals—audio-first works written directly for that market.
And then there is social media, which she praises for making literature more accessible.
"You can go on Instagram, DM [direct message] the authors and get feedback right away," says Owens, who fastidiously responds to online queries.
The downside, she acknowledges, is that the sound-bite world of social media has shortened attention spans.
"When I try to read literary fiction with very long chapters, I get discouraged before I even start," she confesses. While writing Bookends, "I made sure to keep every chapter short. I'd have a really punchy first and last sentence to keep people's interest."
As her audience and media company continue to expand, it's clear that Owens is keeping readers' interest. And every day, the community she has created around good books eagerly awaits her next chapter.
---
Hilary Danailova writes about travel, culture, politics and lifestyle for numerous publications.