Huzzah! Hadassah Magazine Wins 6 Rockower Awards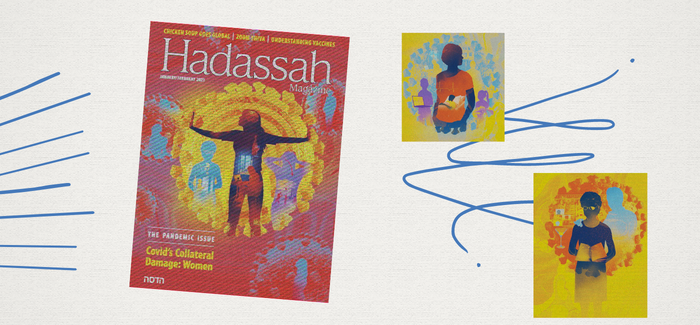 Hadassah Magazine has won six Simon Rockower Awards, the annual prizes for excellence in Jewish journalism handed out by the American Jewish Press Association (AJPA). The award-winning magazine was recognized for its work done in 2021 during the AJPA's 41st annual conference presentation on June 27 this year held in Atlanta, Ga. Hadassah Magazine has received a total of 26 Rockower Awards since award-winning journalist and editor Lisa Hostein was named executive editor of the publication in late 2015.
Hadassah Magazine won first place in the category of Excellence in Special Sections or Supplements for "The Pandemic Issue—Covid's Collateral Damage: Women." Praised by the judges for its "excellent writing and diverse and comprehensive coverage," the January/February 2021 issue featured articles by Deputy Editor Libby Barnea ("My Panic Pandemic"), Debra Nussbaum Cohen ("Covid's Collateral Damage"), Uriel Heilman ("Israel in a Time of Pandemic"), Carol Saline ("Covid-19 and Me"), Sarah Yahr Tucker ("Giving Adults Their Best Shots"), Aayisha Ruby Gold ("Baking the Blues Away") and Robert Goldblum ("Turning Museums Inside Out").
"Hadassah Magazine's multidimensional approach to the pandemic encompasses everything from warm personal perspectives on how individual lives have been impacted, to the science of the vaccine, to a women-centric focus targeted to the organization's constituency," the judges commented.
Meanwhile, another Sarah Yahr Tucker feature, "A Rallying Cry For Menstrual Justice," on fighting period poverty, won in two categories: first place for Excellence in Writing About Women and second place for Excellence in Writing About Health Care. The judges noted the educational importance for male readers.
"It is gratifying to once again be recognized by the AJPA for the journalistic excellence we strive for every day," said Hostein. "It is particularly noteworthy that our coverage of the Covid-19 pandemic was a true team effort, involving the work of seven thoughtful writers and our talented editors, including Deputy Editor Libby Barnea (who also authored one of the winning essays) and Senior Editor Leah Finkelshteyn."
Longtime Hadassah Magazine contributor Rahel Musleah won an Honorable Mention in the category of Excellence in News Story for "Childhood Abuse, Adult Reckoning," with the judges commenting that "the detailed reporting offers an uncomfortable look at a more than 40-year-old case of molestation by a nationally known cantor, what it took to shine a light on his dark past and how Jewish organizations finally acknowledged his actions and took steps to make sure his legacy reflected the man he really was."
Maxine Rose Schur likewise won an Honorable Mention, in the category of Excellence in Personal Essay, for "My Cousin Fritz Was Married to a Nazi," which the judges described as a "fascinating, albeit disturbing, story in which Maxine recognized the power of her material and did what good nonfiction writers do in such cases: get out of the way."
And finally, Beth Kissileff won second place in the new category of Excellence in Writing About Jewish Thought and Life with "Something Is Happening," which offers a Talmudic solution to countering the rise in antisemitic acts in the United States.
"Lifting women's voices is so much of what Hadassah Magazine is all about," Hostein said, noting that several of the winning entries give voice to women's experiences—from navigating the pandemic, reliving childhood sexual abuse, confronting antisemitism and even discovering that your relative was married to a Nazi."
Yasher koach to all the winners! Now excuse us while we kvell.