Rome's Ancient Jewish Foodways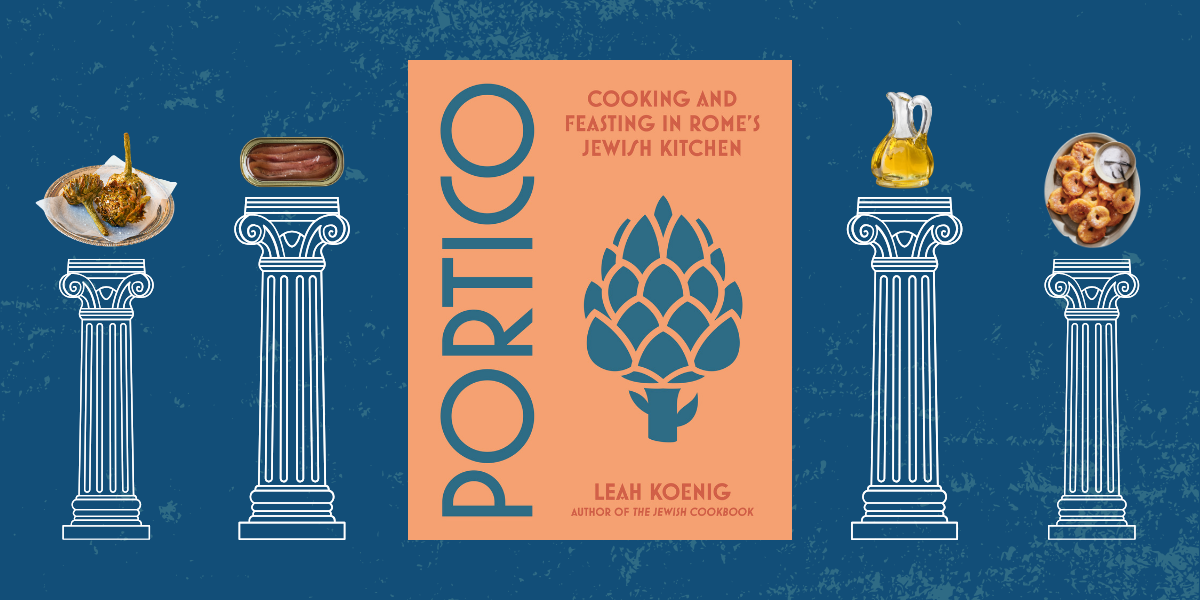 It was early in spring 2020, and Leah Koenig was eager to get to Rome. The cookbook author and Jewish food authority had already begun research on a book about Roman Jewish cooking. The dream project would be the follow-up to her encyclopedic, critically acclaimed The Jewish Cookbook, a global compendium of Jewish foodways that was released in 2019.
"I have a special history with Jewish Rome and I was eager to deepen it even further," Koenig said by phone from her home in Brooklyn a few weeks before the publication, in August, of Portico: Cooking and Feasting in Rome's Jewish Kitchen.
Unfortunately, Covid-19 upended her plans. The in-person Roman immersion she so craved—and that the book required—would have to wait. But like so many in the early days of the pandemic, Koenig quickly pivoted, determined to keep the book on track.
"The world quickly turned virtual, so I did, too," Koenig said. Soon she was polishing her Italian on the language-learning app Duolingo, Zooming into Roman Jewish kitchens for interviews and cooking lessons, and making lists of places and people she planned to visit once the world reopened for travel.
"I was able to cross-reference things I had tasted in the past," said the 41-year-old, who first backpacked her way through the city after college but only briefly visited the Jewish ghetto then. Five years later, in 2008, while on her honeymoon with her husband, Yoshie Fruchter—with whom she now has children Max, 8, and Beatrice, 4—Jewish Rome presented itself in all its dazzling glory, history and deliciousness.
The couple found themselves walking around the Portico d'Ottavia, in the area of the former Jewish ghetto, which is home to many Jewish businesses and restaurants. There they sampled nut- and fruit-studded cookies with a storied pedigree at the 300-year-old Pasticceria Boccione and gorged on crispy Carciofi alla Giudia (Jewish-Style Fried Artichokes) at a number of eateries. They became enchanted by the European-chic yet utterly Jewish vibe that only Rome could nurture.
On that same trip, Koenig found herself at the Shabbat table of local Jewish caterer Giovanni Terracina, whose celery-and-tomato meatballs and red wine stew blew her away and inspired her to dig deeper into Jewish food. "It really opened my eyes and made me curious about the history behind the food," she said.
And what a history it is. Besides ancient Israel, Rome has the oldest surviving Jewish community in the world, dating back 2,000 years to the time when Judah Maccabee sent envoys from Judea to seek protection from Syrian King Antiochus—and stayed. Two centuries later, their descendants were joined by the enslaved Israelites brought to Rome by Emperor Titus after he captured Jerusalem and destroyed the Holy Temple. From that point, a unique community called the Italkim evolved, practicing a distinctive fusion of imported Judean and local Roman traditions.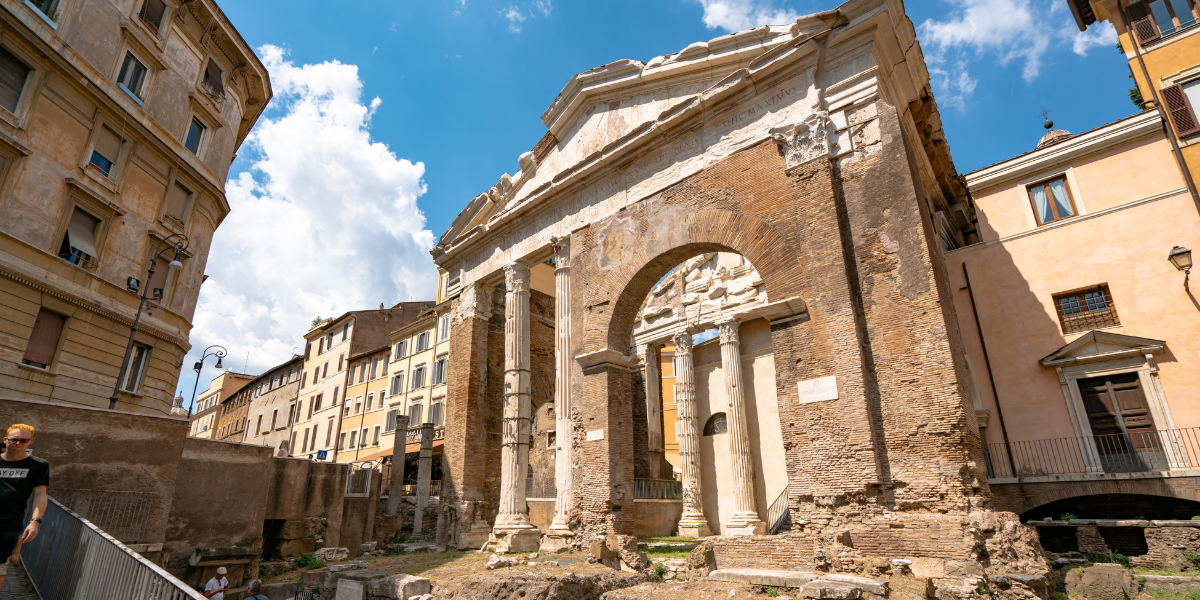 The next major wave of Jews came with the expulsions from Spain, Portugal and the parts of southern Italy controlled by the Spanish crown, with many Jews finding their way to Rome. This unified Italki-Sephardi community lived in relative freedom until 1555, when the virulently antisemitic Pope Paul IV forced the Jews into the now infamous ghetto. For nearly 300 years, around 9,000 Jews lived in packed quarters, forbidden from working in most professions and consuming popular foods earmarked for non-Jews like large fish and prime cuts of meat. The Jews adapted, turning mackerel and sardines into savory stews, crafting dishes from offal cuts, turning a weed known as the artichoke into a world-renowned delicacy and generally transforming cucina povera—essentially, peasant food—from a sow's ear into a silk purse.
The Jews of Rome were emancipated in 1870, but only 68 years later, Mussolini's government imposed racial laws. One hundred Jews died in Nazi concentration camps, and the rest escaped, went into hiding and rebuilt the community after the Holocaust. Postwar, a significant population of Italian-speaking Jews arrived from Libya, seeking refuge from persecution that worsened after the Israeli War of Independence.
This unique Jewish history and diversity was what Koenig researched when she finally made it back to Rome in 2021. "The delay made getting there all the more meaningful," she said. She reconnected with Roman Jewish native Micaela Pavoncello, whom she had met on her honeymoon and who would become a cherished consultant and confidant. Pavoncello, a vivacious 45-year-old who is a professional tour guide and unofficial mayor of Rome's approximately 16,000-person Jewish community, squired Koenig and the book's photographer, Kristin Teig, around the city for a week.
"When I wanted to do the book, it was important to me to get Micaela's blessing because I am well aware of issues of appropriation, and I am not from Rome," Koenig said. "I asked her if she was going to write a cookbook about Jewish Rome, and instead she gave me her blessing to write mine."
"I've known for a long time that Leah had everything needed to share Jewish Rome with the world," Pavoncello said during a phone interview. "She is curious and gracious and is a wonderful writer and cook who has also become a friend."
Pavoncello connected Koenig with people who had a specific expertise in Roman Jewish cuisine, including some who did not live to see the book's publication. Among them was Italia Tagliacozzo, born in 1938, who survived the war by hiding in a convent and eventually opened a restaurant near the ghetto in 1999.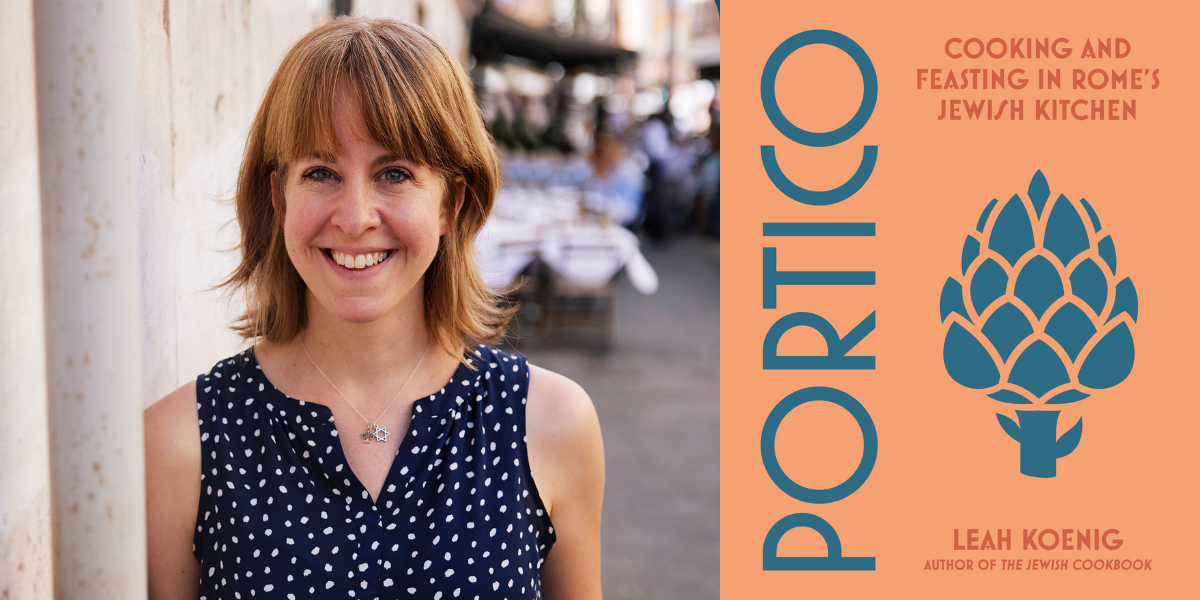 "Talking to her on the phone, I got this vibe of a Jewish grandma with spectacles and a bun," Koenig said, "but, in fact, she was beautifully coiffed and immaculately dressed whether she took us to eat in her restaurant or hosted us in her home."
Another, Hamos Guetta, started a YouTube channel so his daughters could access traditional Libyan foodways through his videos. Though Guetta passed away before Koenig's 2021 trip to Rome, she did prepare Libyan Roman dishes with his daughter, Ghily, during that visit.
What Koenig took away from her time in Rome was how seriously the locals take their food traditions. "It's wonderful how protective Roman Jews are of their recipes, and it shows a people still really connected to their cuisine," said Koenig, who even witnessed a heated debate between two elderly Roman Jews about how to properly slice artichokes.
Echoing the centrality of artichokes, Portico includes an illustrated how-to for cleaning and peeling them. Koenig also offers a guide on stocking a Roman Jewish pantry with staples like anchovies, chicory, salt cod and caraway seeds.
Then there are the recipes themselves, whose simplicity belies their rich history. Curly Endive and Anchovy Pie, for instance, was born out of a lack of refrigeration: The anchovies were layered between lettuce leaves to keep them cool. In many dishes, like Pezzetti Fritti (Fried Mixed Vegetables), frying in olive oil became a Jewish tradition because the oil was plentiful, inexpensive and pareve.
Back in her own kitchen, Koenig made some adjustments to the recipes she'd gathered in Rome for her primarily American audience. "We Americans love our garlic, and Romans are more light-handed with it, swirling a whole clove in sizzling oil to perfume it but then removing the garlic," she offered as one example.
And then there is olive oil, that most quintessential of Hanukkah foods. "The amount of olive oil Roman Jews use in their cooking was revelatory. I'm no longer a 'two tablespoons in my sautéed onions' kind of a cook," said Koenig, who now pours oil more liberally.
For Hanukkah this year, fry up Koenig's Carciofi alla Giudia—the city's most iconic Jewish dish—as well as her apple fritters, a sweet treat that will transport you to the streets around the Portico d'Ottavia.

Ingredients
For the vanilla sugar
2

vanilla beans

1

1/2

cups granulated sugar
For the fritters
4

large baking apples, peeled

3

tablespoons granulated sugar

1

1/2

cups all-​purpose flour

1/2

teaspoon kosher salt

1/2

teaspoon baking soda

1

1/2

cups milk or non-​dairy

milk
Vegetable oil (such as

sunflower or grape

seed) for frying
Instructions
1. Prepare the vanilla sugar: Split the vanilla beans and scrape out the seeds; set the pods aside. Put the sugar and vanilla seeds in a food processor and pulse until fully combined. Transfer the sugar to a glass jar, add the reserved pods, cover tightly and set aside. (The sugar can be used right away, but the flavor will develop over time. It can be stored, tightly covered, for up to 1 year.)
2. Prepare the fritters: Using an apple corer (or a melon baller
or sturdy metal teaspoon), carefully remove the apple cores and discard. Slice the apples into 1/2-inch-thick rings and set aside.
3. Whisk together the flour, sugar, salt and baking soda in a large bowl. Add the milk and whisk until smooth.
4. Heat 1/2 inch of oil in a large frying pan over medium heat until shimmering. Line a large plate with paper towels and set nearby.
5. When the oil is hot, working in batches of 4 to 5, dip the apple rings into the batter, let the excess drip off and carefully slip them into the oil. Fry, turning once, until golden brown on both sides, 2 to 3 minutes per side. Transfer to the paper towel-​lined plate to drain.
6. Sprinkle the fritters generously with vanilla sugar while still hot and serve immediately

Ingredients
6

medium artichokes, tough outer leaves trimmed and with their centers scooped out

2

ounces light olive oil or vegetable oil (such as sunflower or grapeseed) for deep frying

Kosher salt
Lemon wedges for serving
Instructions
1. Line a large plate with paper towels. Pour about 2 1/2 inches of oil into a medium deep saucepan and heat over medium until it reaches 280° on a deep-​fry thermometer.
2. Working in two batches if necessary, add the artichokes to the hot oil and cook, turning occasionally, until the hearts are tender when pierced with a fork, 10 to 15 minutes. Carefully transfer the artichokes to the prepared plate to drain and cool. Set the saucepan of oil aside.
3. Once they are cooled, gently pull open each artichoke to expose the center (it should resemble a flower). If the artichokes have hairy chokes in the center, use a melon baller or sturdy spoon to carefully remove and discard them.
4. Put the saucepan back over the heat and bring the oil up to 350°. Add the fried artichokes, cut side down, and fry until browned and very crispy, 2 to 4 minutes. Return to the paper towels to drain and sprinkle generously with salt. Serve immediately, with lemon wedges for squeezing.
Recipes reprinted from Portico: Cooking and Feasting in Rome's Jewish Kitchen by Leah Koenig Copyright © 2023 by Leah Koenig. Used with permission of the publisher, W.W. Norton & Company, Inc. All rights reserved.
---
Adeena Sussman is the author of Shabbat: Recipes and Rituals from My Kitchen to Yours and Sababa: Fresh, Sunny Flavors from My Israeli Kitchen. She lives in Tel Aviv.