The Top 15 Books of 2020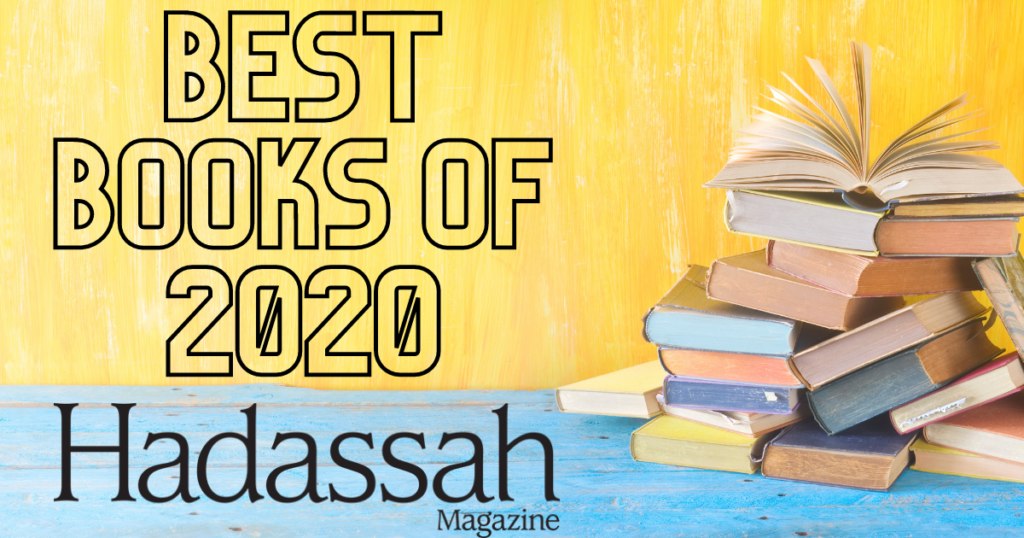 If ever there were a time when we could be grateful to the wealth of the Jewish literary landscape, it is this year. Sitting in our homes, separated from family and friends, books provided escape and relaxation, new characters to root for and new ideas for contemplation and discussion.
As we all wave goodbye to 2020, here are the standout books, both fiction and nonfiction and in a variety of genres, that appealed to Hadassah Magazine staff, reviewers and readers this past year. Click on the book links to go to reviews or author interviews.
Fiction
Big Summer by Jennifer Wiener
Big Summer's protagonist, Daphne Berg, is warm, funny, self-deprecating and self-aware. The 20-something, plus-sized Instagram influencer reconnects with a former friend who years before had humiliated her for being overweight. With nods toward Jewish culture and luscious descriptions of food, the novel follows Daphne as she navigates romance and mystery over one momentous summer in Cape Cod.
Jennifer Weiner's summer reading sensation launched Hadassah Magazine's new national reading initiative—One Book, One Hadassah.
The Book of V. by Anna Solomon
One of the most anticipated books of 2020, and our second One Book, One Hadassah pick, Anna Solomon masterfully interweaves the stories of three women: Lily, a contemporary stay-at-home mother living in a Brooklyn brownstone; Vee, a 1970s-era wife of a United States senator; and Esther, Queen of Persia. Solomon credits Michael Cunningham for the structure of her novel, inspired by his Pulitzer Prize-winning The Hours. Imaginative and vibrant, The Book of V. reaches back to the biblical Scroll of Esther, which Solomon mines as rich source material to explore themes of femininity, sex and power.
Other People's Pets by R.L. Maizes
It's not too often you encounter a female Jewish burglar, especially one so empathic that she feels the pain of animals as if it were her own. La La Fine is the daughter of Zev, a locksmith-turned-burglar, and Elissa Gold, who never really wanted a child.
La La has given up burglary and is in veterinary school, but when Zev is arrested, she drops out and resumes robbing houses to pay for her father's legal fees, rationalizing her theft by focusing on houses with pets whose illnesses she can sense and cure.
The  crisp characterizations and swift pace in Other People's Pets, another One Book, One Hadassah pick, move the story along almost like a mystery while delving into deeply human themes. What brings healing? What constitutes a family? How far do you go to honor your parents?
The Yellow Bird Sings by Jennifer Rosner
"The girl is forbidden from making a sound, so the yellow bird sings." This is the opening of Jennifer Rosner's debut novel about a widow and her daughter on the run in Nazi-occupied Poland. The pair find refuge in a barn belonging to a farming family. The imaginary bird sings the songs 5-year-old musical prodigy Shira composes in her mind because the young girl must remain quiet. Róża, her mother, whispers stories at night about a girl in an enchanted garden where the bird lives and an invisible chain of daisies that will keep the girl and her mother connected, even when they're apart—portending their future separation.
Inspired by the stories of hidden children during the Holocaust, Rosner deftly explores the bonds between a mother and her child. Suspenseful and gripping, The Yellow Bird Sings was the One Book, One Hadassah winter pick.
Evening by Nessa Rapoport
Thirtysomething Eve has returned home to Toronto to bury and mourn her confident, opinionated older sister, who passed away at an early age from cancer.
Nessa Rapoport's focus is on the complicated family dynamics between the three generations of women–grandmother, mother and sister–sitting shiva. Evening is inherently Jewish, though accessible to all. It is divided into seven sections, representing the days of shiva. As each day passes, we meet an array of relatives, including some who are present only in vivid memories and, as appropriate when attending a shiva, listen to their stories, and their secrets.
The Lost Shtetl by Max Gross
Judging by his brilliant and funny debut novel, author Max Gross is the metaphysical love child of Sholem Aleichem and J.K. Rowling. Gross's lost shtetl is Kreskol, a tiny Polish village straight out of Fiddler on the Roof. It is a magical place that has remained unchanged for a century, avoiding detection by the rest of Poland—and the rest of the world.
An unlikely chain of events brings Kreskol to the attention of the modern world, forcing its insular inhabitants to choose between sticking with their old-world ways and welcoming the changes of contemporary society.
Lady in the Lake by Laura Lippman
In writing Lady in the Lake, Laura Lippman was inspired by the unsolved murder of a Black barmaid and secretary in 1969 Baltimore. The crime novel recounts the experiences of two women in the city, both hoping to find their way in a patriarchal society. There are stark differences between the two, however: One is white and Jewish; the other is black—and dead.
The latter is Cleo Sherwood, the titular Lady of the Lake, whose body was found months after it was dumped in a park fountain. The former is Madeline "Maddie" Schwartz, who led investigators to the scene of a different crime and is now determined to discover who kidnapped and killed Cleo. Readers hear from both of them as Lippmann, a master storyteller, slowly reveals Cleo and Maddie's struggles in the face of adversity.
The Face Tells the Secret by Jane Bernstein
Dogged by an indefinable sense of loss that goes beyond her distant father and emotionally abusive mother, Roxanne discovers that she has a profoundly disabled identical twin named Aviva, whom her parents left behind in Israel when they brought Roxanne with them to the United States as a child. Like tugging a loose thread, Roxanne's discovery of Aviva's existence and the cause of her disabilities unravels a carefully woven fabric that cloaks a cache of family secrets.
Jane Bernstein paints a vivid picture of life in Tel Aviv as Roxanne marvels at the way Israelis forge ahead under the ever-looming threat of terrorism. The extraordinarily loving residential community where Aviva lives emerges as a bucolic utopia, while Bernstein's depictions of life in Pittsburgh and suburban New Jersey will ring true to readers.
To the Edge of Sorrow by Aharon Appelfeld
A survivor of the Holocaust, Aharon Appelfeld, the celebrated Israeli writer who died at the age of 86 in 2018, left an oeuvre of more than 40 literary works of art. To the Edge of Sorrow is among his best and best and most accessible novels.
The novel is a Holocaust story about some 40 Jews who, on the verge of being steered into cattle cars that would take them to the death camps, make a dangerous escape from a ghetto in a major Transylvanian city in the Carpathian Mountains. Dispersed into local forests, these escapees come together and coalesce as a partisanka, a group of freedom fighters in the Jewish resistance. Their goal: save Jewish lives, especially of those in the cattle cars, by bombing the railroad tracks and derailing the trains destined for the death camps.
House on Endless Waters by Emuna Elon
In quicksilver prose threaded throughout with subtle biblical references, Israeli author Emuna Elon tells the intriguing story of Yoel Blum, a distinguished Israeli novelist plunged into a search for his own elusive past in Amsterdam…the city of endless waters, "where everything is beautiful."
Against the wishes of his late mother, Sonia, a Holocaust survivor who warned him never to visit the city, Yoel goes to Amsterdam to promote the Dutch publication of his third novel. While touring the city's Jewish Historical Museum, he comes across a picture of the city's prewar Jewish community and recognizes his parents: His mother, a young woman holding a golden-haired infant in her arms, and his father, who died in the Holocaust, holding his older sister. However, Yoel, dark haired and with a dark complexion, is absent from the image. Bewildered by his mother's refusal to speak of the past, the identity of the infant in his mother's embrace is a perplexing mystery that he knows he must solve if he is to achieve a true understanding of himself.
NonFiction
Being Heumann: An Unrepentant Memoir of a Disability Rights Activist by Judith Heumann
Born in Philadelphia and raised in Brooklyn, Judith Heumann contracted polio as an 18-month-old in the late 1940s. Her memoir, cowritten with Kristen Joiner, describes her entry into the public eye at age 22 when she sued New York City. She had been unable to obtain clearance to become a public school teacher—the board of education claimed that being a wheelchair user, she could not usher children out of the classroom in case of fire. (The city settled the case in Heumann's favor.)
In the aftermath of that case, Heumann and her friends founded a civil rights organization, Disabled in Action, run by and for people with disabilities. In 1977, she led the Section 504 sit-in in San Francisco—at 25 days, the longest ever takeover of a federal government building—which resulted in federal regulations protecting disability rights. Her activism helped spark a national movement that advanced the effort to create the Americans with Disabilities Act.
The Last Kings of Shanghai: The Rival Jewish Dynasties That Helped Create Modern China by Jonathan Kaufman
In The Last Kings of Shanghai, Pulitzer Prize-winning reporter Jonathan Kaufman traces the tumultuous history and glamorous lives of two powerful Iraqi Jewish dynasties, the Sassoons and the Kadoories, who helped open China to international trade.
Once known as the "Rothschilds of the East," the Sassoons' wealth and fame reached back to Baghdad, where they worked in finance and trade for more than 800 years, before moving to Shanghai. The Kadoories are the young upstarts who built their first fortune in Shanghai between the world wars, as the city became a global crossroads where middle-class and wealthy Chinese were drawn by economic opportunity and glamorous department stores, hotels, nightclubs and gambling casinos (often set amid the squalor of impoverished neighborhoods).
Yes, I Can Say That: When They Come for the Comedians, We Are All in Trouble by Judy Gold
In Yes, I Can Say That, leading funny woman Judy Gold explains why she chose comedy, a profession that allows her to say pretty much whatever she wants: "By the time I was 13 years old, I was already six feet tall," she writes. "Being an uncoordinated six-foot-tall eighth grader was not what every adolescent Jewish girl in New Jersey dreamed of in 1975. I was taller than the rabbi presiding over my bat mitzvah." Being a comic was a career, she adds, "where the goal is to elicit laughter on your terms"—and not because of who you are or the way you look.
But things have changed since she first started stand-up back in the 1980s. Today, she writes, the slightest sashay away from political correctness is sufficient to unleash a Twitter torrent of hate and abuse, noting how those on both the right and left attack comics who cover controversial issues.
Journalist and author Jack Fairweather has written a riveting account of Witold Pilecki, a Polish cavalry officer and underground resistance leader who fought the Germans after they invaded Poland in 1939. Relatively unknown in most histories of the Holocaust, in September 1940, Pilecki allowed himself to be captured by the Germans, gambling that he would be sent to Auschwitz, as had other Polish captives. The 39-year-old Pilecki saw it as his patriotic duty to witness from within the atrocities directed toward his compatriots and also to organize a resistance army within the camp to sabotage its facilities. From October 1940 to March 1941, Pilecki's reports from Auschwitz was smuggled by the Polish resistance to the British government in London. His report was also broadcast using a radio transmitter inside the camp. "Witold's Report" was the first comprehensive account of the Holocaust from an eyewitness.
Here We Are: My Friendship With Philip Roth by Benjamin Taylor
Benjamin Taylor has freely wrought an exquisite portrait of one of the most intriguing writers in American literary history. More than that, Here We Are is an absorbing and intimate study of a decades-long friendship that was neither marriage nor love affair. "I cannot hope for another such friend," writes Taylor, who first met Roth in 1995 at the birthday party of a mutual friend.